5 Uses For Lemon Essential Oil for Health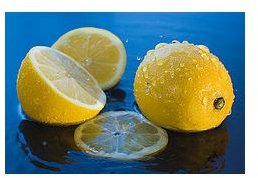 Lemon Essential Oil Overview
Lemon essential oil has a bright, citrus smell that's instantly recognizable. It's a great cleanser, killing bacteria in drinking water and in fish (ever wonder why we like the taste of lemon squeezed over fish and in drinking water?) Lemon essential oil comes from the lemon rind. Historically, sailors would ingest all of a lemon to prevent scurvy.
Improves Skin Problems
Add a drop or two of lemon essential oil to half a cup of hot water and apply it to your skin. Lemon oil helps to treat acne and oily skin. You could also rinse your hair with the water solution to decrease oil in your hair. Some experts say that it helps decrease the appearance of freckles if used daily for several weeks.
Drop a few drops into some massage oil and massage into cellulite to decrease the appearance of it.
Kills Bacteria
Lemon essential oil, with its antiseptic properties (kills bacteria), is great for burns and wound care. Soak compress in water and a few drops of lemon essential oil and cover burns. You could also add a drop to a wound covering to help kill bacteria.
Since it does have antiseptic properties, some aromatherapists will work with doctors to use lemon essential oil to treat more serious conditions such as malaria, typhoid and syphilis.
Energizing
If you're physically or mentally flagging, try diffusing a little lemon essential oil into your home or work environment. If you have a few minutes, release a drop onto a cotton ball and inhale deeply. If you have a lot of time, take a warm bath with a few drops released into the water to improve your energy levels. You could also use a few drops in a massage oil and apply to the wrists and temples if you want to be surrounded by the lemon scent.
Natural Insect Repellent
Lemon essential oil, like eucalyptus and lemongrass essential oil can keep insects away from you and your family. Dilute a few drops of lemon essential oil in a massage or a carrier oil and massage the solution into the wrists, temples and back of knees.
Use in Cleaning
While it's not a health benefit, one of the most well-known uses for lemon essential oil is to add a drop or two of lemon oil to hot water as you clean. It will help kill germs, freshen the air and may help you feel more energized (and less cranky) as you do your cleaning.
Warnings
Lemon essential oil is very strong, especially when used on the skin; a little goes a long way. If you have sensitive skin, consider avoiding lemon essential oil or using it in very low amounts. If lemon essential oil is too strong for you, try using lemon juice. In addition, you should avoid using lemon essential oil on the skin and then going out into the sun as you may get a sunburn.
Essential oils should never be ingested unless recommended by a care provider. In addition, never apply essential oils directly to the skin without a carrier oil. Caution should be taken with essential oils during pregnancy and if breastfeeding. If you have any serious health condition, please check in with your care provider before using essential oils since they may worsen your condition.
References
1. Davis, Patricia. Aromatherapy: An A to Z Revised Edition. CW Daniel Company Limited, 1988
2. Dye, Jane. Aromatherapy for Women and Children. CW Daniel Company Limited, 1992
Disclaimer
Please read this disclaimer regarding the information you have just read.
This post is part of the series: Using Essential Oils to Improve Health
Essential oils such as peppermint, rosemary and lemongrass are important natural remedies to many health conditions such as headaches and even lice.