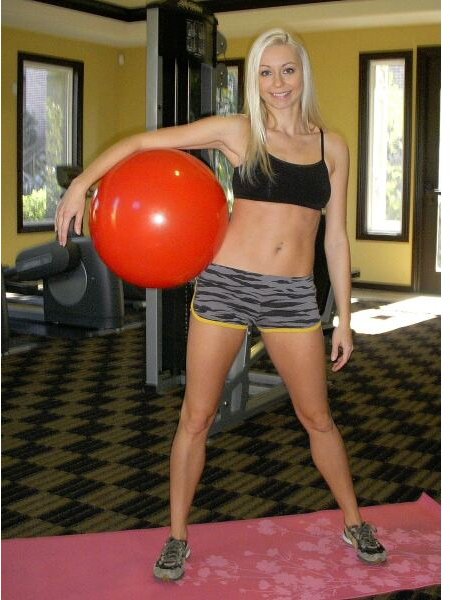 About the Expert
Nikol Klein is a professional ballet dancer and personal trainer based in San Diego, California. Nikol has danced and toured with several dance companies, including Pittsburgh Ballet Theatre, Ballet Austin, Ballet Oklahoma, and The California Ballet. Ms. Klein received her Personal Training Certification through the International Sports Science Association (ISSA) is also a specialist in Performance Nutrition through ISSA.
She is also the owner of Fit For Her, a 24 hour Women's workout facility located in Oklahoma City. Ms. Klein also created and teaches a mat class called Ballet Body, which focuses on creating the lean, feminine look of a dancer. Today, Ms. Klein is touted as San Diego's premier personal trainer for women specializing in in-home training. Additionally, Ms. Klein writes a popular fitness blog which focuses on her professional experiences and inside training information. Nikol can also be found on Twitter.
Body Toning Exercises for Women: Interview with the Expert
Bright Hub: How important are body toning exercises for women who are trying to get or stay in shape? Why are they important?
Nikol Klein: In order to achieve the best weight loss results, toning and strength training is absolutely necessary. Most women think that running on the treadmill for an hour every day is enough, but it's not. In order to achieve optimal fitness gains, one must combine diet, cardiovascular exercises and strength training.
Bright Hub: How much body toning is necessary to achieve a "bikini ready" body?
Nikol Klein: As I have said before, results and program design are case by case. No two women are the same. I would not give the same time frame to someone looking to lose 100 pounds as I would someone just looking to get a six-pack. So this answer would truly depend upon the client and their goals.
Bright Hub: Can body toning exercises help to tighten up the "post baby" belly that so many women complain about? What type of toning exercise works the best for this?
Nikol Klein: Of course with permission of a doctor, strength training is absolutely okay for post-natal fitness. The amount of exercise would need to be recommended by a doctor in the early months after having the baby. After the doctor clears the client to workout at 100 percent, the trainer can then begin to work on those trouble areas. I tend to use a lot of Pilates techniques with my post-natal clients as it works on strengthening the core muscles.
Bright Hub: Many women complain that, as they get older (or nurse babies), their breasts just aren't the same. Can toning exercises help? If so, what do you recommend?
Nikol Klein: All women tend to be a bit weaker in general in the pecs and chest area. With some simple toning exercises using light weights, you can tighten the muscles in that area and return firmness.
I am currently working with a client who considered surgery, but has found that through working with me, she is willing to wait it out a bit longer as the results she's seen have been tremendous!
Bright Hub: What are the best types of toning exercises to keep a woman's core strong?
Nikol Klein: For a strong core, I highly recommend that you seek a personal trainer with knowledge in Pilates! No one exercise will do the trick…there are really too many to list, but used in combination, you can achieve great results.
I utilize many different core building Pilates exercises with my clients such as The Hundred, The Pilates 5's, and the Jack Knife just to name a few.
Remember: it is important to work out all areas of the abs. Don't just do crunches. A good trainer will give you exercises for the oblique abdominals, the upper abdominals, the lower abdominals and your sides in combination.
Bright Hub: Can you recommend easy and effective arm toning exercises?
Nikol Klein: Simple moves like bicep curls are a great start! I give my clients a 5 minute long arm toning sequence with 3 pound weights that touches on the lats, triceps, shoulders, pecs, biceps, and chest.
Bright Hub: What about the legs and bottom?
Nikol Klein: Lunges are a great start to getting those legs in shape. Techniques using kettle bells and Bosu balls can really amp up your leg workout routine.
Bright Hub: Any other advice for women who want to get in shape?
Nikol Klein: Do not embark upon a fitness program without first consulting a doctor. And watch for my Fitness DVD series that I will be shooting this summer!