What Are the Calories in Chipotle Entreés? Nutrition Information for Burritos, Burrito Bowls, and Tacos at Chipotle Mexican Grill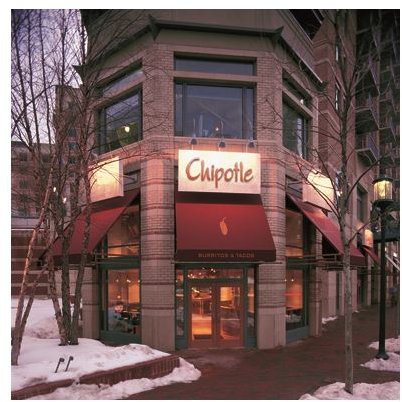 Chipotle Mexican Grill, the McDonalds-owned chain of Mexican fast food restaurants, is known for its fresh ingredients and while-you-watch preparation. But is its freshness deceptive? What kinds of calorie totals lurk in those spectacular, gigantic burritos? We researched the calories in Chipotle entreés and have some surprising results for you.
Chipotle serves up tacos, burrito bowls, salads and its signature, blimp-sized burritos–all for under $10 and created assembly-line fashion to your exact spcifications. Several types of ingredients are offered, and you can choose which you want to put into your entreé and which to pass on. The fillings offered vary depending on whether you're ordering a burrito, burrito bowl, or taco entreé. Let's take a look at the calories and nutrition in various popular Chipotle entreé combinations.
Chicken Burrito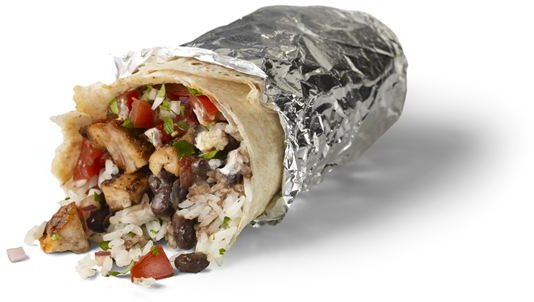 All Chipotle burritos come in a 13-inch tortilla with your choice of rice, beans, meat, salsa and cheese or sour cream. You can substitute fajita vegetables for the beans for a "fajita burrito." A chicken burrito with everything (including cheese and sour cream) comes to a whopping 1,179 calories. Where does it all come from? Cheese and sour cream always add 220 calories to any Chipotle combination. Another good chunk of that comes from the 290-calorie flour tortilla.
Other than the massive calorie load, the chicken burrito, as with all Chipotle entreés, delivers decent nutrition for the buck, with 127 percent of the recommended daily allowance (RDA) for vitamin A, one-half the RDA for calcium and vitamin C, and 26 percent of your daily iron requirement. It has 93 grams of carbohydrates and 47 grams of fat, as well as nearly 3,000 mg of sodium. However, the 11 grams of fiber and 61 grams of protein help to even things out.
Remember, the meat choice of each entreé affects calorie totals very little and can be swapped out nearly one-for-one. The biggest calorie changes come with adding or removing flour tortillas, cheese, and sour cream.
Vegetarian Burrito Bowl
Let's take a look at an entreé without a tortilla, cheese or sour cream. Burrito bowls are burrito "fixins" served in a bowl without a tortilla. A vegetarian burrito bowl with rice, black beans, fajita vegetables, fresh tomato salsa (pico de gallo), corn salsa, lettuce and guacamole comes to 491 calories and 56 grams of carbohydrates, and provides nearly as many vitamins and minerals as the chicken burrito. It has 28 grams of fat and only 448 mg of sodium, yet still has 19 grams of protein.
Soft Carnitas Tacos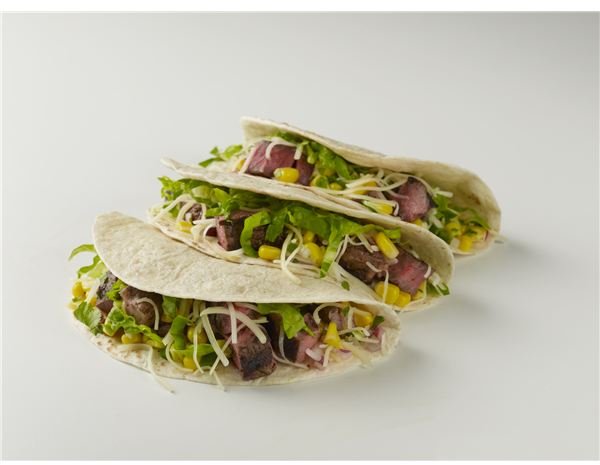 If you're trying some soft tacos for a change of pace, carnitas (barbecued pulled pork) tacos will run you 690 calories, if filled with carnitas, green salsa, sour cream, cheese, and lettuce. You'll also get 30 grams of fat, with 19 grams of it saturated, 750 mg of sodium, 6 grams of fiber and a massive 54 grams of protein.
Conclusion: Healthy, But Use Caution
There may be a lot of calories in Chipotle entreés, but keep in mind:
With the 1,000+ calorie entreés, such as burritos with cheese and sour cream, it is difficult to eat the entire dish in one sitting. Many people make two meals of them, making them 500 to 600 calorie "meals" apiece.
The ingredients are fresh and your order is put together right in front of you. Where else are you going to find guacamole made that morning in a fast food restaurant?
As a corollary to #2, remember that unprocessed foods are better for you than highly-processed foods.
You get a lot of vegetables and good nutrition. If you go light on the starches and dairy and pile up on beans and/or meat, fajita vegetables, lettuce, and salsas, you wind up with a powerhouse meal.
In sum, Chipotle entreés tiptoe close to the line of being a calorie disaster, but making informed choices will result in a healthy, nutritious meal.
References
Chipotle: Nutrition: https://www.chipotle.com/en-US/menu/nutritional_information/nutritional_information.aspx
Chipotle Nutrition Facts Calculator 2.0: https://www.chipotlefan.com/index.php?id=nutrition_calculator
Images:
Chipotle media kit: https://www.chipotle.com/en-US/company/media_kit.aspx