PTSD Iraq War Rates and Projections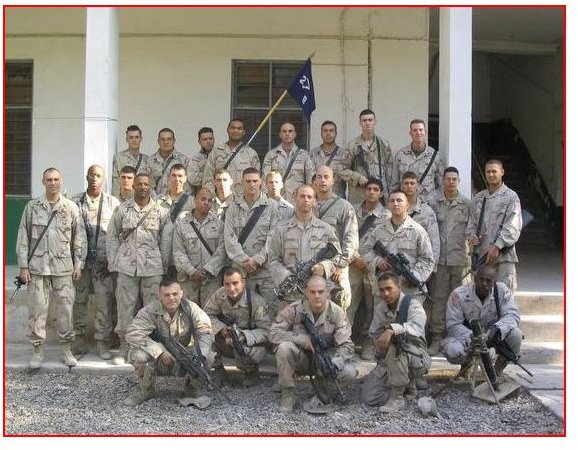 PTSD Rates in Operation Iraqi Freedom Veterans
The rates of PTSD in Iraq war veterans are high, and these numbers will only increase. Furthermore, they don't include the number of vets who don't admit to having trouble by reporting to any Department of Veterans Affairs (VA) medical and behavioral health center. Since the Iraq and Afghanistan wars are going on simultaneously, are similar in nature, and many veterans have fought in both in the last seven years, statistics will obviously include veterans of the two conflicts.
Avoidance, denial, mild cognitive impairment, substance abuse, and depression are all characteristics of this disorder that lead to the common behaviors of people with post traumatic stress disorder and will prevent a vet from seeking help when they really need it. Traumatic Brain Injuries (TBIs) are also common in Iraq war vets. TBIs are the result of being in close proximity to an explosion. They can affect many parts of the brain causing severe to slight cognitive impairment. So the lack of focus and ability to concentrate that
can be a large factor in PTSD is compounded by concurrent cases of TBIs.
As of 2009, the VA is treating 143, 530 new PTSD patients which is up from 134,000 the year before. It is usually standard practice that any vet going into a VA medical center for medical issues receives a questionnaire to determine if they are experiencing PTSD. That may be the first time the vet realizes some of his or her problems might be related to the war. This is an excellent opportunity to have them put in contact with VA mental health professionals.
However, returning Iraqi vets are predominantly under 25 and they have many other interests that take precedence over counseling (young families, school, work, don't want to admit to difficulties) and many more live in rural areas where even getting to the VA can be a problem (although many VAs have vans that make long trips for that purpose.) There is always the matter and possibility of a recurrence of PTSD, which can bring a vet back to the VA, long after they thought their troubles were over.
Image courtesy of the author
Research on PTSD: Then, Now, and in the Years to Come
Researchers at the San Francisco VA Medical Center and the University of California, San Francisco determined that less than 10% of U.S. veterans of the wars in Iraq and Afghanistan, who were diagnosed with PTSD between 2002 and 2008, received the recommended treatment plan, which was 10 weekly counseling sessions within a 15 week window. The VA can't take all the blame on that since vets who are diagnosed may refuse treatment or discontinue it once it's begun. But I also have it on the good authority of a friend who works in the behavioral health unit at the VA at Fort Harrison, here in Helena, Montana, that there is about a six week waiting list between being diagnosed and getting in to see a counselor.
However, this study didn't include the number of veterans who received mental health care outside of the VA system in places such as Vet Centers, community-based clinics, and private medical practices. That is another factor that clouds the numbers. Vets might feel more comfortable getting help in that more anonymous and non-government setting. We shouldn't care about numbers in that regard; if they're getting help, that's what's important. Veterans for Common Sense (VCS) determined, from information obtained from the VA, that in June 2009, 480,000 veterans of Iraq and Afghanistan were treated at a VA facility for some kind of medical or mental issue. Three months later in September, that number jumped to 508,000. As of September, 2009; 67,052 PTSD disability claims were approved. Many more are, and will be, pending.
Michael P. Atkinson of the Naval Postgraduate School and Adam Guetz and Lawrence M. Wein of Stanford University are researchers who published "A Dynamic Model for Post-traumatic Stress Disorder Among U.S. Troops in Operation Iraqi Freedom." They predict that as many as 35% of Iraq vets will have PTSD, and urge the VA to prepare for such high incidences. As you can see, the VA, Vet Centers, and any other mental health facilities that take it upon themselves to assist Iraq veterans with PTSD are faced with some daunting challenges due to these high numbers.
The last article in this series will discuss what the VA is doing to give vets the help they need.
Image courtesy of Wikimedia Commons
Sources
Lifetime Cost of Treating Latest Generation of Veterans Higher than Predicted on USMedicine.com: The Voice of Federal Medicine. https://www.usmedicine.com/physicalmedicine/lifetime-cost-of-treating-latest-generation-of-veterans-higher-than-predicted.html
Expect High Rates of PTSD Among Iraq Veteran: https://psychcentral.com/news/2009/09/15/expect-high-rates-of-ptsd-among-iraq-veterans/8365.html
US Department of Veterans Affairs: National center for PTSD: https://www.ptsd.va.gov/
https://www.truth-out.org/ptsd-claims-rise-among-veterans-treated-va-new-research-study-ptsd-and-tbi57909
Veterans for Common Sense: https://www.veteransforcommonsense.org/
This post is part of the series: PTSD in Iraq War Veterans: Getting the Help they Need is On Us
Well after the war in Iraq is over, veterans of the war will experience PTSD and need assistance or treatment to cope with it. This series conveys how important it is that we look after our vets. Find out about PTSD rates and projections, where to get help, and how the VA is handling record numbers.