Books for Borderline Personality Disorder: Three Must Reads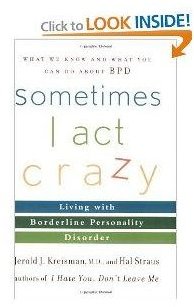 1. Sometimes I Act Crazy – Living With Borderline Personality Disorder
Written by Jerold J. Kreisman and Hal Straus (Wiley, 2006).
This follow-up to Kreisman's 1989 book, I Hate You, Don't Leave Me, delves further into the world of BPD including a better understanding of treatments and of the disease itself. Along with a BPD checklist of symptoms, this book for borderline personality disorder begins each chapter with a "patient." Each of these BPD patient/therapist discussions offers therapeutic answers to known BPD behaviors such as self-centeredness, anger, suicidal and harming habit behaviors.
The goal here being the reader is able to match book-patient behaviors and learn the best way to deal with each. For example, Chapter 2 is about a common BPD behavior–fears of abandonment. The behavior is explored and steps are offered on how to deal with these fears or symptoms when they occur.
The book is written for a general audience and doesn't use complex medical terms. It can help understanding of symptoms such as mood swings, self-esteem, destructive impulses and even offers a section on where to find professional help in the reader's area.
2. Stop Walking on Eggshells Workbook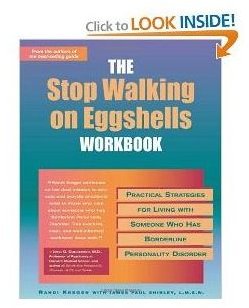 Written by renowned BPD experts Randi Kreger and James Paul Shirley, this "Eggshells" book is part of a series, but we've chosen it as a top book for borderline personality disorder sufferers and their loved ones because it is also a workbook. It is full of scenarios and follow-up exercises
Another inspiring feature is the book's ability to address BPD in real terms—with no excuses for the BPD sufferer. Kreger offers up tips on communicating from both ends of BPD, how to cope with rage or put-downs and how to enforce personal borders. When it comes to managing the symptoms of BPD such as hoovering the exercises are extremely helpful.
The key to the exercises in this book is following through with each one. For example, in one of the real life scenarios a BPD patient continually calls a non-BPD spouse at work to argue with them. The call only ends when the bipolar person has caused so much concern that their spouse agrees to come home early.
After the scenario is presented, the workbook offers two types of exercises. One is for the BPD sufferer and the other for their spouse. In this example the bipolar person is asked to identify what caused him or her to make the phone calls and how they could have handled the situation differently. Ample space is provided for writing down triggers and on subsequent pages, answers can be compared with what is therapeutically recommended. For the non-BPD person, a list of possible fixes is suggested to stop the behavior before it starts - by setting allowed and accepted borders.
3. Get Me Out of Here: My Recovery from Borderline Personality Disorder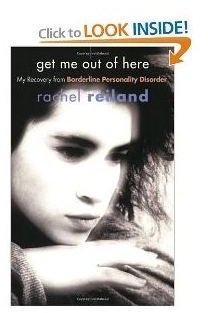 From actual BPD sufferer Rachel Reiland (a pseudonym) comes this first-hand experience. It's a great book for borderline personality disorder on how to cope with the disease.
For those just diagnosed with BPD, Rachel, an accountant and mother doesn't leave anything out including symptoms of BPD such as sexual escapades, anorexia, and stays in mental hospitals. It is not offered as a "treatment" BPD book, more it's a general understanding of what "…many professionals view as an untreatable…" disease.
This book explores what it feels like to have BPD inside and out and lands on our list of BPD books because it answers the "why and hows" about the condition, and its novel-reading format is an enticing page turner. Note: The Library Journal review on Amazon says this book is "recommended for all public and academic libraries as a complement to treatment guides." It does, however, offer graphic language and scenes.
Product screenshots courtesy of Amazon.