How Many Calories Are Burned While Snowshoeing?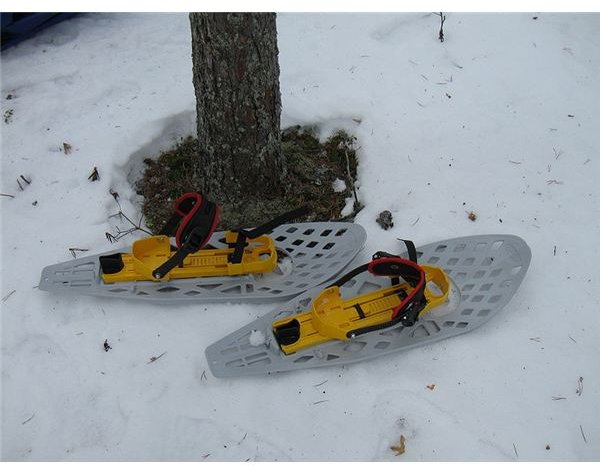 Snowshoe Equipment
Snowshoes are designed to let you travel across the snow without sinking by providing flotation, traction, and stability in the snow. Flotation results because of an increase in the surface area underneath your boot as well as the even distribution of your body weight across the the snow.
Recreational snowshoes are best for walking or hiking on flat and even terrain. Mountaineering snowshoes feature a technical design with more aggressive traction to handle steep and icy conditions. Running and racing snowshoes are designed for cross-training and competing. This type of snowshoe is lightweight, very durable and designed for use with running shoes. There may also be an extra cleat under the toe to provide additional traction on packed trails.
When choosing your snowshoes, the smallest size that will support your weight for the type of snow and terrain is best. Keep in mind that smaller snowshoes are generally easier to maneuver. Women's and children's models are also available that have smaller contoured frames and bindings to accommodate smaller sized footwear.
Simple Snowshoeing Techniques
Snowshoeing is one of the easiest winter sports to learn. You can take a leisurely walk down a nature trail, explore the rugged backcountry, or go for a heart pumping jog.
Climb - One method of climbing is to use a simple step-kick method. Drive your toe into the slope, engaging the front metal teeth, and then press down, establishing a firm, wide stance.
Descend – To descend, lean back slightly and dig your heel in. Focus your weight on the rear crampons to help you stop slowly. Keep in mind that if you feel like you are going to fall it is better to fall backward. During your descent, it is important to watch out for the tail of your shoes to make sure they do not catch on your backpack.
Traverse – When traversing the side of a slope, begin by stamping the side of your snowshoe into the hill and firmly sink in the cleats. Swing your other foot upward towards the slope, stamp it down, and secure your feet.
Snowshoe poles are important to have in areas of deep snow, as well as during climbing and descending bigger slopes. Poles will help provide balance and stabilization on difficult terrain. The addition of poles will also increase your upper body strength and endurance, providing a total body workout.
Calories Burned Snowshoeing
The energy expenditure during snowshoeing is greater than many sports. On hilly terrain in packed snow, if you are snowshoeing at a rate of approximately 3.5 miles per hour, you can expect to burn up to 800 calories an hour. At a steady and persistent pace, you can maximize your calorie burn, topping out at up to 1,000 calories burned per hour. For the average woman, a brisk snowshoeing session of 30 minutes will burn about 325 calories.
The muscles used during snowshoeing are similar to the muscles used during a vigorous walk or hike. During snowshoeing, your hip flexors and quadriceps are targeted due to the lifting motion used with each step. The use of poles also incorporates a strengthening, upper body workout. It has been estimated that snowshoeing compares to cross country skiing at 5 to 8 mph, running at 6 mph, or biking at 14 to 16 mph.
Snowshoeing is an excellent low impact workout due to the cushioning of the snow. It offers a wide range of options for exercise intensity. At the lower end you can leisurely pace yourself on flat terrain, stopping and slowing as needed. At the high end, you can break trail at a strenuous pace, going up and down hills, through deep snow. It is also important to note that fat loss is actually accelerated in colder weather, thereby making snowshoeing one of best exercises for increased fitness and weight loss.
Resources
Esnowshoes.com: Snowshoeing Away the Calories . . . Per Hour - https://esnowshoes.com/featured/snowshoeing-away-the-calories-per-hour
OutdoorPlaces.com: Introduction to Snowshoeing - https://www.outdoorplaces.com/Features/Hiking/snowshoe
Image Courtesy Of: WikiMedia Commons - SeppVei