A Review of Pomegranate Juice Nutrition Facts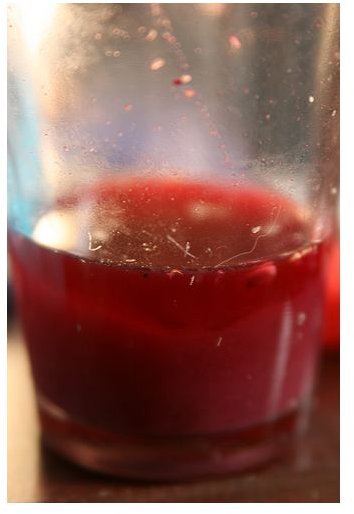 Basic Nutritional Info
A review of pomegranate juice nutrition facts reveals it as a great source for energy while still keeping fat, sodium, and cholesterol within manageable limits.
One cup (249 grams) of pomegranate (scientific name Punica granatum) juice provides 134 calories, including 6 calories from fat, 1g of fat, 22mg of sodium, and 33g of carbohydrates, including 32g of sugar. It contains no cholesterol or protein. This compares to 105 calories, 0.5g of fat, 5mg of sodium, 26g of total carbs, and 1.5g of protein in one pomegranate fruit weighing about 154g.
A serving of 8 fl oz (237 grams) of diet pomegranate juice available from Langers provides 40 calories, 10mg of sodium, and 9g of carbohydrates.
Among other nutrients, pomegranate juice is rich in vitamins and flavonoid phytonutrients. It is especially rich in vitamin K, providing 32 percent of the FDA's recommended daily value. It is also rich in vitamin B (riboflavin, thiamin, and niacin), vitamin C, calcium, phosphorus, folate, potassium, and manganese.
Antioxidants
The health benefits of pomegranate juice are many.
Pomegranate juice contains many nutrients and chemical compounds that aid in regulating many functions of the human body. Primary among them are antioxidants such as anthocyanins, polyphenol, and punicalagins. Pomegranate juice contains two to three times the amount of anthocyanins found in green tea or red wine, and higher amounts than fruits such as blueberries, cranberries and oranges known to be high in anti-oxidants. Antioxidants destroy the free radicals contained in the body and thereby prevent the degeneration of cells.
The presence of antioxidants, especially polyphenols, in promogranate juice promotes cardiovascular health. Polyphenols strengthen capillaries, reduce blood vessel damage, and retard the onset of problems like aging and heart disease. Such antioxidants also prevent the onset of atherosclerosis, lower blood pressure, and reduce blood clotting, all which prevent strokes and lessen its severity were it to occur.
Recent research suggests pomegranate juice as a possible cure for cancer, especially prostrate cancer. Components such as phenylpropanoids, hydrobenzoic acids, flavones and conjugated fatty acids, and the unique combination of ellagic acid, caffeic acid, luteolin and punicic acid found in pomegranate juice both inhibit the movement of cancer cells and weaken their attraction to the chemical signal that promotes the metastasis of prostate cancer to the bone
Other Health Benefits
Pomegranate juice health benefits extends to much more than preventing cardiovascular diseases and cancer. The combination of key nutrients and other minerals found in pomegranates juice cause a powerful synergy that prevents and reverses many diseases.
A 2005 research conducted at Loma Linda University provides preliminary evidence that pomegranate juice could stop the spread of alzheimer's disease.
Drinking pomegranate juice wards off kidney related complications for patients on dialysis. Patients who drank pomegranate juice experience reduced inflammation and free-radical induced damage of oxidative stress.
Including pomegranate seeds in the juice enhance the body's immune function and keep blood lipid levels healthy
A review of pomegranate juice nutrition facts reveal it as a wonder-drink and a nutritious liquid meal. The full health benefits and value of this fruit are yet to be established.
Reference
Image Credit: flickr.com/Quinn Dombrowski