What are Scallions? Find Out About This Flavorful Alternatives to Leeks and Green Onions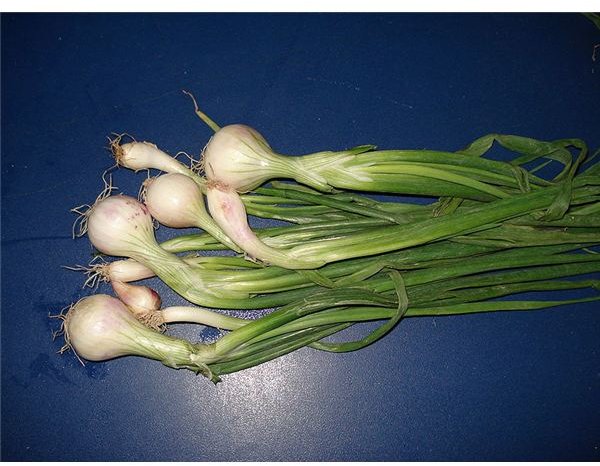 Scallions
What are scallions? Scallions may also be correctly called spring onions. They resemble leeks slightly in having a white bulb and stalk that is white by the bulb, but turns green closer to the leaf end. The biggest visual difference is that while leeks have a bunch of dark green leaves at the end, usually tightly wrapped together, a scallion is usually sold without any leaves on the end.
Scallions are commonly confused with green onions. They differ from green onions in that green onions are generally considered to be more mature than the scallion or spring onion. This is indicated by the bulb, which will be more bulbous on the more mature green onion. Scallions can be substituted for green onions in recipes.
Scallions have a strong flavor, but are quick and easy to prepare for cooking - much more so than an onion.
Scallion Nutritional Values
According to Nutrition Data, one tablespoon of chopped scallions contains two calories, zero fat, and zero cholesterol. That single tablespoon provides one percent of the recommended daily allowance (RDA) for dietary fiber, one percent for vitamin A, and two percent for vitamin C.
Scallions also provide 39% of the RDA for vitamin K, coming in at 31.1 mcg in one medium scallion. Vitamin K is believed to aid in normal blood clotting, as well as helping to prevent artery calcification and bone loss after menopause.
Scallions in Cooking
Scallions can be used in recipes calling for white or yellow onions, as a substitute ingredient. Like onions, they may be caramelized for addition to recipes or as a topping. They may be found in recipes for meat, soup, and casseroles, as well as more unusual recipes such as scallion pancakes and ginger-scallion root tea. Scallions are a popular ingredient in Asian cooking.
To prepare scallions for use in cooking, wash and then trim ends. Scallions are best stored in the refrigerator in a bag sealed with a small amount of air locked in. Be sure not to wash or trim scallions until ready to use them.
Summary
What are scallions? They are a great way to add variety and flavor to healthy home cooking. They are easily used in a wide variety of recipes and can be a great substitute for onions, with far less eye-watering when cutting. Scallions are easy to store and easy to find at the supermarket. Many farmer's markets will also have scallions readily available for purchase.
References
Onions, spring or scallions (includes both tops and bulb), raw. Nutrition Data. https://nutritiondata.self.com/facts/vegetables-and-vegetable-products/2509/2
Herbs and Spices: Scallions. Real Thai Recipes. https://www.realthairecipes.com/category/glossary/herbs-and-spices/
Vitamin K. Whole Foods. https://www.whfoods.com/genpage.php?tname=nutrient&dbid=112
Image Credit
Spring Onions/Scallions. Harri Piyaz. Public Domain. Wikimedia Commons. https://commons.wikimedia.org/wiki/File:Spring_onion_whole.JPG