Honey: What are the Health Benefits of Honey?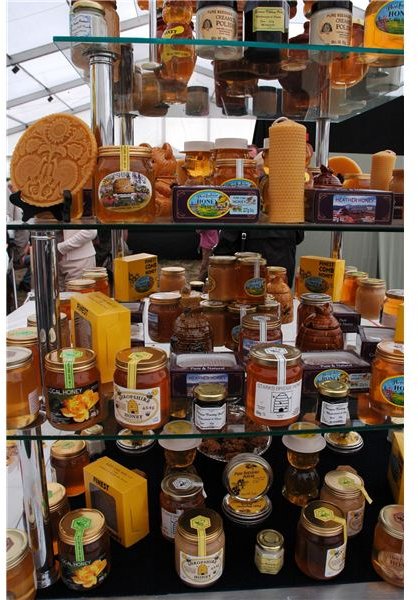 Honey has satisfied the human palate since time immemorial. Most people however remain unaware that some communities have been using natural honey as a home remedy for a wide range of ailments and complaints ranging from sore throat to cancer. In recent times, research has substantiated this medicinal property of honey.
Curative benefits
What are the health benefits of honey?
Honey has antiseptic, antioxidant, and cleansing properties that prevents the growth of certain bacteria and thereby cures many diseases and disorders.
When applied, honey releases Hydrogen Peroxide that absorbs moisture from the air and kills the germs or bacteria. This property of honey resulted in its widespread application on wounds in traditional and fork medicine, to keep wounds clean and free from infection. The anti-microbial property of honey also helps to cure diseases like eye conjunctivitis, sore throat and athlete foot
Honey is gentle on the stomach and helps to correct digestive disorders like diarrhea, indigestion, stomach ulcers, gastroenteritis, yeast infection and other disorders.
Honey treats minor acne by attacking the bacteria that cause the outbreaks. This same property also helps in the rejuvenation of broken skin.
Image Credit: everystockphoto.com/Indigo Goat
Preventive Benefits
Natural honey health benefits extend to the preemption of many diseases. Research proves that honey contributes to boosting the immunity system, and that consumption of natural honey prevents the occurrence of many diseases. The preventive health benefits of pure honey extends to the following:
The natural antioxidant properties of honey destroy biologically destructive chemical agents linked to many diseases such as cancer.
Natural honey speeds up the fat-burning metabolism process and ease stress hormones, effectively curing insomnia.
Natural honey contains a mix of natural sugars such fructose, which speeds up the oxidation of alcohol by the liver, preventing hangover normally caused by the intake of alcohol.
Other Benefits
The health benefits of regular honey consumption extends beyond the cure or prevention of diseases and disorders. Consumption of pure honey also brings forth some general benefits, contributing to overall vitality and wellness.
Honey contains a wide variety of vitamins such as vitamins B6, B1, B2 and B5, and minerals such as calcium, copper, iron, magnesium, manganese, phosphorous, potassium, sodium and zinc. All these minerals and vital for the human body and helps in keeping the body healthy and strong.
Honey is a great source of carbohydrates, which provide strength and energy to the body. Intake of honey leads to instant enhancement in performance and endurance. This property of honey prompts many sportsmen and athletes to take honey prior to their performance.
Disclaimer
The information in this article should not be considered medical advice. The information in this article is not meant to treat, diagnose, prescribe or cure any ailment. Always check with your physician before taking any products or following any advice you have read on Brighthub.com. Always consult your doctor before you start, stop or change anything that has been previously prescribed.
References
Lusby, P.E.; Coombes, A.; Wilkinson, J.N.; GradDip, F.E.T. - Journal of Wound, Ostomy and Continence Nursing, 2002 - jwocnonline.com
Al-Waili, N.S. - Journal of Medicinal Food, 2004 - liebertonline.com
Efem, S.E. - Br J Surg, 1988 - ncbi.nlm.nih.gov
Evans, H.D. - Journal of Invertebrate Pathology, 2006 - Elsevier
White Jr, J.W. - Adv Food Res, 1978 - ncbi.nlm.nih.gov