Canker Sores: Natural Remedies to Promote Healing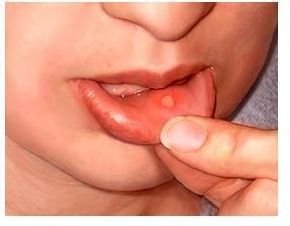 Canker sores are small, painful ulcers in the mouth that make talking and eating difficult. They are not cancerous, can occur at any age (mostly between the ages of 10 and 40) and are more common in women than men. Not all causes can be determined, but some include viral infections, biting the cheek and aggressive tooth cleaning. They may also be linked to a poor immune system, and can be triggered by emotional stress, hormonal changes and dietary deficiencies, especially iron, niacin, vitamin B12, folic acid and zinc.
In most cases, these uncomfortable sores will go away on their own. The pain normally decreases in 7-10 days and the healing process is usually complete in one to three weeks. However, using natural remedies can help relieve pain and speed up the healing process.
Diet
Eating a healthy diet can prevent vitamin and mineral deficiencies and promote a strong immune system, which in turn can help prevent viral infections. The following will help in the treatment and prevention of canker sores:
Avoid or greatly limit junk food and sweets. These are full of unhealthy fats and refined sugar, which can lead to deficiencies in valuable nutrients.
Eat at least five servings of fruits and vegetables a day. Fruits and vegetables are an excellent source of many vitamins and minerals. Dark leafy greens are good sources of iron and folic acid, and citrus fruits are rich in vitamin C which can improve the immune system.
Eat foods high in niacin, such as fish, chicken (white meat) and bran. Fish, as well as lean beef and eggs, is also a good source of vitamin B12. To ensure adequate amounts of zinc, include watermelon seeds, peanuts and even some dark chocolate in your diet.
Avoid acidic and spicy foods. These can cause further pain when you have a sore, and may cause future sores by irritating the mouth.
If you are on the go a lot and have a hard time eating as healthy as you would like, consider taking a high-quality multivitamin.
Remedies
Apply a small amount of blackstrap molasses (which has wonderful healing properties) in your mouth over the canker sore. After a few minutes, rinse thoroughly with water. Do this several times a day. You should also include blackstrap molasses in your diet because it is high in iron.

Dab your sore with castor oil to help soothe and heal. Do this each time you experience pain.

Apply tea tree oil (undiluted) directly to the sore three to four times a day. Be sure this essential oil is pure with no synthetic ingredients.

Pour 1 cup of boiling water over 1 heaping teaspoon of dried raspberry leaves, cover, steep for 30 minutes, strain and use as a mouth rinse. Swish for one minute three times a day to soothe pain. Between treatments, refrigerate the tea. Make a fresh cup each day.

Swish a mouthful of sauerkraut juice for one minute four to six times a day. Buy the juice from a health food store and not a supermarket.

Dip a tea bag (black tea) in boiling water, squeeze out most of the water and apply to the affected area for three minutes. Be sure the bag is not too hot.

Mix enough water with slippery elm powder to form a paste and apply to the sore.

Add 1/2 teaspoon of goldenseal powder (or the powder from one capsule) and 1/4 teaspoon of salt to a cup of warm water, stir and use as a mouth rinse.

Apply alum powder directly to your canker sore to promote rapid healing.

Rub some aloe juice over the affected area several times a day. If you don't have a plant, buy a product that has not been processed.

Add 1 teaspoon of dried sage leaves to one cup of hot water, cover, steep for 10 minutes, strain and use as a mouth rinse.
Prevention
Besides eating a healthy diet and avoiding foods that irritate the mouth to help prevent future sores:
brush and floss after each meal - use a soft-bristled toothbrush and avoid toothpastes and mouth rinses that contain sodium lauryl sulfate (SLS)
avoid chewing gum
When to Be Concerned
If symptoms - pain, tingling sensation, burning sensation - worsen or persist longer than a couple of weeks while using the above canker sores natural remedies or if you are experiencing other problems such as headache, fever, diarrhea or skin rash, call your health care provider.
Although these sores are benign and do not lead to cancer, there are certain types of cancers that may initially appear as a canker sore.
References
Medline Plus: Canker sores - https://www.nlm.nih.gov/medlineplus/ency/article/000998.htm
Web MD: Dental Health and Canker Sores - https://www.webmd.com/oral-health/guide/canker-sores
Weil: Canker Sores - https://www.drweil.com/drw/u/ART02954/Canker-Sores.html
Joan Wilen and Lydia Wilen, Bottom Line's Healing Remedies (2006)
Uncommon Cures for Everyday Ailments (from the editors of Bottom Line/Health) 2006
Image courtesy of the National Library of Medicine (NLM)
Disclaimer
Please read this disclaimer regarding the information contained within this article.