A Soothing, Relaxing Rose Oil Bath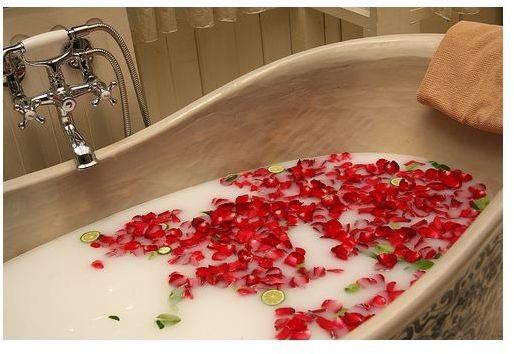 Rose for the Body and Mind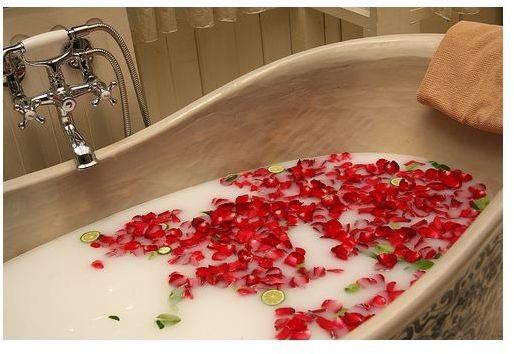 Rose essential oil is made from steam distilled rose petals. It takes 10,000 pounds of the flower petals to produce one pound of oil. The result is a highly concentrated essence of real roses. The aroma of each drop is sweet, floral and incredibly pleasing, but it is also beneficial for the body and mind.
Rose has antidepressant and sedative properties, easing tension, anxiety, insomnia and depression. It is very good for overcoming grief, anger and nervousness.
As an astringent it tones the skin, improving common conditions including wrinkles and dry skin. It is soothing for irritating skin and can help to repair broken capillaries.
Rose is good for the liver, stimulating liver and gallbladder function. This aromatherapy oil is also known to be beneficial for treating headaches, nausea and poor circulation. It does have emmenagogue properties making it useful for female problems such as irregular periods and uterine disorders, but it should be avoided during pregnancy.
Taking a rose oil bath is a simple, enjoyable way to benefit psychological well-being while improving skin tone and supporting immune health and overall well-being.
Recipes
A basic bath made with the essential oil of rose is very easy to make. A high quality product can be expensive, but only a small amount is necessary for use. Having a small bottle on hand can be very useful for making homemade body and skin care recipes and it can last for some time.
To make a bath use 8 drops of the essential oil. This should be added to a carrier and then added to warm bath water. Swirl into the water right before getting in. For healing properties and mental relaxation soak in the bath for 20 minutes.
The following can be used as a carrier:
1 cup of water
1 cup of milk
½ to 1 teaspoon of jojoba, almond, apricot or grape seed oil
For a detoxifying bath made with rose oil add 1 cup of Epsom salt and 1 cup of sea salt.
To focus on benefiting the skin, particularly dry or aging skin use the milk as a carrier or 1 cup of milk powder. Stir ¼ cup of honey into a cup of hot water and add to the bath as well for a rose, milk and honey soak.
Rose can also be blended with other essential oils, such as jasmine, lavender, neroli, mandarin, chamomile, clary sage, sandalwood and ylang ylang. If using more then one essential oil, still only use a total of 8 drops for one bath.
Safety
A rose oil bath is wonderful for well-being. It will leave you feeling calm and at ease. Rose is non-toxic and non-irritating and is generally safe, although you should talk to your doctor before soaking in a very warm bath or using Epsom salt if you have heart problems. Rose oil should be avoided altogether during pregnancy, just to be safe.
References
Mountain Rose Herbs. https://www.mountainroseherbs.com/learn/eo/rose.html
Esoteric Oils. https://www.essentialoils.co.za/essential-oils/rose.htm
Balch, Phyllis A. "Prescription for Nutritional Healing." Fourth Edition (Penguin Books, 2006).
photo by Dennis Wong/flickr
Disclaimer
Please read this disclaimer regarding the information contained within this article.