Rose Geranium Essential Oil: Benefits and Uses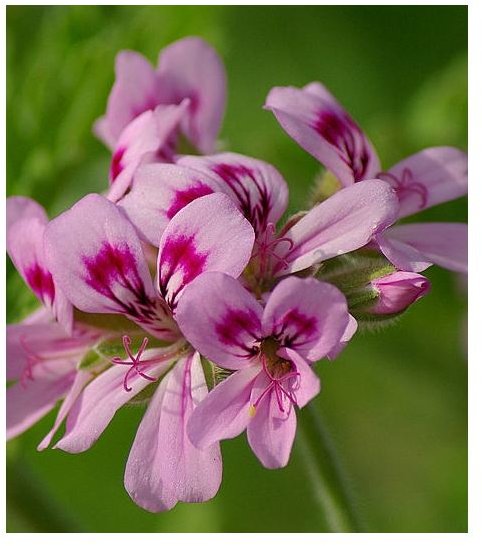 The Plant
Rose geranium (botanical name: Pelargonium graveolens) is a perennial plant with fragrant green leaves and pale-pink flowers with no scent, that flourishes in mild subtropical climates. It is a strong growing shrub, about three to four feet high, that is native to South Africa and produced in a number of countries, including the United States, France, Spain, India, China and Egypt.
The Oil
Rose geranium essential oil, extracted from the leaves and flowering tops, has a heavy, sweet aroma. It is composed chiefly of citronellol, linalool, geraniol and citronellyl formate, as well as several other compounds. It has antibacterial, antiseptic, anti-inflammatory, vasoconstrictor, astringent, styptic, analgesic, insecticide, sedative and antidepressant properties. Be careful to not confuse this oil with Turkish or East Indian geranium oil.
Benefits and Uses
Rose geranium essential oil is primarily used in skin care. It can be used to treat a number of problems, including acne, bruises, insect bites, cuts and scrapes, minor burns, athlete's foot, psoriasis, impetigo and eczema. Research suggests it can significantly reduce nerve pain that follows shingles. It is also said to treat broken capillaries, cellulite and hemorrhoids. In addition, some people use it as an astringent to tighten skin, helping to reduce wrinkles and fine lines.
When applying to the skin, dilute it with a carrier oil such as jojoba, olive, sweet almond, grapeseed, coconut or apricot kernel. Add 10 to 20 drops of rose geranium oil to 4 teaspoons of carrier oil. If you have sensitive skin, add 4 drops. You should always test a small amount at first to check for sensitivity.
Rose geranium oil can also be used in aromatherapy to treat problems like stress, anxiety and depression. There are a few ways you can use the oil in aromatherapy:
• Add a few drops of oil into an aromatherapy diffuser.
• Add a few drops of oil on a cotton ball. Place the cotton ball in a resealable bag and open to breathe in the scent when needed.
• Make an aroma spray. Fill an 8 ounce bottle (colored glass with a spray pump) with seven ounces of spring water, 1 ounce of witch hazel extract (alcohol distilled) and 20 to 25 drops of essential oil. Shake before spraying into the air and keep out of direct sunlight.
• Add a few drops in warm bath water and soak for 15 to 20 minutes.
Use with Other Essential Oils
Rose geranium oil blends well with many other essential oils, including lavender, jasmine, rosemary, rose, bergamot, neroli, clary sage, chamomile, lemongrass and palmarosa.
Safety
Rose geranium essential oil is considered safe, gentle and non-toxic but some people can develop a burning sensation or rash when applied to the skin. Do not apply directly to the mucous membranes or eyes. When applying to the face, it may cause eye irritation.
Pregnant women, breastfeeding moms and children should not use this oil without first consulting a health care provider.
References
WebMD: https://www.webmd.com/vitamins-supplements/ingredientmono-153-ROSE%20GERANIUM%20OIL.aspx?activeIngredientId=153&activeIngredientName=ROSE%20GERANIUM%20OIL
Purdue Guide to Medicinal and Aromatic Plants: https://www.hort.purdue.edu/newcrop/med-aro/factsheets/geranium.html
Mountain Rose Herbs: https://www.mountainroseherbs.com/learn/eo/geranium.html
Black Pearl: https://www.blackpearlbotanicals.com/rose_geranium.htm
Photo by Laitche / Wikimedia
Disclaimer
Please read this disclaimer regarding the information contained within this article.