Treating Psoriasis with Essential Oils: A Natural Way to Help Treat and Prevent Outbreaks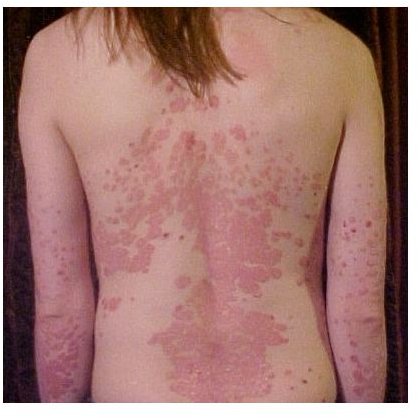 Psoriasis is a skin disorder that affects the life cycle of skin cells. The production rate of new cells is accelerated. It is a chronic condition, with no known cure, and symptoms can come and go. Dry skin and stress are a couple of things that can cause an exacerbation. Treating psoriasis with essential oils can help outbreaks and help prevent outbreaks by keeping the skin from becoming dry and by reducing stress.
Treating Outbreaks
Tea Tree Oil
Tea tree oil is extracted from the leaves of the Australian tree, Melaleuca alternifolia. It has been used by the Aborigines since early times to heal wounds. Although no studies to date have been done using tea tree oil as a treatment for psoriasis, according to the National Psoriasis Foundation, members have reported success with it, particularly on the scalp.
Unlike most essential oils, tea tree oil does not have to be diluted before applying to the skin. However, if applying to a large area it may be best to dilute it with a carrier oil like olive oil. Apply with a cotton ball and start with a small amount to check for sensitivity. If it irritates your skin, discontinue use.
Other
Other essentials oils that may help treat a psoriasis outbreak include lavender, chamomile, sandalwood and bergamot.
Preventing Outbreaks
Dry Skin
The following are some essential oils that can help moisturize the skin:
cedarwood
lavender
chamomile
helichrysum
bergamot
sandalwood
palmarosa
geranium
neroli
rose
clary sage
In a dark glass bottle, add a total of 10 to 20 drops of one or more of the above essential oils and 4 teaspoons of a carrier oil such as olive, jojoba, sweet almond, grapeseed or apricot kernel. If you have sensitive skin, add a total of 4 drops of essential oil. Vigorously shake the bottle to blend the oils. Once a day, apply the mixture to your skin, particularly in areas prone to psoriasis. Store leftover oil in a cool, dark place.
Stress
The following are some essential oils that can help relieve stress:
chamomile
rosemary
clary sage
geranium
sweet marjoram
sandalwood
jasmine
ylang-ylang
cedarwood
cinnamon
lemongrass
orange
To help relieve stress, you can:
• Mix the essential oil(s) with a carrier oil (see dry skin for instructions) and massage the oil around your neck, back and shoulders.
• Add a total of 10 drops of one or more of the above oils to a warm bath and soak for 15 to 20 minutes.
Final Note
When buying essential oils, it is important you buy pure oils that do not contain synthetic ingredients to get the best effects.
If pregnant or breastfeeding, consult with a health care provider before treating psoriasis with essential oils.
References
Mayo Clinic: Psoriasis - https://www.mayoclinic.com/health/psoriasis/DS00193
National Psoriasis Foundation: Alternative Approaches - https://www.psoriasis.org/netcommunity/Document.Doc?id=139
Photo Credit
https://commons.wikimedia.org/wiki/File:Psoriasis_on_back1.jpg
Disclaimer
Please read this disclaimer regarding the information contained within this article.