Teaching Kids How to Eat Healthy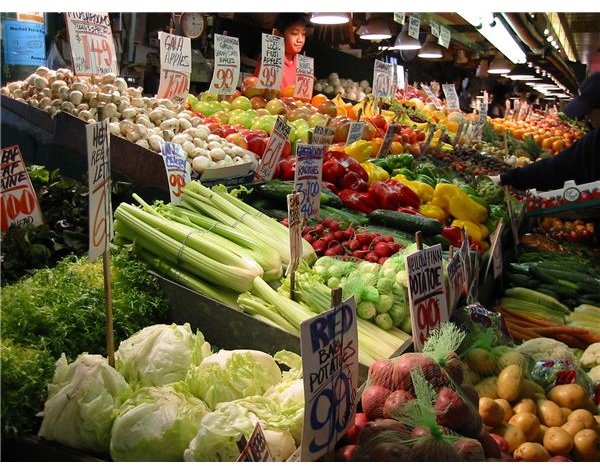 One of the most important jobs of a parent is teaching kids to eat healthy. But how? Well, it's not as difficult as it seems if you have some creative tricks in your bag. Here are some ways of getting those little people in your life to eat healthy, nutritious snacks for kids that they will actually enjoy!
One activity that is very instrumental in getting children to enjoy healthy snacks is bringing them into the kitchen with you to help with food preparation. When preparing food, have them take a taste and tell you what they think. They usually say, "I think it needs a little more salt" or something like that. So, humor them and add a little salt! Being involved in the preparation process makes them much more inclined to taste and enjoy what comes out of the kitchen. You can even have them help you grow sprouts or make homemade salad dressings to get them excited about eating what they grew and created. Another way to find healthy things kids like to eat is to peruse cookbooks together and allow them to choose recipes they'd like to try and then make them together.
Another important step to take when teaching kids how to eat healthy is to educate them about ingredients that are harmful to their health. Teach them to read labels in order to see if a food contains these ingredients. By doing this they will see for themselves that certain foods may not be an optimal choice and this will free you from having to say "no".
The top foods to stay away from are:
partially hydrogenated vegetable oils
high fructose corn syrup and regular corn syrup
food dyes
refined sugars
processed carbohydrates
white flour
fried foods
tap water
pasteurized dairy products
It is best to avoid packaged foods that contain more than ten ingredients and those that contain a bunch of ingredients that are hard to pronounce.
Healthy, Nutritious Snacks for Kids
When it comes to finding healthy things kids like to eat, the foods at the top of the list are fruits and vegetables and raw nuts and seeds. Following are some more ideas for healthy, nutritious snacks for kids:
sliced apples with raw almond butter
"ants on a log" which is celery topped with raw nut butter and organic raisins
flavored or spiced sprouted nuts that have been dehydrated in order to preserve the enzymes and nutrients
raw nut trail mix with dried fruit (unsweeted and unsulfured) and healthy chocolate chips (kids especially like flavored nut trail mix) visit https://www.youtube.com/watch?v=O0fYEZ2UYP8 for recipe instructions on making flavored sprouted nuts. You can spice them up any way you want!
sprouted grain crackers with cultured cream cheese
popcorn with a healthy, unrefined oil, Himalayan or Celtic salt, nutritional yeast
homemade popsicles made from kefir and blended up with berries,vanilla and stevia
fresh fruit and vegetable juices
green smoothie made from strawberries, pineapple, spinach,vanilla, Himalayan or Celtic salt and water or any combination of fruit and greens that you child will enjoy
veggie sticks with homemade salad dressing (raw dressing is the most healthy)
Guiltless Gourmet tortilla chips with salsa
fresh fruit or veggie platter with raw nuts
raw energy bars such as "Macro Life Naturals Macro Greens Raw Antioxidant Super Food" bar.
plain, cultured yogurt topped with almond meal and berries
sprouted grain bagel with cultured cream cheese
kefir with vanilla and stevia