Is Noni a Scam? Learn About the Benefits of the Noni Fruit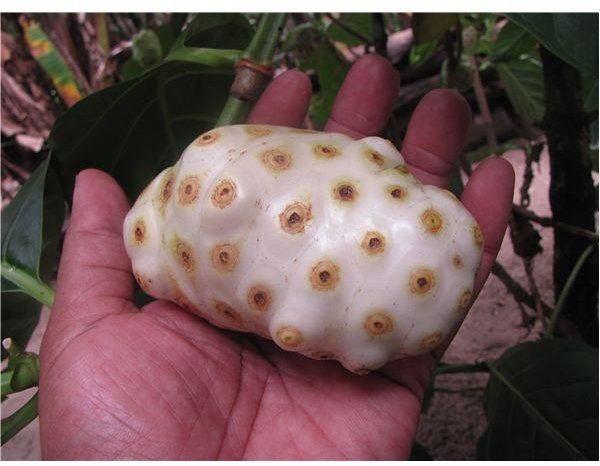 Benefits of Noni
In many tropical countries where noni is grown, it is not used extensively for its reported "medicinal" or "curative" properties. In this article we review some key facts, reported uses and information on this heavily-marketed commercialized fruit.
A Noni in Hand
Gazing past my host and out the opened back door I saw them. Moments later I was holding a plump one in my hand.
"Hey, you have a noni tree!"
"Yeah, actually we have several."
"Oh man, that's great."
"Really? Why do you say that?"
"Because you have your own supply of noni." "You can get it any time you want to."
"Well yeah we can, but we don't bother much with them."
"Why? Don't you use them? What do you do with them?"
"_Most of the time we just feed them to the pig_s."
Sitting bolt upright, startled, I blurted out, "_You wha_t?"
My San Andres island host then went on to explain that their abundance of noni wasn't quite such a windfall after all. Mostly it wound up as porcine fodder due to its one greatest distinctive negative quality. Noni fruit tastes absolutely horrible. I mean really, really, really bad. So bad in fact that 99.999% of the people who taste the ripened fruit for the first time quickly spit it out, like my mother did. I swallowed mine, but only because I'd tasted worse things in my life – although at the moment, I can't think of any. Taste is definitely not one of the benefits of noni.
So with Tahitian noni juice hyped and credited as a virtual "miracle cure" for everything from the common cold to diabetes and cancer, is noni a scam? Read for for a complete list of the supposed benefits of Noni Juice…
Is Tahition Noni Juice a Fraud?
According to its proponents, noni (Morinda citrifolia) has a positive or curative effect on the following diseases and health ailments:
· Cancer (reduced symptoms)
· Arthritis (reduced symptoms)
· AIDS (reduced symptoms)
· Diabetes (condition improvement)
· Asthma (condition improvement)
· Depression (helps to aliviate symptoms)
· Multiple Sclerosis (reduced symptoms)
· High blood pressure (reduced symptoms)
· Heart disease (reduced symptoms)
· Digestion (condition improvement)
· Menstrual irregularities (reduced symptoms)
· Obesity (aids in reduction of excess weight)
· Kidney disease (condition improvement)
· Allegies (reduced symptoms)
· Stress (reduced symptoms)
· Insomnia (condition improvement)
· Tobacco use (aid to quitting)
… and this is an incomplete, starter list. More than seventy active ingredients have been scientifically identified in the fruit and juice of the noni, including carotene, iron, magnesium, parafines, pectins, phosphates, alcaloides, carbonates, glucose, sodium and benzoic acid to mention just a few. The nutritional and health related properties are well documented by reputable medical centers, research facilities, hospitals and clinical trials.
Most frequently, a glass of noni juice commercially combined with grape or blueberry juice and bottled in dark green glass containers to protect the Noni juice from light, is consumed from one to three or more times daily, usually before meals.
Enter the Green Grape
So then if Tahitian noni juice tastes so bad, but offers such nutritional and health benefits, how can it be marketed? For the answer to that, enter the green grape.
My mother wiped her mouth. The obvious dislike showed in her face saying more than any words could. The Rastafarian man who'd given her the fruit to taste from a bag full of them, counterd quickly.
"You need some green grapes, Ma'am."
"What do you mean?" my mother responded.
"Put the noni in a bottle and add a pound of green grapes to sweeten the taste." "Then you can drink it", he added, not wanting to lose his prospective sale.
For weeks following the sale, we bottled the softened Noni fruit, added ripened green grapes and stored the concoction in the refrigerator. The taste was improved as were some minor health problems we individually experienced. Commercially, noni can be expensive, and difficult to acquire in some areas, but numerous testimonials for the fruit's health benefits offer some credence to its claimed beneficial effects. Although heavily over-commercialized, noni offers some clinical and medically-approved support demonstrating that it is not a miracle cure as sometimes touted, but a healthful fruit drink with some alleged health benefit results.