Nutrition Guide for Spinach Juice: Calorie Content and Nutrient Listing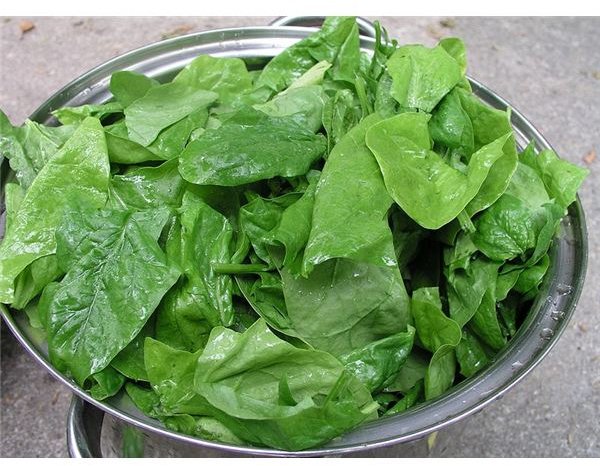 Nutrition Facts
Spinach (Spinacia oleracea) is a member of the Chenopodiaceae family which is the same family that beets and chard belong to. It is an edible flowering plant packed full of good nutrition. Spinach is an annual plant that can grow year round in many climates, but is most commonly planted in the spring for spring and early summer harvest or in the fall, for fall and early winter harvest. It is thought that spinach was first domesticated in China and many other parts of Asia and the Middle East over 2,000 years ago.
The Health Benefits of Spinach
The health benefits of spinach juice are many. It is known to be an effective colon cleanser as well as an intestinal healer. This fact is of utmost importance because optimal health is not possible without a clean colon. The combination of carrot and spinach juice can help to prevent pyorrhea (inflammatory disease) of the teeth and gums.
According to Norman Walker, D. Sc. in his book, Fresh Vegetable and Fruit Juices, What's Missing in Your Body?, other conditions that can be improved by the regular consumption of carrot and spinach juice are "duodenal and other ulcers, pernicious anemia, convulsions, degeneration of various nerves, deficiency in adrenal secretions and those of the thyroid, neuritis, arthritis, abscesses and boils pains in the region of the gonads, swelling of limbs, tendency to hemorrhage, loss of vigor" and many other ailments.
Spinach is high in chlorophyll which is where its vibrant green color comes from. It is also a rich source of vitamin K, carotenes, vitamin C and folic acid. It is also a very good source of manganese, magnesium, iron, and vitamin B2 as well as vitamins B6, E, and B1.
Spinach is an excellent source of enzymes as well as antioxidants. This delicate leafy green vegetable contains twice as much iron as many other greens. It is a great blood purifier. It is a very strong alkalizing food which is important for keeping a proper pH in the body. Spinach has been shown, in many studies, to have strong anticancer properties as well.
A daily fresh green vegetable juice containing spinach is a great addition to any diet.