Herbal Remedies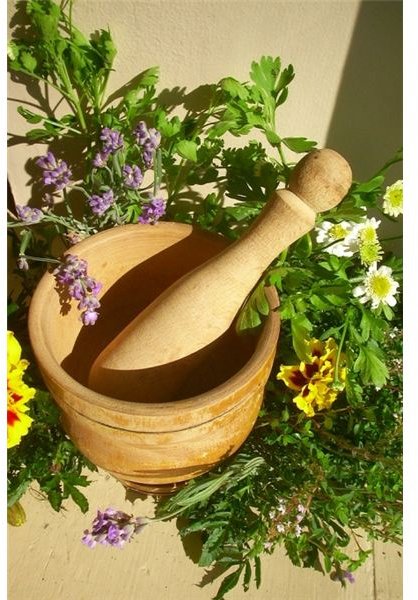 Herbs should be treated like medications when being used to treat and prevent health problems. If you are serious about herbal remedies, finding a reliable book is important. However, despite what book you choose, it is still important for many people to consult with a health care provider before using herbs. The following are recommended books on herbs and their medicinal uses.
Herbs of the Earth: A Self-Teaching Guide to Healing Remedies
Mary Carse, a registered herbalist, is the author of this 239 page book published by Upper Access, Inc. She has taught courses in herbalism for over 25 years and this book is recognized as a classic in its field by herbalists everywhere.
Herbs of the Earth is a simple guide for beginners and a thorough reference for those who are experienced with herbs. It is arranged as "lessons" and even provides questions to help promote full understanding. Mary Carse gives information on the most frequently used herbs, what conditions the herbs can help (especially those for women and children), preparations, herbs to collect in the wild, herbs to grow and so much more.
All royalties go to a monastery in Massachusetts.
The Healing Power of Herbs: The Enlightened Person's Guide to the Wonders of Medicinal Plants
Michael T. Murray, N.D. is the author of this 432-page book published by Gramercy. He is also one of the authors of the best selling book Encyclopedia of Natural Medicine. Doctor Murray is one of the world's leading authorities on natural medicine.
The Healing Power of Herbs provides information, including scientific research, on 37 common herbs that can be used to treat 34 common health problems. In addition, the history of herbal medicine and herbal preparations are included. Both the layman and professional will find this book helpful.
The Herb Book: The Complete and Authoritative Guide to More Than 500 Herbs
John B. Lust, N.D. is the author of this 700-page book published by Benedict Lust publications. He is a fellow of the Naturopathic Forest University and a permanent member of the British guild of Drugless Practitioners.
The Herb Book includes more than 500 herbs for medicinal and cosmetic uses. Although it is a bit weak on illustrations, the book offers a wealth of information.
The Green Pharmacy: New Discoveries in Herbal Remedies for Common Diseases and Conditions from the World's Foremost Authority on Healing Herbs
James A. Duke, PhD, is the author of this 528-page book published by Rodale Books. Doctor Duke is a botanist and authority on medicinal plants and healing herbs.
The Green Pharmacy provides treatments for over 120 health conditions. Personal anecdotes from his 30-plus years of studying herbs can be found throughout the book. This book is highly recommended by other experts in natural medicine, including Andrew Weil, M.D., Joseph E. Pizzorno, N.D. and Mark J. Plotkin, Ph.D.
Herbs for Pets: The Natural Way to Enhance Your Pet's Life
Gregory L. Tilford & Mary L. Wulff-Tilford are the authors of this 325-page book published by BowTie Press. The Tilfords are both herbalists and are recognized experts of veterinary herbal medicine.
Herbs for Pets is a resource guide for dogs, cats, horses and birds. It provides information on the plant, including its description, habitat, cycle and bloom season, harvest techniques, preparations, and common uses.
The above books on herbs and their medicinal uses can be found in most bookstores.
References
https://www.amazon.com/
https://www.barnesandnoble.com/
Photo Credit
Photo by bigorangekombi (CC/flickr)