The Healing Benefits of Meadowsweet Herbs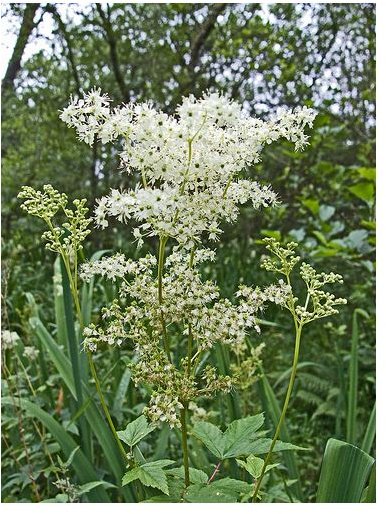 Digestive Aid
Meadowsweet herbs are one of the foundational herbal digestive aids. For this reason alone this plant deserves a place in every herb garden or herbal first aid kit. Meadowsweet can be used to treat chronic issues, or simply to bring relief for temporary digestive problems.
How is this herb so beneficial? It has a gentle astringent affect on any tissue it interacts with, condensing cells and limiting unwanted discharge. It calms upset stomach, and quells nausea. Meadowsweet soothes and protects the mucous membranes of the stomach and digestive tract, and reduces acidity. When chronic issues lead to the inflammation of tissue, meadowsweet will help.
This healing herb can be safely used for heartburn, gastric and peptic ulcers, upset stomach, and diarrhea. For gastritis, gastric ulcers, and an irritated stomach, try mixing meadowsweet with comfrey and marshmallow root. For a gentle herbal remedy for diarrhea, blend this herb with equal parts of lady's mantle.
Pain Relief
Containing salicylic acid, this herb has been used by pharmaceutical companies to manufacture aspirin. Instead of taking the actual pills, meadowsweet is a natural, yet effective alternative. Plants contain an array of nutrients and medicinal compounds, which act synergistically with one another to impart healing benefits. In this way, by taking meadowsweet for pain relief and fevers, you are taking the medicine that nature intended.
This herb is beneficial for headaches, achy, feverish colds, and general pain relief. As it also acts as an anti-inflammatory agent, it can both reduce pain and inflammation in cases of arthritis and rheumatism. A wonderful herbal blend for headaches is meadowsweet, lavender, and balm. For arthritis, try mixing this herb with bogbean, yarrow, and celery seed.
Meadowsweet Tea
Drinking meadowsweet tea is a great way to receive the medicinal properties of the herb. Drink one to three cups a day, or when needed. A fragrant herb, meadowsweet has a sharp, clean, sweet flavor. To brew an infusion, pour one cup of boiling water over two teaspoons of the dried herb. Cover and let steep for about ten minutes. For fresh meadowsweet herbs, steep about one handful of the leaves in one ounce of boiling or very hot water. Try serving to guests after a big meal and a bottle of wine, to help prevent headaches and digestive issues.
Growing Meadowsweet
This herb is a beautiful addition to a herb, flower, or vegetable garden. The plant has soft, yellow-white flowers, thin reddish stalks, and bright green leaves, similar to mint leaves. It thrives in organic, well-composted soil. When growing meadowsweet, be sure to use plenty of water; if leaves start to whither, prune and hydrate regularly.
Meadowsweet has no known negative side effects, regardless, always talk to a health care practitioner when using herbal remedies, especially if on any type of prescription medication.
Resources
Hoffmann, David. "The Complete Illustrated Holistic Herbal: A Safe and Practical Guide to Making and Using Herbal Remedies." (Element Books, 1996).
Stone, Anita B. "Herbs to Know: Meadowsweet." (The Herb Companion, September 2006).
Photo Credit
photo by: NZ Willowherb (CC/flickr) https://www.flickr.com/photos/willowherb/3733055592/
Disclaimer
Please read this disclaimer regarding the information contained within this article.