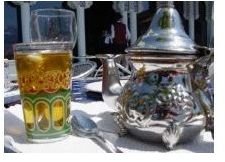 Mentha Leaves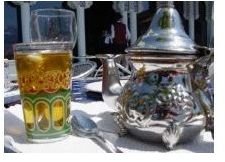 Peppermint, spearmint or even a blend of mints, an herbal infusion made from dried or fresh mint leaves is a delicious, soothing, calming drink. A popular after dinner tea, mint is enjoyed not only for the cool flavor but also for the health benefits. Drinking a mint infusion is good for the digestive system and the nervous system and it is useful for relieving many common minor health issues.
Benefits of Drinking a Cup of Tea
Mint leaves are rich in volatile oils, including menthol and menthone. Other beneficial constituents include tannin and bitter properties. This herb is also a source of B vitamins, vitamin E, calcium, magnesium, potassium, zinc and iron.
Mint, particularly peppermint, has a positive effect on the gastrointestinal tract and is an excellent carminative herb. It stimulates bile and the flow of digestive juices and increases stomach acidity, making the digestive process work much more efficiently. It also relaxes the visceral muscles. Having a cup of tea after a heavy meal is a great way to prevent gas and an upset stomach. It is also good for dealing with irritable bowel syndrome.
The volatile oils have a mild numbing effect on the walls of the stomach. This makes drinking mint tea very useful for relieving mild nausea.
Mint also acts as a nervine herb. It is good for toning the nervous system, alleviating anxiety and tension. Peppermint or spearmint has a mild effect on the nerves, calming and soothing while at the same time acting as a mental stimulant, clearing the mind.
As a nervine but also having both analgesic and anti-spasmodic properties, this cooling herb can even be helpful for relieving painful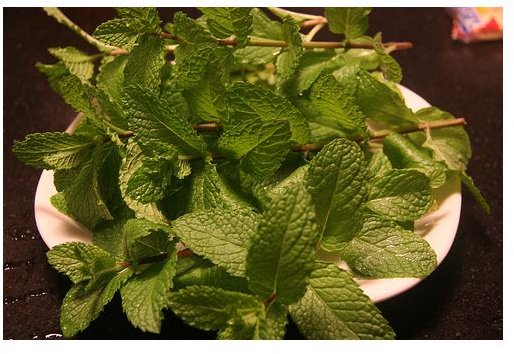 menstrual cramps. Drinking one to three cups throughout the day can ease the associated pain and tension of dysmenorrhea.
Mint is also known to be good for headaches. It is particularly useful or headaches that are due to digestive problems or stress. As a diaphoretic, mint, especially peppermint, is a cleansing herb, encouraging the removal of toxins through the skin. It also can be helpful for bringing down a fever.
Tea Recipe
To make a cup of mint tea yourself use 1 heaping teaspoon of the dried leaves. Using 1 cup of boiling water, steep for 10 to 15 minutes. Cover while steeping to help contain the volatile oils. Drink as is needed.
Mint tea blends well with many herbs as it has a pleasing aroma and flavor. It also helps to mask some of the more bitter herbs. For digestive trouble drink alone or try with cardamon. For anxiety mint blends well with skullcap, valerian or red clover. For painful periods try peppermint with valerian. For a fever mint can be blended with elder flowers.
The benefits of mint tea are many. Enjoy a cup after a meal or any time of day. While generally safe, do not drink mint tea in excess. Also, avoid if you have problems with acid reflux. Peppermint is often recommended as a natural remedy for nausea during pregnancy, but it should not be consumed in excess. Talk to your doctor before using any herbs if you are taking any medications.
References
Hoffmann, David. "The Complete Illustrated Holistic Herbal: A Safe and Practical Guide to Making and Using Herbal Remedies." (Element Books, 1996).
Balch, Phyllis A. "Prescription for Nutritional Healing." Fourth Edition (Penguin Books, 2006).
photo by Rexipe/flickr
photo by Karen Sandler/flickr
Disclaimer
Please read this disclaimer regarding the information contained within this article.