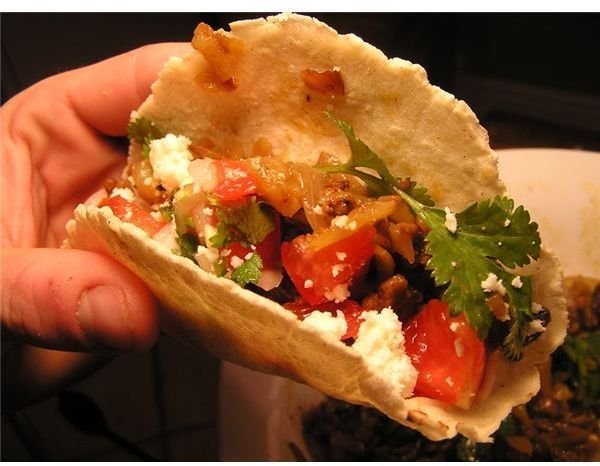 Cinco de Mayo is a holiday that marks the May 5 victory of Mexico over the French in 1862. It's celebrated in many communities in Mexico and the United States with Mexican food, beverages, and music. Often that could include dishes loaded with fat and salt. But since many of the staples of the Mexican diet are healthy, many foods for Cinco de Mayo are healthy as well.
Starting with tortillas, you can create a myriad of dishes for your fiesta. Tortillas serve as the basis for common Mexican recipes like tacos, nachos, burritos and enchiladas. Flour and corn tortillas are both used. Flour tortillas are easier to roll for dishes like burritos, where a tortilla is wrapped around a filling that could contain meat, rice or beans, but corn is richer in nutrients than flour and is the better choice for people with gluten sensitivities.
Yes, You Can Make Your Own Tortillas
Never made fresh corn tortillas? It's ridiculously easy, and they taste so much better than store-bought tortillas. You'll need a special kind of cornmeal called masa harinas, commonly sold in the Mexican foods aisle or at your local bodega. A tortilla press, which you can buy for less than twenty dollars, makes the job much easier than pressing by hand or with a rolling pin. Mix the masa harinas with water according to the package instructions. Roll into golf-ball sized balls. While you're working, keep the bowl covered with a damp cloth. Place a square of waxed paper or thick plastic (cutting the edges off a gallon-sized plastic freezer bag works well) on the bottom of the press, place a ball of dough on that, another piece of waxed paper or plastic atop it, then press. Peel off carefully and place the flattened, raw tortilla into a hot, dry frying pan. Fry for thirty seconds, flip, fry for a minute, flip, and then give the first side another thirty seconds or so. Remove from pan. Try not to swoon from the lovely scent of toasted corn. Store the fried tortillas in a tightly covered container to retain pliability and freshness until ready to serve.
Salsa!
Fresh tomato salsa is another Mexican staple that is also a powerhouse for your health. Tomatoes are rich in vitamin C and lycopene, a nutrient thought to prevent some cancers. Salsa is tasty, has zero fat and is easy to prepare. Simply chop a couple of large, ripe tomatoes, then add a handful of chopped cilantro, minced fresh garlic to taste, half an onion, one or two minced jalapenos, a bit of salt and a splash of lime juice. If you like black beans, toss some in for extra protein and vitamins. Fresh tomato salsas are also good made with fruit, like apricots or peaches. Tomatillos, which look like small, green tomatoes, also make excellent salsas.
Got Guac?
What's a Mexican feast without guacamole? This dip, made from ripe avocados, is often maligned for its high caloric content, but avocado contributes vital nutrients like B vitamins, potassium and fiber to your healthy diet, as long as you limit the portion size. Guacamole is easy to make, too: mash a couple of ripe Haas avocados, mix with lime juice, chopped tomato, chopped onion, jalapeno, chopped fresh cilantro, and salt to taste. Keep covered until serving to prevent the guac from turning brown.
But What About Chips?
Processed tortilla chips can give you scoop after scoop of extra fat and sodium. To make your own low-fat chips to accompany your salsa and guacamole, brush corn tortillas (homemade or store-bought) with a touch of olive oil, stack them up and, using a sturdy knife, cut the stack into quarters. Spread the cut tortillas out on a baking sheet, sprinkle with a bit of salt or paprika, and broil until golden brown.
How About Burritos?
Although burritos in many restaurants are made with white flour tortillas, you can use whole-grain versions and choose your fillings with care to keep this Mexican favorite low in fat and sodium. Try black beans, cooked brown rice and some salsa, or a bit of guacamole. Chicken is often used in burritos and many other Mexican dishes, but remove visible fat before cooking. And if you cut down or eliminate the cheese, you will save the bulk of fat and sodium Mexican food is blamed for.
Enjoy the fiesta while sticking to your healthy eating plan by choosing fresh, nutritious foods for Cinco de Mayo.
References
Cinco de Mayo: https://www.mexonline.com/cinco-de-mayo.htm
Mexican Dip with Guacamole: https://www.mexicanfoodrecipes.org/Mexican-Recipes/salsa-recipes/guacamole/index.php
Mexican Food Recipes: https://www.mexicanfoodrecipes.org/Mexican-Recipes/index.php
How to make Corn Tortillas: https://simplyrecipes.com/recipes/how_to_make_corn_tortillas/
Avocado Nutritional Information: https://www.avocado.org/nutrition/
Credits
Photo courtesy of thepauperedchef.com