An Overview of Some Delicious Low-Fat Diet Meals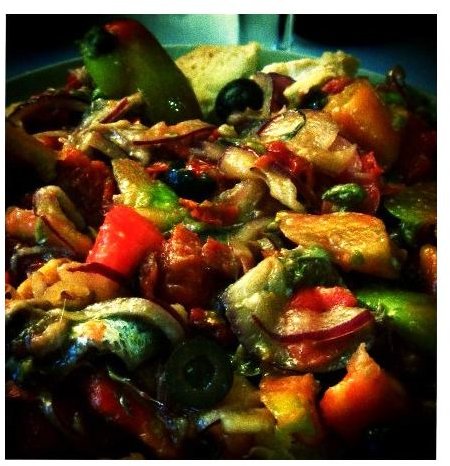 What is a Low-Fat Diet?
Reducing total fat is an easy way to reduce calories, for fat is more than twice as caloric as carbs or protein. Research however does not make such an assertion conclusive. Rather, the type of fat matters. "Bad fat" such as saturated and trans fats increase the risk of obesity or other diseases and need avoidance, whereas "good fats" such as monounsaturated and polyunsaturated fats actually improve blood cholesterol levels, ease inflammation, stabilize heart rhythms, lower the risk of disease and contributes to healthy eating.
Low-fat foods contain less than 3 grams of fat, but the major concern when preparing delicious low-fat meals should be on elimination of unhealthy saturated and trans fats.
General Ingredients
Follow these guidelines to select ingredients and food choices for a low-fat diet.
Meat, poultry with skin, whole-milk dairy products such as cheese, milk and ice cream, and a few plant foods such as coconut and coconut oil, palm oil and palm kernel oil abounds in unhealthy saturated fats. Limit intake of such foods to about 6-oz a day, avoid frying such foods and choose leaner versions.
Commercial baked goods, processed foods, margarine, french fries and other fried foods abound in unhealthy trans fats. Avoid such foods.
Canola, peanuts, olive oil, avocados, nuts such as almonds, hazelnuts and pecans, and seeds such as pumpkin and sesame have high concentrations of good monounsaturated fats. Sunflower, corn, soybean and flaxseed oils, walnuts, flaxseed and fish are all rich in polyunsaturated fats including the healthy omega-3 fats. Include such ingredients. Fish especially make for an excellent option, but make sure to pack it in water rather than oil.
Most vegetables, fruits and legumes remain low in fat. Include two or more servings of vegetables, especially dark green or yellow vegetables, and three servings of fruit daily, along with legumes such as beans, peas and lentils.
Pasta, pretzels, rice and whole grain bread make for other foods low in fat. Among diary products, opt for skim milk and low-fat versions of yogurt and buttermilk.
Recipes
The following are some healthy and delicious low-fat recipes:
Beef Gravy: Brown 3 tablespoons flour in a frying pan, add a beef bouillon cube dissolved in a cup of hot water to the brown flour along with ¼ teaspoon salt or salt-substitute and cook, stirring constantly until thick. Strain out lumps.
Baked Fish Fillets: Place 1 ½ pounds of white fish fillets in a casserole dish and season with salt, pepper and paprika. Make white sauce by dissolving a chicken bouillon cube in ¼ cup of hot water and blend it in 3 tablespoons flour. Heat 1 ½ cups of skim milk and add to the sauce slowly, stirring constantly. Add a teaspoon of Worcestershire sauce, 2 ½ tablespoons of sherry, ½ teaspoon of rosemary and ½ cup of mushroom, and continue to stir. Pour this mixture over the seasoned fish and bake for 25 minutes in a 325 degree oven.
Banana Oatmeal Cookies: Beat 3 eggs, and add to it a cup of sugar, a teaspoon of vanilla, ½ teaspoon of lemon extract and 3 mashed bananas. Beat well, and add 2 cups of sifted flour, a teaspoon of baking powder, ½ teaspoon of baking soda, a teaspoon of vanilla, 1 ½ cups of rolled oats and ½ cup skim milk to the egg mixture. Bake at 375 degrees for about 15 minutes to get five dozen cookies.
Guacamole: Cut 2 medium avocados in half lengthwise, and twist the two halves apart. Scoop the pit out by spoon, and scoop the flesh into a small mixing bowl. Mash the avocados to a coarse puree, and add 1 minced garlic clove, 1 ½ tablespoons of freshly squeezed lime juice, 1 finely chopped onion, 2 tablespoons of finely chopped white onion, 1 Serrano chile and a small tomato cut into ¼ inch dice. Season with salt.
The Mediterranean Diet
The Mediterranean diet menu fits the concept of delicious low-fat diet meals. The foods in this diet are low in calories, contain healthy fats, lean protein and fiber, avoid unhealthy fats and cholesterol, and contribute to weight loss and other metabolic benefits.
The Mediterranean diet does not recommended any fixed menu or dietary instructions, but contains mostly vegetables, fruits, olives, beans, whole grains, olive oil and fish, along with a little dairy and wine, and topped by leisurely dining and regular physical activity. This diet also recommends the use of fresh and seasonal ingredients, and simple preparation without deep-frying
A basic Mediterranean diet pattern involves daily consumption of 2 ½ cups fruits, 2 cups vegetables, a handful of nuts, about 4 ounces meat or poultry, 2 cups low-fat diary and a serving of wine daily, along with eggs four times a week.
References
Harvard School of Public Health. "Fats and Cholesterol: Out with the Bad, In with the Good." https://www.hsph.harvard.edu/nutritionsource/what-should-you-eat/fats-full-story/index.html. Retrieved May 18, 2011.
The Ohio State University. "Restricted Fat Diet." https://medicalcenter.osu.edu/PatientEd/Materials/PDFDocs/nut-diet/nut-other/restrict.pdf. Retrieved May 18, 2011.
Zelman, Kathleen, M. "The Mediterranean Diet." https://lifework.arizona.edu/lwcfiles/The%20Mediterranean%20Diet.pdf. Retrieved May 18, 2011.
Image Credit: flickr.com/Roberto