Gluten Free Meal Replacement Bars for Active People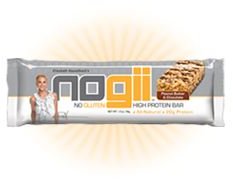 Nogii
Elisabeth and Tim Hasselbeck's power-filled meal replacement bars packs a lot of punch. The bars, created for adults, are high in protein at 30 grams, has 390 calories, and 38 grams of carbohydrates to keep you fuelled for hours. The bars contain no trans fat, no partially hydrogenated oils, or high fructose corn syrup. However, it does have soy, milk, and peanut.
Nogii bars are completely gluten free. The two flavors, Chocolate Peanut Butter Caramel Crisp, and Peanut Butter & Chocolate, are really delicious but come with a hefty price tag. A box of 12 Chocolate Peanut Butter Caramel Crisps cost $45.72; the Peanut Butter & Chocolate is slightly cheaper at $39.60.
Nogii gets top marks for their high-energy, filling, gluten free meal replacement bars. The biggest complaint about the product is the price. Coming soon, you will be able to purchase Nogii products for kids.
PermaLean Chocoholic Chocolate
Comparing meal replacement bars, ParmaLean is quite similar to Nogii in basic nutritional facts; both contain no gluten, are high in protein, and have no trans fats, or hydrogenated oils. But there are differences. PermaLean's nutritional content betters Nogii in all categories except one—protein. For example, PermaLean has less total fat, less sodium, 2 grams of sugar, only 190 calories; protein content is 21 grams versus Nogii's 30 grams.

PermaLean Chocoholic Chocolate uses real milk chocolate in their two flavors, Chocoholic Chocolate and Stark Raving Peanut. The bars can quash hunger effectively as a meal replacement, but also satisfies as a snack or energy bar between meals, or after a gym workout. Unlike Nogii, PermaLean gluten free meal replacement bars are suitable for both adults and kids.
A 12-pack of bars sells for $23.99. If your entire family enjoys the product, you can get a twenty percent discount for purchasing the family-sized 12 boxes (144 bars) for $287.00.
Zone Perfect Nutrition Bars
ZonePerfect's motto is "live.create." And so, the company has created all-natural nutrition bars for people with active lifestyles.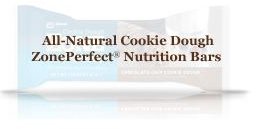 Weighing only 50 grams each, ZonePerfect and PermaLean might be more convincing as snack food, rather than meal replacements. Nogii bars, on the other hand, weighs 95 grams and is known to be filling.
ZonePerfect bars have 15 grams of protein from soy, 210 calories, and 18 grams of sugar. And, although ZonePerfect does not indicate 'gluten free' on the products, gluten is not listed in the ingredients.
There are twenty-one decadent bars, including Dark Chocolate Strawberry, available in four flavor categories: Classic, Fruitified, Dark Chocolate, and Cookie Dough. You can buy a case of 24 bars for $36.70; the 12-pack is $18.35.
Meal replacement bars are handy and a convenient food to carry around, but they are also very expensive for the average budget. Here's a recipe you can make at home, where you control the ingredients, and the price.
Almond Butter & Rice Protein Bar
Ingredients
1 cup oatmeal
1 cup brown rice krispies
1/2 cup agave syrup
2/3 cup almond butter
1/4 cup pure chocolate chips
3 - 4 scoops vanilla whey powder, or rice protein powder
filtered water, for desired consistency
Directions
Mix all ingredients together in a bowl until well combined. Smooth the mixture into a greased 8" x 8" baking dish. Cut the bars into squares and refrigerate.
Enjoy gluten free meal replacement bars when you can't sit down to a well-balanced meal. These bars are great whether you have celiac, gluten intolerance, or perhaps you just want tasty, nutritious food to provide you with energy when you are on-the-go.
References