Ideas for Quick Healthy Meals for Men: Three Healthy Meals in 30 Minutes or Less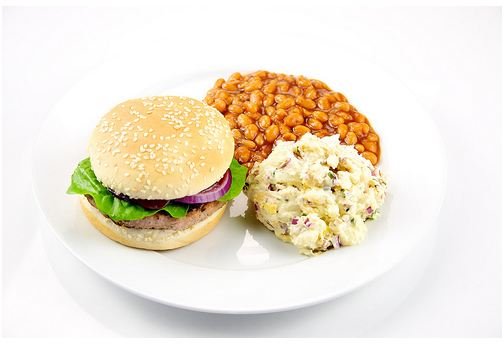 What Is Good Nutrition for Men?
Grown men require a balance of quality proteins, carbohydrates and fats. Plenty of fiber is essential for healthy blood sugar and blood cholesterol levels, as well as for preventing colon cancer. Nutrients such as vitamin E, selenium and lycopene are important for prostate health. Zinc is needed for proper sexual function. Vitamin C and the B vitamins are essential for a healthy cardiovascular system, proper energy production and stress management. Omega-3 fatty acids are important for brain and heart health.
So what does this mean? Even grown men who don't have time to cook still need to eat their vegetables. A diet rich in whole grains, fresh fruits and vegetables, seafood, nuts, seeds and legumes is important for optimal health. While eating well may seem like a daunting task, by changing your habits and what foods you stock your kitchen with, it is actually very easy. Get started with these quick healthy meals for men.
Turkey Burgers on Whole-Grain Rolls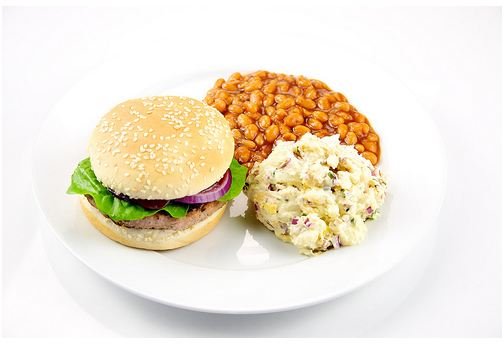 Cut down on the saturated fat with ground turkey instead of ground beef. Make it even healthier with whole-grain rolls and fresh vegetables as toppings, such as sliced tomato, avocado and cucumbers, then go ahead with your ketchup, mayo and mustard. Add a slice of your favorite cheese while cooking and you have a well-balanced meal in about fifteen minutes.
To prepare, form the ground turkey into patties. Heat up a pan with olive oil or canola oil. Cook on a medium to medium-high heat for about five minutes and flip. Lay a slice of cheese on top of each burger and then continue cooking until the center is cooked, another five to ten minutes depending on the thickness of the patties. While cooking, toast the buns and slice your avocado, tomato, cucumber or any other veggies such as red peppers, fresh spinach or sprouts. Put your turkey burgers together as you like and enjoy.
Baked Teriyaki Salmon and Rice
Eating salmon once a week is a great way to make sure you are getting your heart-healthy omega-3 fatty acids. Salmon is also a great source of nutrients, including selenium, vitamin D and B vitamins, and it is a low-fat source of protein. Round out your meal with steamed rice and sauteed spinach and garlic.
To make this meal from start to finish in about 25 minutes, pre-heat your oven to 400 degrees and start your rice on the stovetop. While the oven is warming up and the rice is cooking, put your salmon in a baking pan and dress with one to two tablespoons of teriyaki sauce, one teaspoon of olive oil and a dash of sea salt and pepper. Add one or two garlic cloves. Place the dressed salmon in the oven for ten to 12 minutes. Meanwhile, heat up a frying pan with one tablespoon of olive oil and two to three sliced garlic cloves. Let the garlic brown for one minute and then add the spinach and one teaspoon of water. Cook at a medium-high heat until the greens are cooked down. Your salmon, rice and spinach should be ready at about the same time.
Roasted Chicken Breast Salad
Using chicken breast cutlets, you can make a quick healthy meal out of a salad. Top with pumpkin seeds and sliced tomatoes for prostate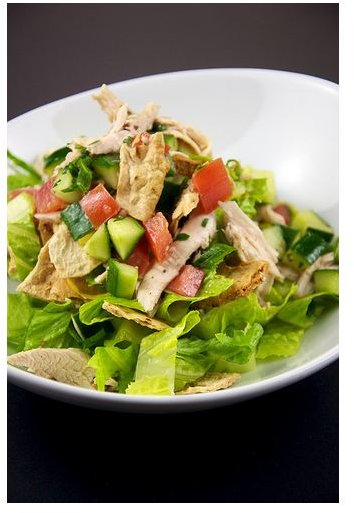 health. Heat up your toaster oven to 350 degrees. Meanwhile, place chicken cutlets on the toaster oven baking sheet. Drizzle with olive oil and lemon juice and a sprinkle of sea salt and ground pepper. Bake for about ten to 15 minutes until cooked through. Meanwhile, fill a plate with salad greens and sliced vegetables such as avocado, tomato, carrots, cucumber, celery and peppers. Use your favorite dressing, then sprinkle with a tablespoon of toasted pumpkin seeds. Take your chicken out of the toaster oven and add it to your salad. Enjoy with a fresh piece of whole-grain bread if you want.
These are just a few simple ideas for quick healthy meals for men. Eating well doesn't have to take time. In fact, it doesn't have to take more then twenty or thirty minutes to have a well-balanced meal, from preparation to the table.
References
World's Healthiest Foods: Adult Men
Harvard Medical School. Optimal Nutrition: It's Different for Men and Women
Photos by The Culinary Geek/flickr