Healthy Easter Treats: Ideas for a Healthier Easter Basket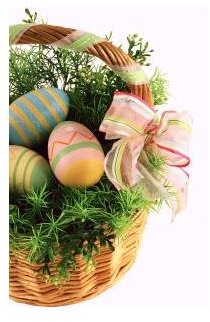 Healthy Easter Treat Ideas
For those who are (or are trying to be) health conscious, holidays can be difficult, and Easter is one of the biggest traps of them all. Consumers are bombarded with aisle upon aisle of candy and junk food in pretty pastel-colored packaging. Among the most popular Easter treats are: chocolate bunnies, peeps, jelly beans and other various sugar-filled candies. This Easter, try some fun but healthier treat options to give to your friends and family.
Instead of boxed candy, try making up treat bags to hand out. You can find festive Easter bags at your local retailer, such as WalMart, Target or a Dollar Store. Many party supply and craft stores will also have holiday party bags. Fill your treat bags with things like:
Trail mix
Chocolate covered raisins
Raisins
Dried fruit
Fresh fruit (apples, bananas, oranges, etc.)
Pretzels
Carrot sticks
Walnuts
Peanuts
Popcorn
Having an Easter dinner party and looking for healthy options? Try serving things like vegetable platters with veggie dip, fresh fruit salad, crackers and cheese or yogurt. Instead of chips and dip, serve pretzels or trail mix. For dessert, you could try serving a low-fat carrot cake. Healthy possibilities are endless; you just have to get creative.
Creating Healthy Easter Baskets for Kids
It is difficult not to fall for the commercialized Easter goodies, especially when it comes to making Easter baskets for your kids. The candy companies depend on parents to buy an assortment of candies to fill up Easter baskets with their sugar-filled and processed treats. There are plenty of healthy Easter treats that you can use as substitutes for the sugar in Easter baskets. Your child won't notice that there is less candy in their basket if you fill it with healthier snacks that they enjoy and other goodies. Instead of chocolate bunnies, peeps and jelly beans, try one of these healthier options:
Raisins or dried fruit (great to fill plastic Easter eggs)
Granola bars
Fresh fruit
String cheese
Peanuts
Graham crackers or Teddy Grahams
Pudding cups
Fruit snacks - with real fruit
But don't limit yourself to filling your children's basket with snacks, try other goodies that will excite them. In addition to the healthy treats, you can add small toys to the basket to help fill it up. Educational toys, toys that promote exercise and craft sets are a great addition to a healthy easter basket. Kids will likely be more excited for their new trinkets than they would have been about candy. It is easy to find great toys that are inexpensive. You can include things like: coloring books with crayons, balls, puzzles, small lego sets, paints, sidewalk chalk, jump ropes, etc.
References
"Dietary Guidelines for Americans," FDA. https://www.mypyramid.gov/
"Snacks: How they fit into your weight loss plan," Mayo Clinic. https://www.mayoclinic.com/health/healthy-diet/HQ01396
Image Credit: Linnell Esler, sxc.hu/profile/plattmunk.