How to Prepare a Veggie Tray That's Fresh, Appetizing & Full of Eye Appeal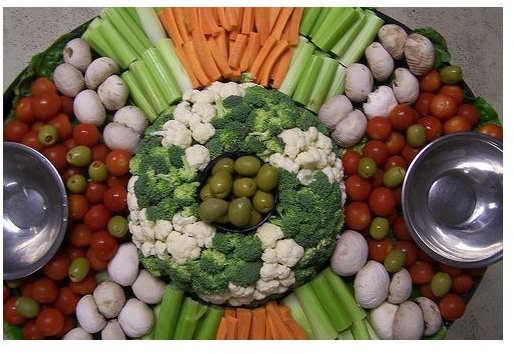 The Veggie Tray is a Conversation Hub
Where does everyone mill about at a party or gathering? Many times, it's the veggie tray. The fresh, crunchy nibbles get the jaw moving and inspire lively conversation. This might explain why cut-up vegetables are such a popular appetizer. Read on to learn how to prepare a veggie tray that will wow your guests and be the hit of the party.
Before You Begin, Consider Eye Appeal
You should offer several different vegetables on the platter, at least three or four, and preferably six or seven kinds.
Mix up the textures. If you have crunchy cauliflower, include softer bell peppers or even marinated mushrooms as contrast.
Mix up the colors. Don't let your tray be all green! An all-green tray would be a cool concept, especially if you arranged it to display the range of greens from light to dark, but if this is a party of some kind, you want to stimulate the senses, so get some yellows, reds, oranges, and any other colors mixed in with the greens. Yellow peppers, magenta radishes, orange carrots, and red grape tomatoes add loads of interest.
Plan the layout. Usually you're working with a large, round tray. You'll probably choose to spread the veggies out wheel-style, and alternate colors to add visual balance. Either group similar items together — cauliflower and broccoli, red and orange bell peppers — or consciously separate them for color harmony.
Popular Vegetable Choices and Preparation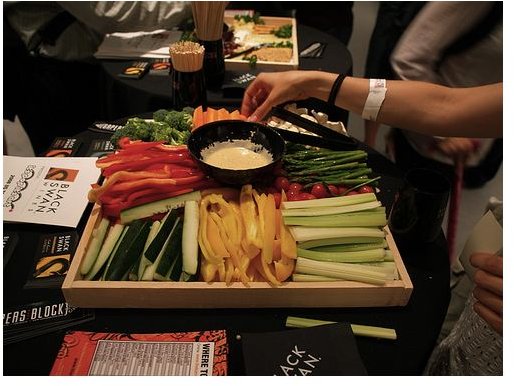 Note: storage times are given for ideal conditions. Try to prepare the veggies as close to the serving day as possible.
Broccoli and cauliflower – Wash carefully and cut into medium florets. Watch for too-large pieces; they'll be unwieldy for your guests. You don't want to make them worry about double-dipping. Cut-up broccoli and cauliflower can be stored up to four days before making the veggie tray.
Carrots, baby and regular – Baby carrots need nothing other than a rinse. For regular carrots, wash, peel, quarter, and cut into lengths of approximately three to four inches. Store cut carrots up to six days before serving.
Celery – Wash, taking care to get the grit that can accumulate where it curves. Trim leaf end and cut the white area from the stem end. Cut into three to four inch lengths. You may want to split very thick celery stems in half. Store cut celery up to seven days before serving.
Cucumber – Wash, being especially thorough if keeping the peel on. An attractive way to prepare cucumber coins is to peel alternating strips of the skin before slicing. You may also choose to cut the cucumber into three to four inch sticks like with the carrots and celery, as well. Store cut cucumber up to two days before serving.
Radishes – Wash, and trim both ends. Slice into discs or, if small, leave radishes whole.
Tomatoes, cherry or grape – We prefer grape tomatoes because they're smaller and less juicy, making them easier to eat and non-messy. Tomato prep is easy! Simply wash them.
Zucchini – Select small zucchini. Wash. Do not peel. Trim stem and blossom ends, quarter, and cut into three to four inch spears. You can also peel alternating strips of the skin and slice into coins as with cucumbers.
Exotic Vegetable Choices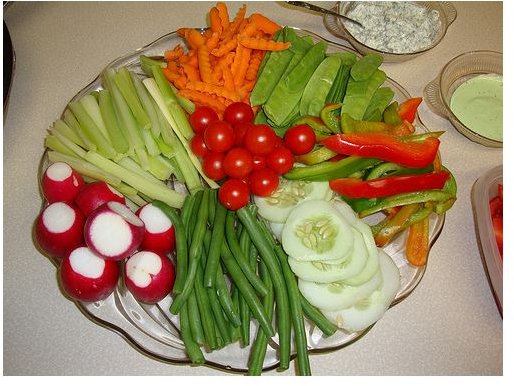 Add interest to your veggie tray with some more unusual vegetable choices. Try blanched whole green beans, pea pods, or asparagus spears. Consider trendy vegetables like jicama, or add fresh or marinated mushrooms.
Also remember you can add traditional relishes like black or green olives, pickled peppers, and sweet or dill pickles.
Tie It All Together
Your guests want to dip those veggies in something! Provide a thick dip for them; dill or ranch are the most popular choices. If you don't have the time to make a dip or run to the store, try using ranch dressing in a pinch. To jazz up the appearance of the veggie tray, add lengths of green onion, leaves of lettuce, curly parsley, or green or purple kale to decorate it.
Use these tips for how to prepare a veggie tray, and you'll wow your guests with this simple, yet essential special event dish. Bon appetit!
References
Preparing salad and vegetable appetizer trays: https://www.ellenskitchen.com/bigpots/plan/appesalad.html
Super Easy Veggie Tray: https://goodcheapeats.com/2009/11/super-easy-veggie-tray/
Images:
All used under CC license