What is Robotic Surgery and How does it Work?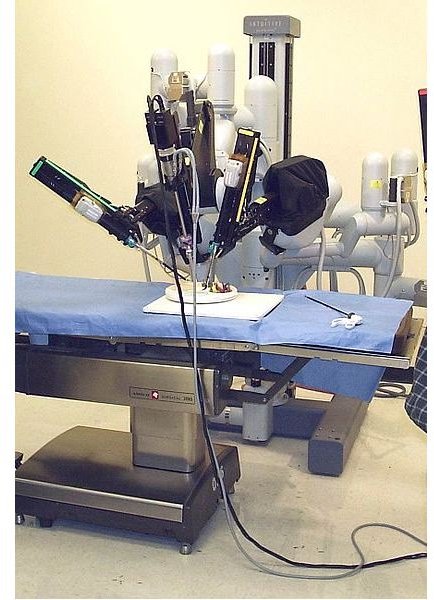 What exactly is Robotic Surgery?
What is robotic surgery? Robotic surgery is a robotic-operated device used by surgeons whereby they can perform endoscopic (meaning inside the body) non-invasive (without opening the body) surgeries. Surgeons use this device to work through tiny port holes instead of large incisions. This piece of high tech equipment is changing the face of surgery as we know it.
How it Works
The patient is prepped for surgery as normal and the robotic arms of the device are draped with sterile draping. The camera unit and the surgical instruments are then placed inside of the patient. Once the device is ready, the surgeon sits at a surgical console and can manipulate these robotic arms by utilizing joystick controls, foot pedals and a high tech viewing camera. The surgeons console transmits high speed electrical signals that communicate with the robotic arm platform.
The viewing camera itself can be steered by various foot pedals and magnified up to ten times. This magnification feature has been very beneficial to surgeons performing endoscopic coronary surgeries where tiny sutures are utilized. Intense magnification allows surgeons to see tiny details that you wouldn't ordinarily see with the naked eye.
This type of remote viewing robotic surgery can be a little scary to patients, so a patient side viewing team is assigned to each patient during the operation. This team makes sure things run smoothly by doctoring the robot to the patient and changing out instruments. They also monitor a heart and lung machine to keep a close eye on the patient's vital signs. The patient side is a very important part of the robotic surgery team. Intense medical history and discussion is given before patients are even considered for robotic surgery.
Conceptual History
Small scale robotic surgery has been attempted by the medical community before using conventional instruments, but this venture was not successful. Robotic systems using "arms" were then developed to work in narrow spaces. These arms enabled surgeons to articulate precise movements that human hands and conventional instruments just can't come close to. The ends of the arms are equipped with very small instruments that can move in all directions. This has allowed for a higher degree of freedom than the human hand can offer and eliminates any possible tremors. These systems have made it possible to perform microsurgery and reconstructive surgery within the body.
The concept of robotic surgery originally derived from military and space medicine. Engineers pioneering this idea were thinking that one day this could be used for operations on board a space shuttle. That is why a separate surgeons console was created. The interesting concept was to allow for medical professionals here on earth to control the system that performed surgery on patients aboard the shuttle. This idea was then translated for use in clinical medicine and modern surgical procedures.
Surgeons are trained on robotic models before taking on any actual patient surgeries, so that they are well educated and their efforts are well coordinated. Doctors usually have a long learning phase to further build their skill with the platform.
Advantages and Disadvantages of Robotic Surgery
There are many more advantages to robotic surgery than disadvantages. For one, the surgical trauma is also greatly minimized for the patient; this allows for faster healing time and fewer complications. It is a favorable advantage that Insurance companies are partial to, as it generally means shorter hospital stays and cuts down on excessive medical expenses.
Finally, one small disadvantage is that sterility of the operating room could possibly be compromised. This is why the surgeons console is usually separated from the main operating area. Having the console separated means less chance of possible cross contamination.
Current Operating Systems
The Da Vinci system is currently the leading operating platform utilized in major medical institutions such as UMMC (University of Maryland Medical Center) and UAMC (University of Arkansas Medical Center). The Da Vinci platform is now being used for cardiac bypass surgeries, prostate surgeries, breast reconstruction and robotic assisted gynecologic surgeries such as hysterectomies. Robotic surgery as a whole is in its infancy, but has a promising future for complex surgeries and is definitely here to stay.
Supporting Resource Links
Photo credit provided by Wikipedia Commons
https://www.umm.edu/heart/index.htm