What is the Da Vinci Surgical System?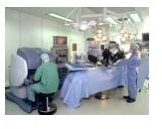 Introduction
Science and technology are quickly changing the world and the way we live. Several innovations and inventions help to perform tasks which were, until now, difficult or impossible to perform. This growth has been recorded in all fields such as engineering, construction and health care. Have you heard about a system known as the Da Vinci surgical system in the context of health care technology? Well if this name only reminds you of Dan Brown, then you certainly need to read this article to improve your knowledge.
Da Vinci Surgical System
Whereas the Da Vinci code is bit controversial and has to do with a murder mystery, the Da Vinci Surgical System on the other hand deals with life saving surgeries, so quite a paradox despite similar names. Enough of analogies. let us see what exactly the Da Vinci surgical system stands for.
It is the name given to a robotic surgical system which has been developed by a company known as Intuitive Surgical which introduced this system nearly a decade ago in 1999. The very next year it was cleared by the FDA for its use in several types of surgeries including, but not limited to, radical prostatectomy and general non-cardiac thoracoscopic surgical procedures.
Parts of Da Vinci Surgical System
The Da Vinci system consists of four main parts;
Surgeon console
Patient-side cart
EndoWrist Instruments
Insite Vision System (with 3D Endoscope and IPE)
It will not be possible to give a detailed description of each of these components in a single article but they will be taken up one by one later in this series.
Of course I must make it clear at this stage that the Da Vinci Surgical System is not the only robotic surgical system currently and commercially available on the market. Several other similar products have also been launched and a few prominent amongst them are as follows;
Zeus Robot Surgical Systems
Aesop 3000
Socrates Robotic Telecollaboration System
The interesting point to note regarding these machines is that they all belong to Intuitive Surgical Company. They were previously manufactured by a company known as Computer Motions but a merger occurred between the two rivals and the latter was taken over by Intuitive Surgicals to form a single company.
Several aspects of the Da Vinci surgical system need to be studied such as its advantages, disadvantages, and the cost factors associated with installing such systems in hospitals and so forth. These issues will also be discussed in later articles. For now you can take a look at the picture of the Da Vinci Surgical System in the image shown below. You can also watch a video about the Da Vinci Surgical System at youtube.com.
References
Figure 1: Da Vinci Surgical System
Suggested Readings from Same Author
Genetic Modification