I Love my ACCU-Check Softclix Compact Plus Diabetes Meter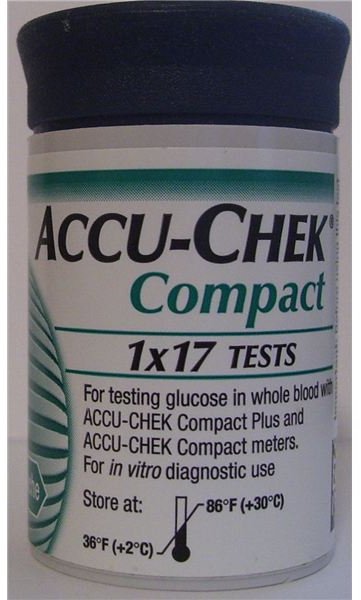 Why I Like My ACCU-Check Meter
I've used quite a few diabetes meters over the years, all given to me by various doctors and drug companies. Drug companies like giving away meters because they can sell you their testing supplies month after month, and a repeat customer is certainly a good customer. Unfortunately, until I found the ACCU-Check, I never really found a meter that met my needs.
I like the ACCU-Check because it's an all-in-one unit, first and foremost. The unit holds a drum of test strips (17 strips) so I never have to fumble with them when I need to test. [See Image 1] You simply install the drum, and the strips are ready to go when you are. It also has a finger-pricker that offers 11 depth settings (I keep mine on 1, so that doesn't matter much to me). It has a large read out too, and it automatically codes new drums. There's never any guessing, and never any squinting. Results appear in 5 seconds, and the meter holds 500 results in its memory. [See Image 2]
It's certainly possible to test your blood sugar using only one hand – I know, I do it every day:
1. Use your thumb to make the meter expel a strip.
2. Use your forefinger to engage the needle, and press it again to prick your finger.
3. Press the strip against the drawn blood and wait for the results.
4. Use your thumb once more to expel the used strip. That's it!
And if you thought there couldn't be any more good news, there is. There's a phone number on the back of the meter. When you call, you get a real, live, person. I've only called once, when my meter stopped offering results, and I was promptly instructed on how to clean the unit's sensors. I suppose after a year's worth of testing some cleaning would be in order. The person on the other end was nice, patient, and very easy to talk to. She directed me to the company's web site where I could learn more about diabetes care, if I wanted to. (She also told me how to hold the meter to keep blood from getting into the sensors in the first place, Doh!)
Finally, the meter uses AAA batteries. You'll only know how important that is if (or when) the battery dies on a meter that requires specialized batteries (and you just had a piece of cake). It's easy to find AAA batteries in a hurry, if need be you can pull them out of a remote control or wireless mouse; it's not so easy to find those little batteries some other meters require.
If there is any downside, I suppose it's the size. Although the meter fits easily in my purse, it's a bit fat because it has to hold a drum of test strips. You can see it here positioned next to my keys. [See Image 3] However, if you have to carry your own drum of test strips because you're meter doesn't house multiple strips, you won't be saving any space with a small meter anyway.
I swear by my ACCU-Check meter. If you're interested, check out the ACCU-Check Web site.
Images