Get in Shape with Cardio Kickboxing Videos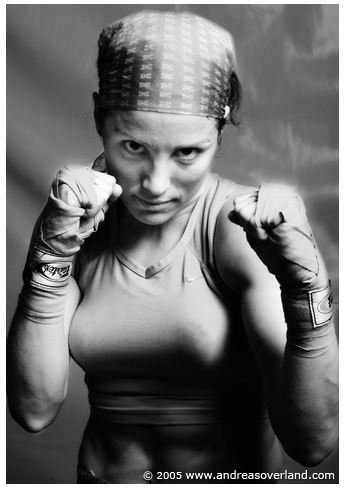 So Many Options…
Cardio kickboxing videos can be a great way to get in a tough workout that's fun and at the same time burns a lot of calories. Working out to an exercise video just a few times a week can result in major progress when it comes to weight loss or toning up. If you are looking for some new and exciting videos to add to your library, consider picking up a copy of one or more of these truly fat burning, muscle toning videos.
30 Minutes to Fitness: Kickboxing with Kelly Coffey-Meyer
This video packs a big workout into a small amount of time. In fact, there are actually two 30 minute workouts on this DVD, which is great for making sure you don't get too bored with the same routine. Of course those who are feeling full of energy might want to try the 60 minute option, linking both workouts together one after another. The moves are easy to learn and the pace is fast which makes it fun.
The Firm: Pump, Jump and Jab
Kelsie Daniels leads the way in this upbeat workout video. It takes the powerful kickboxing moves and combines them with an overall body sculpting routine for maximum benefits. The workout lasts about 40 minutes and provides a decent cool down.
Kickboxing: Core Cross Train with Patricia Moreno
Patricia Moreno doesn't let you slack in this workout that infuses both martial arts and kickboxing with a butt kicking cardio blast. Designed to increase endurance and stamina, this hour long workout with warm up and cool down will have you ready for any special occasion before you know it.
Crunch: Super Charged Kickbox Party Video
If you love dancing, this is a great workout option. Kickboxing to high energy music will tone, trim and maintain a sleek physique, and Jeanette Jenkins knows just how to lead you to the body you've always wanted. This is the perfect beginner's workout video that teaches basic dance and kickboxing moves, while allowing you to go at your own pace if you need to.
Billy Blanks Tae Bo: Get Celebrity Fit
Anyone interested in what Tae Bo has to offer will get a good idea after just one round with this workout video. Billy Blanks is well known for getting his famous clients in shape, and for good reason. Getting sculpted is a big consideration for this workout, so if toning is your thing, give this DVD a try.
Mindy Mylrea: Kick Butt Boot Camp
This is a great option for anyone who wants the benefit of more than one workout in a single video. Unlike most videos that offer multiple workout options, this boot camp series offers work with a medicine ball and a stepper in addition to using kickboxing moves.
Kickbox Boot Camp with Kimberly Spreen
This progressive workout starts with an in depth warm up, followed by intense kickboxing and step cardio moves that are designed to target the entire body. Followed by a stretching and core strength building session, this video provides everything you need to get in shape and stay that way.
The Biggest Winner- How to Win by losing: Cardio Kickbox
Famous television trainer Jillian Michaels takes charge in this high energy workout DVD. In less than 30 minutes, you'll start to feel the burn in all the right places thanks to the overall body toning and punching moves. This is a workout for those that like a challenge.
Kickboxing: Core Cross Train
Tracie Cooper guides you through strength training and kickboxing moves that focus on getting the core strong. High intensity makes sure plenty of fat is burned during this hour long workout of kicking, jabbing and cross training.
The Kung Fu Kickboxing Workout with Tiffany and max Chen
Let these Chinese martial arts champions guide you to a leaner, meaner body with upper cuts, jabs, weaving and bobbing throughout this intense workout. Tiffany provides a lot of voiceover directions to make sure you are getting the moves right, and she works hard right along with you. This is probably one of the tougher kickboxing videos around!
Resources
Fitness Magazine "Kickboxing Review" Retreived October 27, 2010
Central home "Kickboxing Videos Revealed" Retreived October 27, 2010
Image Credits
Flickr/Public Domain