Spin Bike Cardio Workouts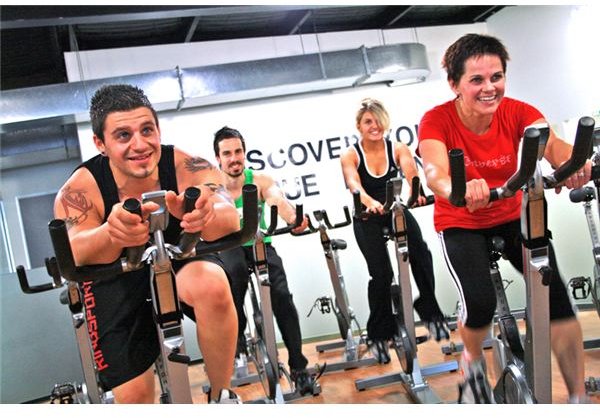 What are Spin Bikes?
The technical term for spin bike is "spinner bike." Spinner bikes are stationary bikes that may be purchased for use in the home, but they are most often used in health clubs for group spin classes or solo workouts. Spinner bikes have several components that allow riders to engage in a number of calorie blasting workouts at varying levels. So, if you are interested in staying in shape during the long winter months, supplementing a new diet plan, or weight-loss, spin bike cardio workouts are the perfect solution.
Spin Bike Components
A spin bike has adjustable handlebars, an adjustable seat, adjustable resistance knob, a flywheel, and adjustable clip-in pedals. Clip-in pedals allow cyclists to attach their shoes or cleats directly onto the pedals. If you do not have cycling shoes, you can use the adjustable straps to hold your feet in place. It is important to make sure the feet are secure because the flywheel on the spin bike weighs roughly 30-40 pounds. If your feet slip off the pedals, the flywheel will keep turning and so will the pedals. This can cause serious injuries to your feet, ankles and legs.
Spin Bike Cardio Workouts
The best spin bike cardio workouts are led by professional spin instructors. These spinning workouts are set to music and they are highly choreographed. Spin bike cardio workouts in classroom settings can help burn approximately 500-700+ calories, especially for rigorous rides. What this means is that if you participate 100 percent, complete all intervals and stay hydrated, you will burn the maximum number of calories your weight and body type will allow. This figure is typically in the range of 500-700 calories.
The most effective spin bike cardio workouts feature jumps, climbs and sprints. These workouts typically last for 60 minutes and the moves are completed in intervals ranging from 15 seconds up to two minutes or more. Climbs are usually the longest and they can be done seated or standing. During a climb, the cyclist must adjust the resistance until it is difficult to pedal. The legs should not spin out of control.
All spin workout moves must be very controlled in order to be effective and prevent injury. Once you have reached the "top of the hill," you can release the tension to a comfortable resistance and head down hill. Once at the bottom of the hill, you can begin the process all over again. A minimum of three minutes per interval is recommended.
Jumps are typically performed in sets. The number is up to you, but five sets is a good starting point. The cyclist must continue pedaling while easing out up an off the seat in a standing position for say, 10 counts, then down for 10 counts. This is one set. The set should be repeated until you have reached the number of sets desired.
Sprints are simple but effective. In most cases, the resistance is very low. However, the resistance should not be so low that the flywheel is doing all of the work for you. A minimum of seven full twists of the wrist on the resistance knob should do it. For advanced riders, tension levels may be much higher. Sprints are also completed in intervals. The rider will alternate between spinning as fast as he can and releasing the tension and cycling at a normal pace. There are no hard and fast rules about the number of sprints you should complete, so it is best to assess your goals first before settling on a figure. For example, if you are trying to burn calories and fat, a minimum of 10 sprints is an excellent start. If you are spinning for maintenance, a minimum of five sprints is perfectly fine.
References
Fitness Magazine
https://www.fitnessmagazine.com/workout/cardio/no-treadmill/cycling-workout/
Mad Dogg Athletics, Inc. (MDA)
https://www.spinning.com/spinning-shop-spinner-bikes/spinner-bike-eSpinner.asp