Billy Blanks Cardio Tae Bo review provides insight into a collection of high energy workout DVD's released over the years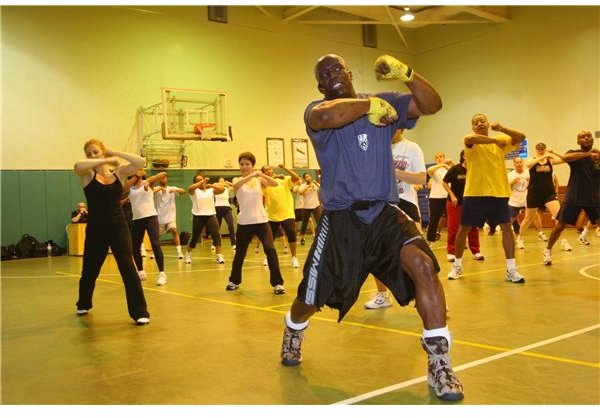 Who is Billy Blanks?
Billy Blanks has been around for many years. He is well known for his training in martial arts and for releasing a series of Tae Bo kickboxing workouts. All of his tapes are phenomenal and give you the total body workout and fat burning you need to lose weight; however, there are a few of his workouts that are the crème of the crop. Below is a brief explanation of these DVD's, which are included in the Billy Blanks Cardio Tae Bo review.
Billy Blanks Tae Bo -Total Body Fat Blaster
The "Total Body Fat Blaster" workout video is jam packed with high-energy tae bo moves that are designed to get your heart rate up and burn fat. Billy Blanks combines a variety of punch and kick combinations so you get a full body workout.
Upbeat music that is also motivating adds to the effectiveness of this fat burning workout. Throughout the workout Blanks gives helpful guidance along the way and informs exercises to engage the core muscles, which not only helps to stabilize your balance, but it also gives your abdominals a killer workout.
This workout is excellent for beginners and intermediate exercisers. No matter what your fitness level, you can follow along with ease. There is even a person showing beginner exercisers a modified version of each exercise so they can keep up with the pace. Do this workout a few times a week and you will see results in your cardiovascular endurance.
Billy Blanks in Action
Billy Blanks Tae Bo Cardio
If you want a moderate workout that is well balanced from beginning to end, then "Billy Blanks Tae Bo Cardio" gives you exactly what you are looking for. Your body will receive a total body challenge from a well-coordinated warm up and cool down to everything in between.
While the music might be somewhat repetitive, the workout is not. This workout DVD is perfect for beginners since many of the movements are slower and more concentrated.
Billy Blanks Ultimate Bootcamp
This ultimate challenging workout is designed to strengthen and tone the muscles in both the upper and lower body. Billy Blanks uses resistance bands in this cardio Tae Bo workout, which helps to create added muscle tension and makes the body work harder. Using these resistance bands helps to give you a more intense workout.
This workout is designed for intermediate to advanced exercisers. Even if you choose not to work out with the resistance bands, you will still receive a highly demanding workout. From beginning to end Billy Blanks provides you with a high energy, high impact workout that will have you sweating all the way through.
Billy Blanks Tae Bo Live! Advanced-Volume 1
If you want to feel as though you are working out with Billy Blanks in his studio along with other fitness gurus of all shapes and sizes then this killer workout is for you. Not only will you be sweating to the max, but you will also use moves that are more advanced. Therefore, if you haven't tried one of Billy Blanks tae bo tapes, you may want to skip this workout and try one of his beginner tapes.
This workout is great when you don't have time to make it to the gym because it works your entire body from head to toe. Blanks start out with basic punches in the beginning, and gradually shifts into kicks and different kick and punch combinations. There is also a set of push-ups in this workout, so if you can't handle push-ups, you can either do them on your knees or omit them from your workout. This tae bo DVD will give you the hard-core fat burning workout you crave.
In Conclusion
The best thing about Billy Blanks DVD workout tapes is that they include different routines for various fitness levels. Even if you can't keep up with some of his moves, you can always revise the workout moves to match your fitness level. Best of all, you can do it in the privacy of your own home, so if you make mistakes, no one will know. Another thing I enjoyed about Billy Blanks is that he always keeps you motivated, which I believe is an important aspect of any fitness trainer and the reason why he is so popular among fitness gurus. This is why Billy Blanks Cardio Tae Bo Review receives two thumbs up.
Sources
https://www.amazon.com/Billy-Blanks-Tae-Bo-Cardio/dp/B0000C0FBC
https://www.amazon.com/Billy-Blanks-Ultimate-Bootcamp/dp/B0009ORTKG/ref=pd_bxgy_d_text_c
https://www.amazon.com/Tae-Bo-Live-Advanced-1/dp/B0002XN28M/ref=sr_1_8?s=dvd&ie=UTF8&qid=1294789651&sr=1-8
Photo Credit: Mark Rankin