Holiday Food Safety Tips for Thanksgiving and Christmas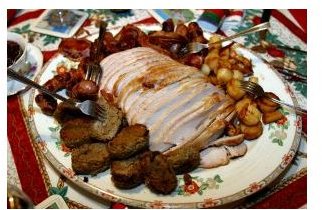 Preparing Turkeys
Many holiday gatherings involve cooking a turkey. There are many holiday food safety tips that should be followed when cooking a turkey to reduce the risk of food borne illness. The most important tip for preparing a turkey is to cook it thoroughly. The internal temperature of a turkey should be 165 degrees Fahrenheit or higher. You want to take the temperature from the inner thigh or wing area of the turkey. The juices from the turkey should run clear.
If you are stuffing your turkey for the holidays, do not stuff the turkey before you are ready to cook it. Stuffing the turkey the night before you are going to cook it is very dangerous. Even if the turkey is refrigerated over night, it is still likely to cause food poisoning. By stuffing the turkey the night before and placing it in the refrigerator, the turkey cavity will act as an incubator for harmful bacteria.
Do not let your turkey leftovers sit out longer than two hours. To prevent food borne illnesses, you should refrigerate the leftovers as soon as possible. When reheating the leftovers, they should reach a temperature of 165 degrees Fahrenheit to kill any harmful bacteria.
Holiday Dinners
Preparing Ham
When preparing a ham for the holidays, following holiday food safety tips is important. Ready to eat hams need to remain refrigerated until they are about to be prepared. When cooking a ham, it is fully cooked and safe to eat when it reaches an internal temperature of 140 degrees Fahrenheit or higher. It is important to use a meat thermometer to accurately tell when a ham is fully cooked.
Leftover ham should be removed from the bone and sliced thinly. It should be placed into the refrigerator quickly. Ham will remain safe in the refrigerator if stored properly for four days.
Preparing Lamb and Beef
When preparing lamb of beef for the holidays, it is important to cook each well before serving it to prevent food borne illness. The internal temperature of lamb or beef should be no lower than 145 degrees Fahrenheit. It is best to heat lamb or beef to 160 degrees Fahrenheit.
Remove leftovers from the bone and slice thinly. Store the meat in an air tight container and place into the refrigerator promptly.
Holiday Safety Tips
When preparing any food, it is important to wash your hands with soap and water before and after handling any meat. This will reduce any contamination to the meat and the spread of food borne illness.
Never share cutting boards without washing them thoroughly. Never place different forms of raw meat onto the same cutting board. This can cause cross contamination of the meat and spread food borne illness. Wash the cutting boards well with either hot soapy water or bleach and water solution.
References:
"Turkey FAQs" Turkey for the Holidays
"Christmas Food Safety" County Health Department
Photo: "Christmas Dinner" By Danyul August 23, 2007 Stock.xchang