The Company That Stands Behind the Life Fitness Eliptical x5i Machine
Besides manufacturing outstanding fitness equipment LifeFitness has a novel idea on their website that is called the Virtual Trainer. It's free to set up an account for this interesting and encouraging service designed to keep you motivated and on track. What it does is get some details about you to then suit you with an appropriate workout plan that meets your goals and desires. Working toward goals that you set every so often keeps you engaged in each of your workouts and the ability to easily track your progress online is a key to staying consistent with your fitness regimen. Try it out, the recommendations will help you out and having a plan can keep you from getting bored or burned out.
LifeFitness is a gigantic company operating around the world and dedicated to making high quality fitness equipment for both commercial and home settings. They constantly inovate their products to produce the optimum results in human physical conditioning which bodes well for all the people using their equipment whether it's in a gym or at their home. They really are a global leader in providing world class fitness equipment in gyms everywhere. Their very first manufactured fitness machine, the Lifecycle was the first of its kind anywhere. From there in the late 1960's selling that product out of a mobile home their innovations and quality cardiovascular machines eventually helped become a catalyst to a global fitness revolution. I like to point out that elliptical machines also mimic snowshoeing and since I'm a huge fan of that outdoor activity, I'll now dangle Snowshoing: A Superb Winter Fitness Activity in front of you.
Life Fitness Eliptical x5i Features, Functions, and Durability (5 out of 5)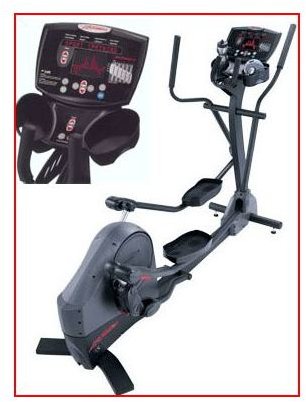 This model lives up to the reputation LifeFitness has built and would be an excellent choice for the home if you have the budget for it. Since it's amazingly durable, the machine could cost less in the long term than all those gym dues over the years. I happen to like elliptical machines better than treadmills probably because I'm a backpacker and a mountain climber and this machine mimics hiking with trekking poles. Both arms and legs working full bore and less wear and tear on joints and ligaments than running does. Plus you have a greater variety of workout options the Virtual Trainer can help you with.
My gym has these machines so I like it firsthand but there is a wide array of positive reviews on the Web coupled with a plethora of customer satisfaction reports. Here are some specifics that makes the x5i such a superior machine that once made Consumer Digests Best Buy list:
Customize a workout or choose from the 11 preset workout programs.
Lower and upper body movements are synchronized for maximum calorie burn.
Polar telemetry heart rate monitoring along with interactive heart rate Zone Training workouts that adjust the machine's resistance level automatically to make sure user's stay in their age-recommended heart rate zones.
Patented SelectStride technology allows exercisers simulate walking, jogging, running or sprinting by choosing one of those four variable strides.
The oversized pedals are nice to adjust your feet every once in a while and the ergonomic handles have a great feel to them.
It has a very smooth, fluid motion which helps you zone out and even meditate with your eyes closed while your body goes into automatic pilot. This is simply a fantastic machine that I highly recommend. Check for price comparisons at NexTag. And remember you can look for one used too because of their durability. Home fitness equipment businesses in your area could probably locate one for you.
Sources:
Broadwater Athletic Clubs
https://us.corporate.lifefitness.com/Content.cfm/lifefitnessx5iisnamedaconsumersdigestbestbuy