Paris Hilton Workout and Diet Tips Health Routine
Paris Hilton
Paris Hilton is slender, tall, and has a pretty face to match. Those three traits are all qualities of a professional model, so it's no shock that Paris started her modeling career at the age of 19, when she signed to T Management, the official modeling agency of the Donald (Trump). Since then, her modeling career has bloomed out and became a success. Hilton has been featured in campaigns by Tommy Hilfiger, Christian Dior, Marciano, and even Iceberg brand vodka.
The point of this is, Paris was born with many of those traits that give her that very desirable model physique. Most likely, she doesn't have to do much to look the way she does. The following Paris Hilton workout and diet tips can help you get fit and trim too.
Paris Hilton Workout
Paris Hilton has never released "official" news about her workouts. However, during one interview, she talked about using pilates to stay in shape during her time in jail. That makes sense, as pilates workouts are used to sculpt long, lean muscles. Paris has also been said to visit Mari Winsor's pilates in Los Angeles, on occasion. Hilton's trainer, Teddy Bass, has spoken on her fitness routine, detailing one specific ab exercise.
The Around the World Ab Exercise
Lie on your back (on a flat surface).
Bend your knees so they are pointing up, while keeping both feet flat.
Place your hands behind your head with your elbows pointed out.
Lift your left foot off the ground and cross it over your right leg. Your left ankle should be positioned over your right knee.
Lift your shoulders off the ground, similar to doing a situp, and bring your left elbow toward your right knee.
Lower yourself back to starting position and alternate feet and movement.
Be sure to alternate direction with each rep.
Do 12-15 reps, switch legs, and repeat.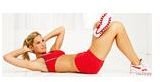 Although there is not much official news of Paris Hilton's workout, most likely, her trainer, Teddy Bass has her do a mixture of light cardio, pilates, and resistance training. Exercises like these are the chosen exercise type by most women, as they help firm your muscles while adding as little bulk muscle as possible.
Paris Hilton Diet
The Paris Hilton diet may be different from what you are expecting. Paris Hilton has said in several interviews that she eats McDonalds and Taco Bell on a regular basis. McDonalds and Taco Bell are clearly not healthy choices, however, Paris probably doesn't need to eat healthy all of the time. Most likely, Paris can eat just about whatever she wants and still keep her figure. Now that doesn't mean that Paris doesn't eat healthy. Most likely, she likes salads, high protein foods, etc… However, she has made it clear in several interviews that she believes it's best for people to eat what they want and enjoy food. Her claimed favorite food: McDonald's french fries.
Conclusion
That's about all there is out there for Paris Hilton workout and diet tips. It seems Paris was born to be a model. However, she does do some things to keep in shape, that much is sure. Anytime you work with a personal trainer, workouts tend to vary a lot.
References
Motley Health. https://www.motleyhealth.com/articles/2008/04/paris-hiltons-fit-workouts-to-get-sexy.html
ifit&healthy. https://ifitandhealthy.com/paris-hilton-diet-workout/
Want to learn more about celebrity workouts? Be sure to checkout the Hugh Jackman workout.
Want to learn how to workout to build muscle? Checkout the Muscle Building workout.