The Mediterranean Diet: Savor the Flavors of Europe and the Middle East with These Meal Ideas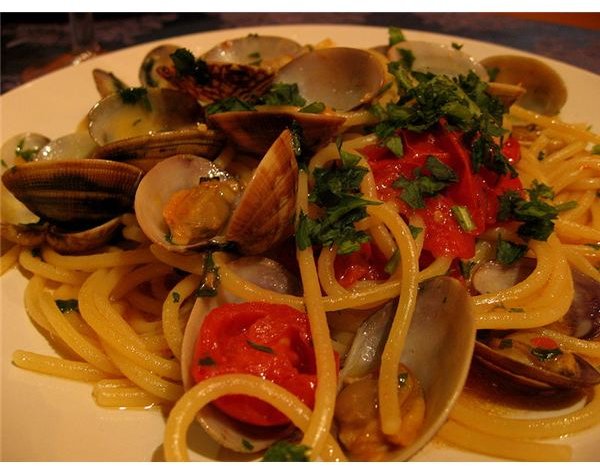 Planning a Mediterranean Diet
In planning this diet it is important to know the basic characteristics of the various dishes that are enjoyed in the coastal areas of Europe and the Middle East. A Mediterranean diet plan usually consists of fresh fruits, vegetables, whole grains, beans, and legumes that make for a nutrient-rich, high-fiber diet. It is relatively low in protein and saturated fat so that cheese or yogurt may be enjoyed daily, while eggs, fish, and meat such as veal and lamb are taken only once or twice a week.
A distinguishing feature of a Mediterranean-style diet is that 35 to 40 percent of calories come from fat. But the focus is on healthy monounsaturated fats from olives, fish, flax, and nuts.
Best of all, the Mediterranean lifestyle plays an essential role to the diet plan, complete with a daily serving of wine, to be enjoyed in the company of family and friends, in a relaxed atmosphere, and certainly supported by lots of physical activity.
Ideas for Healthy and Delicious Mediterranean Meals
Here are a few meal ideas for a Mediterranean diet – a program for disease prevention and gradual weight loss. The secrets to achieving these are to choose low fat, low protein and high fiber foods and by controlling food portions while enjoying the rich taste and variety of flavors.
Breakfast Ideas
A Mediterranean breakfast may consist of whole-grain toast taken with ripe fruits like apricot, topped with low fat yogurt, honey and unsalted roasted pistachios, roughly chopped.
Another breakfast idea is to make fluffy pancakes using whole-wheat flour, an egg, some yogurt and low fat milk, served with light maple syrup and fresh strawberries.
Whole-wheat pita with butter and jam or tomato and cheese taken with brewed coffee or fat-free milk also make a simple Mediterranean breakfast.
Lunch Ideas
To make a couscous salad, prepare two cups of whole-wheat couscous according to package directions. In a bowl, place the couscous with half a cup of crumbled feta cheese, some pitted olives, two teaspoons olive oil, chopped parsley, one cup canned, rinsed garbanzo beans and a teaspoon of fresh lemon juice. Stir in half a cup of chopped tomatoes or 5 cherry tomatoes into half of the salad mixture. Reserve the other half for another meal or share with a friend for lunch.
Greek salad pita sandwiches are easy to prepare using olive oil and red wine vinegar as dressing. Just mix some tomatoes, cucumber, bell pepper, red onion, radishes, and parsley into the seasoned dressing then stir in feta some cheese.
Another salad idea would be to combine canned black beans (rinsed) with diced red tomato and cooked corn scraped from the cob. Season the mixture with a half teaspoon dried basil, ground black pepper, two tablespoons balsamic vinegar, and a teaspoon of olive oil. Serve over romaine lettuce then top the mixture with shredded reduced-fat mozzarella cheese.
Snack Ideas
Crackers dipped in hummus, fresh fruits, a six-ounce carton of regular vanilla yogurt or half a cup high-fiber cereal with fat-free milk are delicious and healthy snack ideas.
Dinner Ideas
To enjoy chicken Mediterranean style, marinate a three-ounce chicken breast in fat-free Italian dressing for at least 30 minutes then grill with potatoes sprayed with olive oil or brushed with butter.
Fish such as red snapper fillets can be grilled or baked with plum tomatoes, shallot, chopped thyme and olives. Drizzle with olive oil and season with salt and pepper to taste.
Turkey or chicken kabobs are also great for dinner. They can be prepared from marinated pieces of chicken or turkey, skewered alternately with white onion, cherry tomatoes and green pepper. These can be served with whole-wheat pita pocket, toasted over the grill.
There are many Mediterranean meal plans and recipes available online. One can actually enjoy the great variety of combinations that can be easily prepared from healthy ingredients like fruits, vegetables, fish, poultry and nuts. Just remember to relax while eating, enjoy the company of friends and family and sip a glass of wine a day to imbibe the true spirit of a Mediterranean lifestyle.
References