Comparing Meal Replacement Bars: Six Picks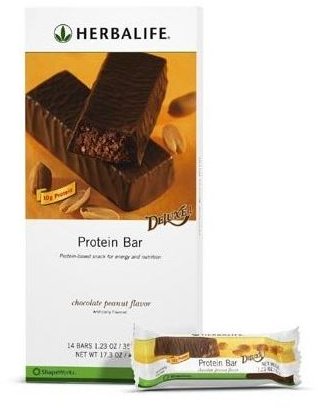 What Do You Want in a Meal Replacement Bar?
Meal replacement products take the place of a meal or two throughout the day. People want convenient protein plus plant-based carbohydrates to keep energy levels up over a period of several hours. Since the bars are actually meal replacements, you need to choose products with vitamins and minerals. Here I'll be comparing meal replacment bars available in your local store as well as online.
Herbalife Protein Bar Deluxe
The Herbalife Protein Bar Deluxe, not to be confused with the Herbalife Protein Bar, contains 10 grams of soy-based protein plus vitamins B6, B12, thiamine, niacin, riboflavin, plus vitamin E and only 140 calories.
Herbalife also offers its Formula 1 packed in a meal replacement bar. These bars offer a more impressive 13 grams of protein at 207 calories.
Kashi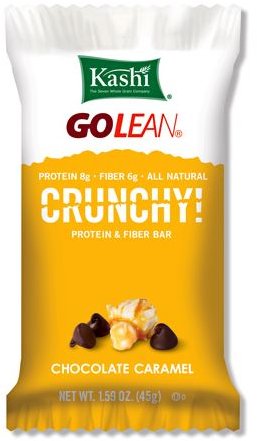 Kashi recently announced its decision to discontinue its GOLEAN Chewy Bars in favor of smaller, snack-sized GOLEAN Bars. The new snack bars are made from the same seven whole grains, sesame by-products and soy proteins as the chewy bars and the cereals. Some of the older products offer only 8 to 9 grams of protein, but the new versions ring the bell at 12 grams.
With a healthy dose of fiber at 6 grams, these bars should keep you feeling full for a few hours. There are 3 to 5 grams of fat but 0 trans fats. You'll find 20 to 35 percent of your daily required calcium, vitamin E and vitamin B6, plus other nutrients.
Slim-Fast
If you're comparing meal replacement bars, you've got to look at Slim-Fast, one of the dominant names in the weight-loss industry. Slim-Fast offers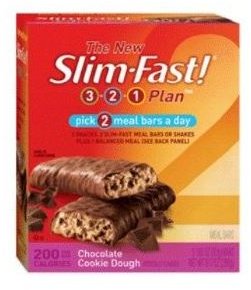 a variety of meal replacement bars made from milk, nuts and soy. The average Slim-Fast meal replacement bar provides you with 9 grams of protein and 5 grams of fiber at a cost of 200 calories, and each one contains a uniform 20 percent of the recommended daily intake of most vitamins and minerals.
Special K Protein Meal Bar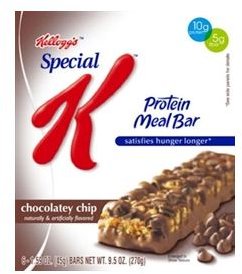 Special K is a familiar brand name, but don't mistake these bars for the breakfast treats you find in the cereal aisle. Their Protein Meal Bars offer 10 grams of protein, 5 grams of fiber, 6 grams of fat (with 0 trans fat) and 180 calories. The bars have 6 grams of fat (but zero trans fats) and 180 calories. If you're comparing these with most other meal replacment bars, they likewise contain soy protein and nuts plus additives. You get 15 percent of your daily required vitamin A and thiamine, 4 percent of vitamin D, and 20 percent of other important vitamins.
Labrada Nutrition Lean Body Bars and Cookie Rolls
Labrada's products are clearly aimed at the bodybuilder seeking protein, so if that's you, listen up. These bars pack in 21 to 25 grams of protein, and they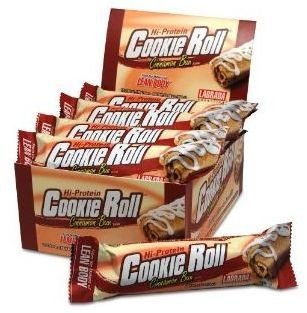 cost you 290 to 315 calories. There are 3 grams of fiber and more protein in the cookie rolls, but 6 grams of fiber with less protein in Low Carb Rockin' Roll bars. You're going to ingest a whopping 14 grams of fat (but—again—zero trans fats) and 7 grams of sugar. These bars have absolutely no significant vitamin or mineral content. That means you'll have to spend additional money on supplements.
Met-Rx Big 100 Meal Replacement Bar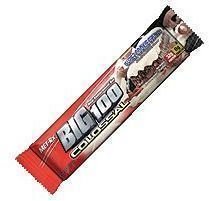 This bar gives a knockout punch of more than 30 grams of protein at 370 to 410 calories. Ingredients include soy by-products but also the manufacturer's own proprietary blend of whey proteins. Total fats are at 6 grams but, like the other bars, it comes in at zero trans fats. And this one gives you 25 to 50 percent of your daily recommended dose of nutrients – not just your B vitamins and vitamin A or C, but zinc, iron, copper and whatever you can imagine you need.
References and Product Websites
Centers for Disease Control and Prevention. Nutrition for everyone: protein. Retrieved at https://www.cdc.gov/nutrition/everyone/basics/protein.html#How%20much%20protein
Herbalife: https://www.herbanutrition.com/Healthy-Meals
Kashi: https://kashistore.com/detail/KHI+730408
Slim-Fast: https://www.slim-fast.com/products/mealbar/w/wiki/Chocolate-Peanut-Caramel-Meal-Bar.aspx?ProductID=19
Special K: https://www2.kelloggs.com/ProductDetail.aspx?id=9610
Labrada: https://www.labrada.com/moreinfo_bars_lb_newgen.shtml
Met-Rx: https://www.metrx.com/shop/parent.aspx?parentID=12&catID=1