Supplement Review: Complete Omega 3 6 9 - Joint Paint Relief, Immune System Boost Supplement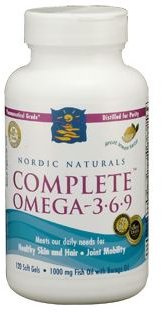 Nordic Naturals has developed an excellent product that quickly assimilates into the body to help bring relief to joint pain sufferers. The product is called Complete Omega-3-6-9. It is especially formulated to support healthy skin, flexible joints and a strong immune system. It also helps support eye health. As the body ages, it has a more difficult time maintaining body flexibility. Our joints suffer, as does our eyesight. Complete Omega 3-6-9 brings noticeable relief.
What are Omega 3, 6, 9s'?
Basically, the Omega 3, 6, and 9's are important fatty acids. The Nutritional Notebook says, "Omega-3 are the essential fatty acids known as the 'super-unsaturated.' They are a family of essential nutrients which when present in the diet over a long period of time, may have thousands of times the power of aspirin to stop the inflammatory reactions responsible for arthritis, migraines, colitis, and other similar ailments." Omega 3 is known to help lower cholesterol, support heart health, and help relieve a number of other conditions. Omega 3 occurs naturally in the following foods: Sardines, Salmon, Tuna, Herring Mackerel, Sablefish, and Rainbow trout.
Omega 6 (linoleic acid) is another fatty acid known as GLA. Omega-6's are readily found in many cooking oils such as sunflower oil, soybean oil, corn oil, and canola oil, but this particular fatty acid is not found in olive oil. Unfortunately, because we consume many oils in our every day diet, our bodies have an imbalanced ratio of omega 3's and 6's.
Finally, we have Omega 9 (oleic acid). Omega-9's occur naturally in most animal fats, as well as vegetable oils, especially olive oil. What's fascinating is that the oil produced by our skin glands is the same omega-9 fatty acid as found in olive oil. Something to keep in mind is that olive oil does not contain 3's or 6's, but it does contain a saturated fatty acid known as palmitic acid, which aids various functions including glycemic tolerance.
Do You Need Complete Omega-3-6-9?
If you're like most people, you just don't get enough of the Omega-3-6-9s in your diet. If this is the case, taking Complete Omega-3-6-9 by Nordic Naturals might be a good idea. Check with your doctor to see if it might benefit your health and help fight various conditions with which you're dealing. Complete Omega-3-6-9 derives these important omega fatty acids from fish and borage oil. Its rich formula makes a notable difference. My knees have stopped aching, and my eye health has improved. Friends of mine have taken it and have seen a noticeable difference in their cholesterol count. I recommend the product for anyone over 40, but again, check with your doctor before taking it.