Ideas for Packed School Lunches: Pack an Easy, Healthy Lunch for Your Child, Including Ideas for Vegetarian, Vegan, Dairy-free & Nut-free Brown Bag Lunches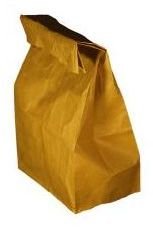 Healthy School Lunches
When you send your child off to school with a healthy brown bag lunch, you have the satisfaction of knowing exactly what they're eating. It can be easy to get into a rut, though. With these ideas for packed school lunches, you can pack healthy and delicious lunches for your child, quickly and easily.
The ideas are broken down into sections based upon your child's diet: omnivorous, vegetarian/vegan, and special diet such as dairy-free or nut-free.
Omnivore Lunch Ideas
Pick-up-Sticks: Nearly everything in this lunch is in a rectangular, stick-like shape. Pack strips of baked chicken breast along with some low-fat ranch dressing or honey mustard. Pack carrots and bell pepper strips for a vegetable, a single serving of string cheese, and a banana. Include a whole wheat pita for your child to tuck their chicken strips in if they like.
This lunch would provide a whopping 30 grams of protein, along with lots of dietary fiber, calcium, beta carotene, potassium, vitamin A, vitamin C, and iron.
Other ideas for an omnivore's lunch include beef and bean chili in a thermos with a few wheat crackers on the side, along with some cucumber rounds, an apple, and a carton of yogurt.
Vegetarian or Vegan Lunch Ideas
Contrary to popular belief, vegans and vegetarian children aren't lacking for protein options. Try an egg salad or tofu salad sandwich on whole wheat bread with lettuce and spread with mayonnaise or hummus, grape tomatoes, a single-serving cup of peaches, a carton of regular or soy milk, and a few graham crackers for dessert.
This lunch packs in 22 grams of protein, loads of dietary fiber, and is rich in vitamin A, iron, vitamin C and calcium.
Other themes to consider are different cuisines, such as Mexican. Try sending a bean burrito or rice and beans. Other great protein sources for vegetarian and vegan kids' lunches include peanut butter, nuts and seeds, hummus, and hard-boiled eggs (the eggs aren't vegan of course). Also remember that dairy products like cheese and yogurt are good sources of protein as well.
Dairy- and Nut-free Lunch Ideas
For a nut-free "pb&j," try sesame seed butter with jelly on whole wheat bread. Send along some sugar snap peas and carrots along with hummus for dipping. Pack grapes and a container of soy milk.
This lunch has 23 grams of protein, double the recommended daily value for vitamin A, and is an excellent source of vitamin C, iron, and even calcium.
Or try cold pasta dishes such as pasta salad, or hot vegetable soup in a thermos. Hummus and pita bread is a great choice as well, or even a regular old ham or turkey lunch meat sandwich, spread with margarine. All of these main dish ideas for packed school lunches will provide balanced nutrition and lots of it.
References
Power Packing: https://www.bam.gov/sub_foodnutrition/powerpacking.html
Secrets to Making School Lunches: https://www.nhlbi.nih.gov/health/public/heart/obesity/wecan/news-events/matte14.htm
Get Smart - Get Back to School: https://www.fruitsandveggiesmatter.gov/downloads/Get_Smart_Back_to_School.pdf
Packing Safe and Appealing School Lunches: https://www.netwellness.uc.edu/healthtopics/diet/schoollunches.cfm
Berkeley Parents Network: School Lunches: https://parents.berkeley.edu/advice/eating/lunches.html
Image credit: https://www.sxc.hu/photo/1130082