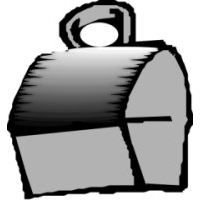 School lunches don't have to be difficult or complicated. Kids like simple things. Lunches can be easy, nutritious and delicious. With some ingenuity and a kid-like point of view, you can make your children lunches they will be happy to take to school. These easy school lunch ideas are balanced, healthy and fun to eat.
Stuffed Apples
Kids love stuffed apples. They get a protein and vitamin punch that tastes great. Wash and core the apple. Mix peanut butter and raisins together and stuff the mixture into the center of the apple. Add coconut if your child likes it. Chocolate chips can add some dessert fun and walnuts or yogurt covered raisins make good substitutions. The apple is easily stored in a plastic container or bag and the fruit does not go brown because the peanut butter keeps it fresh.
Fruit Kebabs
Small cubes of fruit, kebab sticks and some night-before fun makes this snack or lunch addition great for energy and nutrition. Grapes are a must, banana chunks (not overripe), pineapple and pear pieces and apples of any variety; the combinations are unlimited. You'll find out more about the fruits your kids like or don't like as they have fun making the kebabs and you can make more than a few days worth. Wrap each in a plastic lunch bag or cling film and refrigerate them.
Veggie Wraps
Lettuces, especially those with the consistency and flexibility of butter lettuce, are perfect to use for wraps for school lunches. With mixtures of tuna, chicken or egg salad wrapped in cheese and a few lettuce leaves, kids can eat them on the go. The wraps store easily in a plastic box. Make extras so they can share with their friends. Large leaves of lettuce wrap around twice and hold better.
Sandwich Switches
Make lunch sandwiches with two kinds of bread. One might be a light whole wheat and the other a dark grain bread. Use their favorite sandwich fixings and when you cut the bread, flip one side over so that both types of bread can be seen. Cut into four and flip one again for a checkerboard look.
Cheese and Smackers
Cheese and crackers are a good lunch snack. Liven things up by putting a dollop of dip in with the cheese. Dill, french-onion, peanut butter or mayo, add a bit of flavor to otherwise ordinary snacking. Use veggie crackers or other tasty types and try adding a pickle slice or pepperoni piece. Let your kids help you put them together, packaging them up for their own lunches.
Lunches shouldn't be boring, non-nutritious or hard to make. With a few simple steps, your kids will enjoy what they find in their lunch bag each day.
Cautions
If you're making lunches for smaller children, always cut grapes in half and don't include hard pieces of carrot. Hot dog slices should be cut in half as well to avoid choking.
References
Good Housekeeping: 30 Ideas for School Lunches: Sandwiches and Munchies
https://www.goodhousekeeping.com/food/healthy/ideas-kids-school-lunches
Disney Family Fun: School Lunches and Snacks
https://familyfun.go.com/back-to-school/back-to-school-lunches-snacks/
Lunch-box clipart public domain graphics.