Examples and Benefits of Autism Therapy Toys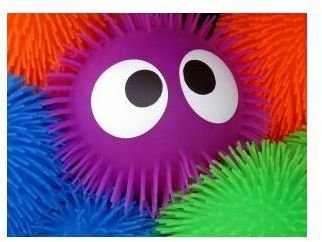 The Benefits of Play Therapy
In therapeutic settings, play therapy provides not only benefits and learning opportunities for the child, but also evaluation opportunities for the therapist. Autism therapy toys in these settings are used to evaluate communication, fine motor skills, adaptive behaviors, and sensorimotor development during initial assessment. As therapy progresses, toys and playtime can help therapists evaluate progression toward specific goals and measure improvements.
In terms of benefits to the child, autism therapy toys provide natural learning opportunities. Play therapy with toys designed for autistic children improve sensory perception, fine motor skills, balance, and language skills, as well as helping cognitive development and improving social interactions. These toys provide benefits and learning opportunities in the most natural manner possible.
The benefit of autism therapy toys and play therapy is not limited to just therapeutic settings. Parents can purchase such toys from a variety of sources to help reinforce what children learn in therapy. The result can often be a stronger bond and more positive relationship between the parent and their autistic child. There are different toys for different goals, with each garnering benefits differently, depending on the child's age, abilities, and willingness to participate in play.
Balls, Fidget Toys, and Chew Sticks
Toys of this nature provide a multitude of benefits. Most are made of durable, textured, non-toxic plastic or rubber-type material. Preschool age children learn to grasp and manipulate these small hand-held toys to improve fine motor skills. Tossing and catching balls promotes hand-eye coordination and better balance in children of all ages.
Fidget toys and chew sticks provide for oral motor development and the sensory input autistic children often crave. There is a variety of options available, based on age and development level. Some toys, such as chew sticks, also help redirect negative behaviors such as chewing on clothing, pencils, or fingers to a more positive activity while still providing the stimulation the child seeks.
Stacking, Nesting, and Building Toys
These therapeutic toys help improve motor skills and increase manual dexterity. They also encourage imaginative play. Unlike their traditional counterparts, these toys generally have more striking visual appeal and varying textures. For example, stacking cups feature bright colors and geometric patterns that are raised or textured. Children on the spectrum tend to be drawn to toys that provide above-average visual and tactile input, so these toys offer them more satisfying play while providing additional therapeutic benefits.
Scooter Boards, Stepping Stones, and Stilts
These toys help children improve their balance and gross motor skills. Children on the spectrum often have trouble discerning where their body is in space, resulting in balance problems and lack of understanding in terms of personal space. Occupational therapists often use such toys in therapeutic settings as part of an obstacle course. However, parents can easily replicate such indoor play areas at home to encourage improved body awareness, as well as transition skills.
Physical activity toys provide benefit by requiring the child to continually maintain awareness of where their body is in space. Scooter boards allow them to slide and scoot along solid flooring, but require maintaining balance to keep the board moving. Brightly colored and textured stepping stones, hilltops, and balance bars are fun to walk and navigate, but force the child to keep their balance as they maneuver and transition. Stilts resemble large plastic cups with rope handles. Children place their feet on the cups and must use advanced coordination and balance to pull the ropes as they lift their feet to keep the cups in place.
Parents are Good Therapy Toys Too!
Never underestimate the therapeutic benefits of parent-child playtime, regardless of the toy. Any joint play encourages social interaction and language skills when the parent challenges the child in a positive, encouraging manner. The driving factor should be the child's interest and willingness to play, not just the therapeutic benefit of a particular toy. Encourage your child to request specific toys or communicate disappointment when play ends. Use a variety of toys and activities to encourage children to transition from one activity to another. Sometimes the most simple activities can provide the most benefit, not to mention promote positive interactions and relationship building.
References and Resources
Association for Play Therapy https://www.a4pt.org/ps.index.cfm?ID=1653
National Guideline Clearinghouse, OT Guidelines for Autism https://www.guideline.gov/content.aspx?id=15292
Utah State Government, Parent Advice for Helping Developmentally Delayed Children https://health.utah.gov/autism/DD.htm#WhatHelpChild
Image courtesy of stock.xchng https://www.sxc.hu/photo/1210112