Raising Honey Bees to Help Relieve Allergies: An Alternative Treatment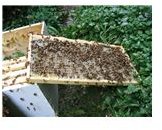 Allergies
Allergies occur when constant exposure to allergens, such as pollen from any number of trees and plants, wears down your immune system. You develop allergies that can be constant sources of irritation, inconvenience and illness. The pollen is present in the air around you.
Often, people can live for years of exposure to cedar, for example, before they develop full-blown and extremely difficult allergic reactions. Once that unhappy time occurs, the system needs an effective and local antidote. That antidote can be local honey. Raise bees for non-pharmaceutical and delicious relief. Before you begin raising honey bees, consider getting an allergy test to identify the source of your allergies. The more information you gain the more successful a beekeeping approach will be.
Local Honey
Honey has pollen from the flowers bees pollinate. When you eat honey from the same sources that cause you to sneeze and become teary-eyed, you support your immune system's fighting power against the offending allergens. Honey also has many antioxidant properties which is healthy for the body.
The honey you consume must be from a local source. You need to develop a resistance to the same pollen you regularly inhale. If you eat honey that comes from the Colorado plains and you live in the Texas Hill Country, the honey will be delicious, but it will not ease your allergy symptoms.
"Local" honey should be as localized as possible. For example, if you live on a ranch in Northern California and there is an almond orchard next to your house, consume honey from the almond flowers. The farther afield the honey travels, the less likely it is to bring relief. For this reason, raising your own bees is the best way to fight allergies with honey.
Simple Beekeeping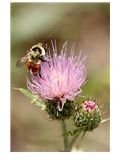 In Mother Earth News, November/December 1971, Virginia Owens writes about her first and successful attempt at raising honey bees. Beekeeping equipment includes smokers, veils, gloves, supers (racks to store excess honey), and bees. Keep a notebook to track hive conditions. Consider starting small with a couple of hives. After cleaning the hives, wait for spring rains. With the rains come blossoms and opportunities for bees to pollinate every flower that are within range of the hives. Depending on where you live, the bees will pollinate almond trees in California, peach trees in Texas or alfalfa in Wisconsin. Extract the first honey in June.
Make sure to locate the hives away from populated areas like walkways, driveways, and play yards. The bees would prefer to not be disturbed. However, if you can view the bees in a distance you will find that they are fascinating workers and an interesting species to watch. After you have extracted the honey, eat a tablespoon a day to build a resistance to the pollen. Hopefully allergies should abate if the honey is from flowers of plants to which you are allergic. Although there is no medical data on this alternative approach to allergies, it's well worth a try.
Disclaimer
Please read this disclaimer regarding the information contained in this article.
Resources
https://greenerloudoun.wordpress.com/2009/03/16/local-honey-may-help-with-allergies/
https://www.boston.com/news/science/articles/2008/06/23/does_eating_local_honey_help_prevent_allergies/
https://www.mnn.com/health/allergies/blogs/does-local-honey-diminish-allergies
Image Credits
Honey Bee Creative Commons Attribution
Honey Bees on Comb Public Domain
Utah Honey Bee and Thistle Creative Commons Attribution