Fitness Advice for Women: Ask the Personal Training & Ballet Expert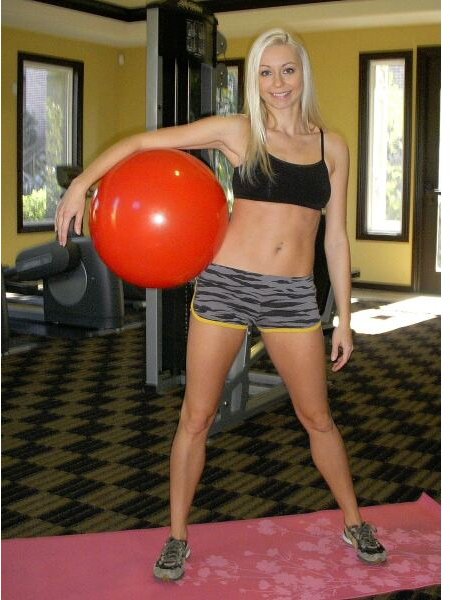 About the Expert
Nikol Klein is a professional ballet dancer and personal trainer based in San Diego, California. Nikol has danced and toured with several dance companies, including Pittsburgh Ballet Theatre, Ballet Austin, Ballet Oklahoma and The California Ballet.
Ms. Klein received her Personal Training Certification through the International Sports Science Association (ISSA) is also a specialist in Performance Nutrition through ISSA. She is also the owner of Fit For Her, a 24 hour Women's workout facility
Ms. Klein created and teaches a mat class called Ballet Body, which focuses on creating the lean, feminine look of a dancer. Today, Ms. Klein is touted as San Diego's premier personal trainer for women specializing in in-home training.
Additionally, Ms. Klein writes a popular fitness blog which focuses on her professional experiences and inside training information. Nikol can also be found on Twitter.
Fitness Advice for Women: Interview with the Expert
Bright Hub: As a Professional Ballet Dancer and Personal Trainer, you must have a lot of creative ideas about exercise. If a client came to you saying that they hated "traditional" exercise and were looking for something different—something fun that would get and keep her in shape—what would you advise?
Nikol Klein: Potential clients who come to me know they are going to get something different. Being a Professional Ballet Dancer all my life, I have experience that other trainers can only wish for. I can design unique individual programs to suit each client's specific needs and body type.
My workouts incorporate dynamic warm-ups, strength training, Pilates, and stretching (to name a few) to give my clients the most effective workout…all without having to set foot into a gym!
Bright Hub: Many women avoid strength training because they fear the bulky, muscular look that is more common in men. How important is strength training for women?
Nikol Klein: What women fail to realize is that they do not produce enough testosterone to build large, bulky muscles. Chances are, at one point in their lives, they saw a picture of a female body builder and thought that is what happens to a woman's body when they work out!
Strength training is important for women as it increases bone density and lean muscle mass, helps aid in injury prevention, improves cardiovascular function and slows down the aging process. These are just a few of the wonderful benefits to strength training!
Bright Hub: What fitness advice for women can you offer to those who need help shaping up?
Nikol Klein: My workouts incorporate techniques to create a lean, feminine body without the grunting and heavy weights that are sometimes associated with strength training. I also have a background in Pilates which I incorporate into a lot of my strength training workouts.
Bright Hub: In your experience as a personal trainer, what would you say are the best strength training exercises for women?
Nikol Klein: This is a tough question, as the answer truly depends upon the client and her individual goals. Someone who is looking to drop 50 pounds, for example, would have a completely different workout routine from someone who is just looking to tone up their abdominals for summer.
I would tend to give a more cardiovascular workout for the client looking to lose a lot of weight, and a more Pilates based workout for the girl looking for the bikini body.
So the real answer to this question depends upon the client, her health history, genetics and injury prone areas. This can all be determined during the initial client consultation.
Bright Hub: If a woman needs to lose a few pounds, can it be done with exercise alone or must she make changes to her diet? Do you recommend a specific type of diet for effective weight loss?
Nikol Klein: First of all, I don't use the word "diet" because it tends to have a negative connotation. When you hear the word "diet," you immediately think of deprivation. I don't want to deprive my clients of foods they love; rather, I restructure their meal planning. In most cases, I find that my clients are not eating enough!
Bright Hub: So is there a secret to eating right for weight loss?
Nikol Klein: In order to lose weight effectively, you must also make changes to your meal plans. This usually consists of 5 small planned meals per day.
Bright Hub: As a personal trainer, do you offer nutritional counseling to your clients?
Nikol Klein: Of course! In addition to my personal training services, I also offer nutrition evaluations and meal planning—which is included in many of the packages I offer.
Diet is another thing that truly depends upon the client, the amount of weight they want to lose, their health history, their preferences and the time they have to invest in preparing meals.
This is something I discuss with my clients individually during their first consultation with me. I can then design a meal plan based upon their BMR and food preferences.
Bright Hub: What about women who are within a healthy weight range? Do they need to watch what they eat in order to maintain it, or can they eat what they like so long as they exercise?
Nikol Klein: I do not feel that anyone who is within their healthy weight range is eating "whatever they want" the way that most people might interpret it. When you hear that someone eats whatever they want, you think fast food…McDonalds. Perhaps eating "whatever they want" consists of grilled Salmon!
Bright Hub: So, even women who don't have weight problems should concern themselves with eating healthier?
Nikol Klein: Being a professional ballet dancer as well, I know quite a few girls who swear by McDonalds and Wendy's. The truth is that though they can eat whatever they want, these fat filled, sodium loaded foods are not benefiting their sport performance. These foods make you tired, bloated and can cause you to feel sick.
Bright Hub: What are some good general guidelines that women can follow for a healthy diet?
Nikol Klein: Though the French fries may temporarily fulfill a craving, they will only leave you with a stomach ache in the long run. Stick with fresh, organic fruits and vegetables, fish, and lean protein.
Bright Hub: What is the secret to staying motivated and on track with a healthy lifestyle?
Nikol Klein: The key is keeping the refrigerator stocked with lots of fresh fruits and veggies and lean proteins such as fish and chicken.
A great way to hold yourself responsible for what you eat is to keep a daily food journal.It may sound silly, but when you actually see what you have eaten written down, it makes you think!
A funny thing that I used to do is put a sign on the refrigerator that said, "Why do I eat when I'm not hungry?" Try it, it works. Don't give me credit for that one though…I think I saw that on Oprah or something ten years ago.
Bright Hub: I notice that you're in great shape. Do you think that it helps to encourage your clients?
Nikol Klein: I think a lot of believing in a trainer has to do with the way the trainer looks too! If your trainer is out of shape herself, how can she motivate you, the client? I see this all too often at the large local corporate gyms.
Bright Hub: If a friend were seeking a personal trainer and you weren't available, what advice would you give her to help her find the best trainer possible?
Nikol Klein: Beware of "too good to be true" pricing. Chances are, if a trainer is offering personal training for a ridiculously low price like $25 per session, they are not certified. Worst of all, you could get hurt! Make sure that the trainer you choose to work with is certified, insured, has a website and can provide testimonials and references!
Bright Hub: Any other fitness advice for women?
Nikol Klein: You don't need a gym membership to get a great workout! Trainers like me specialize in in-home personal training. If you do insist on getting a gym membership, I recommend a fitness facility for women only such as the gym I own in Oklahoma City, Fit for Her!