The Best Google Health Apps for the Droid: Skyscape, Lexi-Comp, Smrtguard and PubMed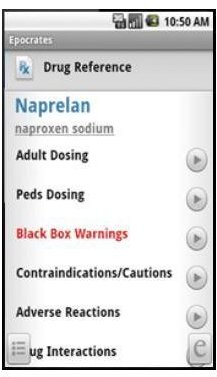 Useful Google Health Apps for Droid
Proper medical information is the key for doctors and medical practitioners. Technology has made easy to store, distribute and share a great variety of medical information as soon as it becomes available. Smartphones are also a great way to get medical information fast and in an efficient way.
Let's examine some of the best Google health apps for Droid available out there that may be helpful in the health care environment.
Epocrates
The field of pharmacology is always changing. Tons of information is generated on a daily basis on drugs, its side-effects and clinical studies. It is really difficult for a medical professional to gather information at one place. This is where Epocrates will help to stay on top of it all.
Epocrates has many features:
Interaction Check: This feature is very helpful to check on drug interactions. Up to 30 drugs can be added to the interaction list. Very useful for quick answers about drug interactions.
Pill ID: It allows one to see pictures of each pill that can be enlarged with a click. These may be used to identify pills taken by patients.
Drug Reference: Allows review of drug classes. Extensive drug information is available with details on: dosing, warnings, contraindications, adverse reactions, drug Interactions, manufacturer, pricing and pill photographs.
PubMed Mobile
PubMed Mobile is an excellent reference application that allows medical practitioners, doctors and nurses to have a quick glance on abstracts of research studies published on PubMed. It allows students and doctors to search, read, save, send, print, email, or share (on social networks - Facebook, Twitter etc) abstracts and research articles.
SmrtGuard
Security is of paramount importance to health care as developers create more interaction with electronic medical records. SmrtGuard allows users to track and wipe data on their phones. It also allows to remotely access, listen, and backup data on the SD card. So if a doctor or nurse loses his (or her) phone it can delete sensitive patient info remotely. By paying a small fee it is possible to restore data lost to a new phone device.
SkyScape
Nurses, doctors, medical students, nutritionists, nursing students, medical practitioners can all benefit from installing this app for the Droid. It contains free resources about drugs, medical information and decision support can be accessed with this application.
Lexi-Comp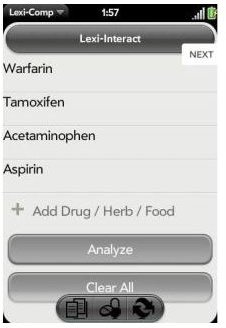 Lexi-Comp is a trusted clinical knowledge database. Now it can be accessed directly via the Droid by simply clicking on a button. Thousand of images, medical calculators, tables, and many more resources can be consulted to answer those medical questions that pop up in the middle of a meeting or when a person is far from its computer.
Conclusion
Knowledge is important in medical situations. And that's why the best Google health apps for Droid help doctors, nurses, medical professionals and students have the right answers when needed – all by just using a smartphone and the right applications.
References
https://www.softwareadvice.com/articles/medical/the-best-android-apps-for-doctors-nurses-and-health-care-professionals-10
https://www.androlib.com/android.application.com-skyscape-android-ui-zwiq.aspx
Image Credit
Images from my own Droid