Treadmill Exercise Workout Plan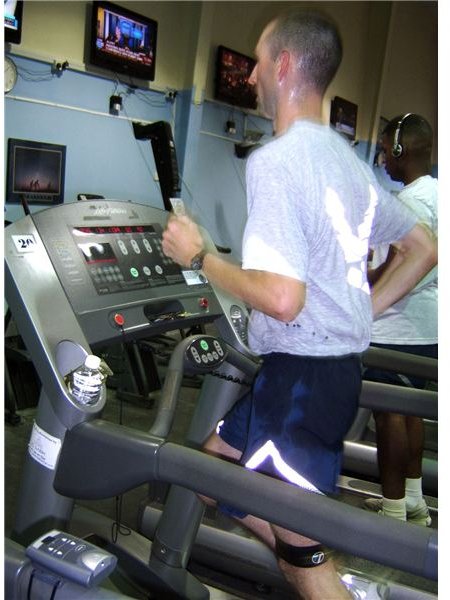 Introduction
Walking and running are some of the oldest, yet most effective, ways to get in shape. Using a treadmill at home or in a gym can be a convenient way to exercise because you are stationed in one place. It doesn't matter what the weather is like, you can stay indoors and get fit as you choose.
Regular treadmill use will help you become more physically fit. Depending on your fitness goals, you may benefit more from different types of workouts. Some will target certain muscles, increase endurance, help you achieve a full body workout, be best for training, and so on. You can vary your workout length, speed, and incline easily on a treadmill. You may also find varying your workouts will help prevent you from feeling bored losing the motivation to exercise.
As with any new exercise regime, you'll want to consult your doctor before beginning, particularly if you have health problems that may be affected. Also, be careful that you begin gradually. Doing too much too soon may cause injuries, feeling fatigued or further discourage you from exercising.
Choosing whether to walk or run
When choosing whether to walk or run, assess your current fitness level. If you are just starting out, it may be best to begin with walking. Walking is a great low-impact exercise that will help you avoid too much stress on your knees and joints. With running, you can burn more calories in the same amount of time when compared to almost any other exercise. Whether you choose to walk or run is up to you– both are among the most healthful ways to exercise.
A couple tips: Try to keep your fat burning target range for 45 minutes or more per session at least 5 to 6 days per week. This will help you reap the full benefits of exercise. Also, remember to stretch well before and after as well as drink plenty of fluids. You may want to keep an exercise journal to track your progress and keep yourself motivated to keep going.
Incline Intervals
Treadmill incline intervals involves raising the incline settings on your machine. This type of workout will work if your treadmill has an automatic incline adjustment. Exercising this way is a great way to increase the intensity of your workout and burn more calories. It will also target muscles in your lower back and stretch your calves and Achilles tendons.
To set an incline workout, vary the incline intermittantly while exercising. First warm up, then walk for five minutes, raise the incline about 5 to 6 for about five minutes. Lower for another five minutes, then repeat the routine two more times to receive the maximum benefit of the workout.
Speed Intervals
Speed interval training on a treadmill is a great aerobic workout. It will help you push yourself to the limit as it improves your heart's stroke volume, increases your blood supply to muscles and makes your muscles stronger.
To start a speed interval workout, warm up by stretching. Then walk or run as fast as you can for one minute. Then slow down a pace for two minutes, another minute at full speed, and so on. Repeat this five to eight times or until your body is telling you to stop. This kind of workout can be exhilarating and really get your heart rate up for burning a maximum of calories.
Weight/dumbell workout
Weight lifting on a treadmill gives your upper body more of a workout. Simple walking/running on a treadmill most benefits your legs, but adding lifting weights/dumbbells will help your arms to equally be exercised. In addition, you will burn more calories.
Before starting a weight/dumbbell workout, consult with your personal trainer to learn a proper arm swing. This will give help you tone your upper body to the fullest effect and your movements will be more natural. It will also loosen your shoulders and neck which is a great way to relax sore muscles.
Make sure you do not hold onto the handrails, but start out slow to gain control over your balance before you increase your speed. By the end of your workout, you should be able to feel it in your upper and lower body.
Walking/running backwards
Walking/running backwards on a treadmill will work your muscles and joints differently. It can be challenging to learn and at first you may be very off balance, but it will get easier as you go. If you are starting out a new exercise program or have muscular joint or medical problems, consult your doctor before attempting this type of workout.
When beginning a walking/running backwards workout, be sure not to hold onto the handrails when you walk/run backwards since this can damage your shoulders. Start slowly while you find your balance and make sure you are steady before increasing the speed. Although this may be one of the most challenging ways to exercise on a treadmill, you may be pleased when you see the results of new muscles becoming more toned.
Walking on toes and heels
If you need another way to spice up your treadmill workouts, try walking on your toes and heels. This is fairly easy to do and will give your lower muscles and feet a good workout.
Start with walking/running as you normally would, after 5 to 10 minutes raise up on your tiptoes and walk for about thirty seconds then return to walking/running for another 5 to 10 minutes and so on. Repeat this routine two or more times to feel the results.
Find more fitness tips:
Top Ten Reasons to Exercise
Sources
Picture: Google Images