An Analysis of Whataburger Nutrition Information: How to Eat Healthy by Judicious Menu Selection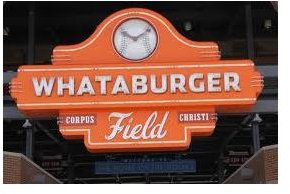 Fried fast foods are popular for their taste, but at the same time remain high calorie fattening foods. Whataburger, one of America's most popular fast foods is apparently no different. A review of Whataburger nutrition information reveals that some meal options in the menu exceed the calories and fat required for the whole day in a single serving.
A serving of "Whatacatch Dinner" (1104 grams) for instance contains 1630 calories, 80 grams of fat, and 1975 mg of sodium. This meal alone comes close to the daily optimal calorie intake between 1200 to 1800 calories, and sodium of 2400 mg a day, and considerably exceeds the recommended daily fat intake of 35 grams.
A careful selection from the Whataburger menu combined with smart eating tips however makes it possible to enjoy the great Whataburger taste and yet eat healthy.
Opt for Snack-size and Mini Meals
A review of Whataburger nutrition information reveals that most snack-size items, bite-size mini desserts and kids' meal in fast food menus have significantly fewer calories than typical fast-food fare. An analysis of Whataburger's nutrition confirms this trend. A judicious selection from the menu based on nutritional info and avoiding temptation results in consumption of far fewer calories and fat.
A 128-gram serving of "Breakfast on a Bun with Bacon" contains 360 calories, 21 grams of fat, and 807 mg of sodium, which is a far healthier option than the "Breakfast Platter with Bacon" that contains 730 calories, 45 grams of fat, 460 mg of cholesterol and 1376 mg of sodium per serving of 190 grams.
A 225-gram serving of "Biscuit sandwich with Sausage, Egg and Cheese" contains 690 calories, 49 grams of fat, 247 mg of cholesterol and 1553 mg of Sodium, near or above the recommended daily limit. A good alternative is the 149-gram serving of "Plain Pancakes," that contains only 540 calories, just 3 grams of fat, zero cholesterol and 1950 mg of sodium.
Whataburger's flagship product, "Whataburger" weighs 323 grams and contains 620 calories, 30 grams of fat, 65 mg of cholesterol and 1262 mg of sodium. "Whataburger Double Meat" and "Whataburger Tripe Meat" exceeds this calorie count significantly, making them unhealthy options. A healthier option is the 168 gram sized "Whataburger Jr." that contains 300 calories, 15 grams of fat, 33 mg of cholesterol and 733 mg of sodium. Another alternative is the 124-gram "Justaburger" containing 290 calories, 15 grams of fat, 35 mg of cholesterol and 727 mg of sodium.
Choose the Right Ingredients
The calorie count of the food depends on the ingredients. A study of Whataburger nutrition indicates that items that feature fresh vegetables and grilled toppings are usually lower in calories and fat compared to other items.
Sausage items on the Whataburger menu have more calories than the bacon choices. A "Biscuit with Bacon" (97 gram serving) contains 350 calories and 20 fat grams, whereas a "Biscuit with Sausage" (159 gram serving) contains 540 calories and 37 grams of fat. A 153-gram serving of "Taquito with Bacon and Egg" contains 380 calories and 21 grams of fat whereas a 166-gram serving of "Taquito with Sausage and Egg" contains 410 calories and 24 grams of fat.
If reducing cholesterol and sodium intake is not a priority, egg that contains far fewer calories and fat that chicken is a healthier option. An "Egg Sandwich" (119 grams) contains 310 calories, 17 grams of fat, 224 mg of cholesterol, and 604 mg of sodium whereas a Grilled Chicken Sandwich (268 grams) contains 470 calories, 19 grams of fat, 55 mg of cholesterol and 1018 mg of sodium.
Continue to Page 2 for more Whataburger nutrition information
Smart Eating Strategy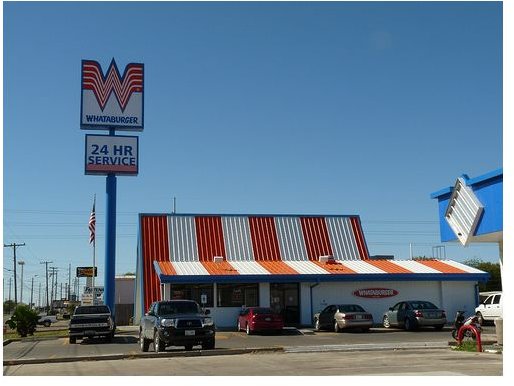 One good eating strategy towards a healthy fast food meal is to eat a salad at the beginning of the meal. Salads are low in calories and fat, and reduce hunger, leaving little space for the high calorie fattening food that follows. A review of Whataburger nutrition information reveals that a serving of 337 grams of "Grilled Chicken Salad" contains just 220 calories, 7 grams of fat, 50 mg of cholesterol, and 633 mg of sodium. A side salad contains just 25 calories, no fat, no cholesterol and just 6 mg of sodium. It is however important to choose light salad dressings such as balsamic or vinaigrette.
Another option is to compliment the meal with drinks and deserts.
An analysis of Whataburger nutrition information suggests that "Milk" that contains just 120 calories or "Orange Juice" that contains just 140 calories is the best drinks options in the Whataburger menu. It is important to avoid high calorie sodas, all of which contain more than 200 calories.
The best dessert option at Whataburger is a "Chocolate Chunk Cookie" that contains 140 calories and 8 grams of fat, or a "Hot Apple Pie" that contains 250 calories and 12 grams of fat. Milkshakes boast calorie counts as high as 904 and 25 fat grams and therefore needs avoidance
Undressing the food by leaving off mayonnaise and high-calorie condiments is another big way to reduce the calorie and fat count of food. It is also important choose the right kind of condiments. Ranch sauce, for instance contains 480 calories, 51 grams of fat, 356 mg of cholesterol and 731 mg of sodium per 87-gram pack, which would exorbitantly add to the calorie count of the food.
Understanding Whataburger nutrition facts, a judicious selection from the menu, and choosing the right ingredients with a smart eating strategy is the key to eat healthy at Whataburger.
Disclaimer
The contents of this article should not be constructed as medical or professional advice.
The figures given in this article regarding Whataburger nutrition information are indicative. Contact Whataburger for updated and exact nutrition information.
References
Whataburger Nutritional Information: https://www.whataburger.com/browse_nutritional_info.php Accessed March 10, 2010.
The Food and Nutrition Information Center: https://fnicsearch.nal.usda.gov/ Accessed March 10 2010
American Heart Association https://www.americanheart.org/presenter.jhtml?identifier=1200010. Accessed March 10, 2010.
Image Credit:
Page 1: Wikimedia Commons
Page 2: flickr.com/Terry Ross