The Number of Calories in Starbucks Drinks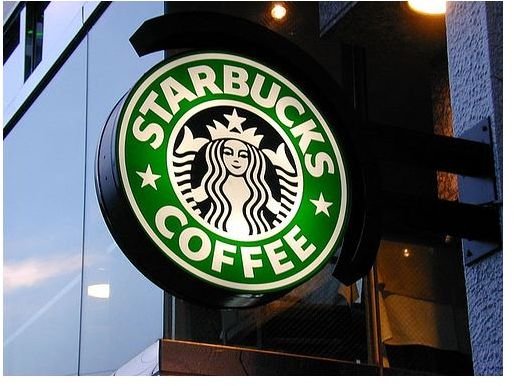 Starbucks
It's such an easy habit to get into, grabbing a Starbucks on the way to work, or on the way home, or just when out and about. In fact, the coffee retailer is so ubiquitous that their name doesn't even need the "coffee" modifier any longer — notice how we said simply "grab a Starbucks" above.
Being beverages, it's easy to kid ourselves about the calories in Starbucks drinks. It's a drink; it can't possibly be high-calorie or fattening. Oh, sure, on an intellectual level we know that Iced Peppermint White Chocolate Mocha isn't the caloric equivalent of water with a squeeze of lemon, but it can't be that bad, right?
But oh, it can be that bad. A Grande (16-ounce) Iced Peppermint White Chocolate Mocha made with two percent milk is 400 calories. For a person consuming a recommended 2,000 calories per day, that's one-fifth of their daily allotment, which is not an insignificant amount. Want whipped cream on that? It's not unusual; after all, you're already ordering a minty chocolate coffee. With whipped cream on top, add another 120 calories for 520 calories total.
Let's look at the calorie counts in several popular Starbucks drinks based on the categories on Starbucks' nutritional information page.
Espresso Drinks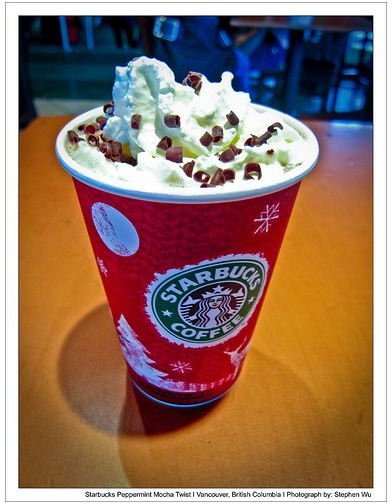 Probably Starbucks' most popular drink segment in the store, the espresso beverages include the lattes, macchiatos, caffés and mochas. The aforementioned Iced Peppermint White Chocolate Mocha is one of the espresso beverages. At the other end of the spectrum is what's informally recognized as Starbucks' most popular drink, the Skinny Flavored Latte, which is commonly ordered with vanilla flavor. The Skinny Vanilla Latte is a much more reasonable drink that comes in at only 80 calories for a Grande size.
While the "Skinny" line of espresso drinks is low-calorie, the rest don't fare quite as well. Lattes range between about 100 and 300 calories, cappuccinos and macchiatos between about 150 and 200 calories, and mochas 170 to over 400 calories. These numbers are all calculated at the Grande size using skim milk; using two percent or whole milk will raise calorie counts, and adding whipped cream will increase calories significantly.
A few representative examples of Grandes made with skim milk and no whipped cream and then with whole milk and whipped cream, where listed:
Caffé Mocha – 220 calories / 360 calories
Flavored Latte – 200 calories / 280 calories (no whipped cream)
Cappuccino – 80 calories / 140 calories (no whipped cream)
Iced Skinny Flavored Latte – 80 calories / 130 calories (no whipped cream)
Skinny Caramel Macchiato – 140 calories / NA
Peppermint Mocha – 280 calories / 420 calories
Chocolate Drinks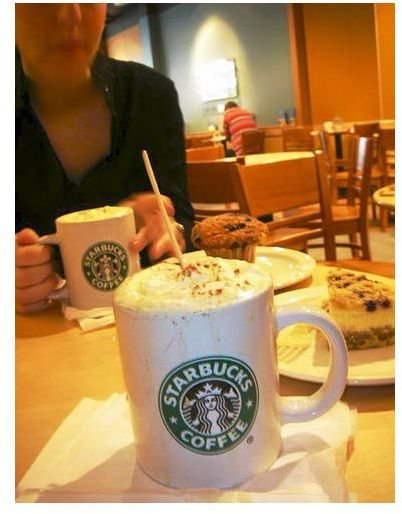 These are the hot chocolates. When made with two percent milk, the Hot Chocolate, Peppermint Hot Chocolate, Salted Caramel Hot Chocolate, and White Hot Chocolate run between 300 and 410 calories apiece.
Brewed Coffees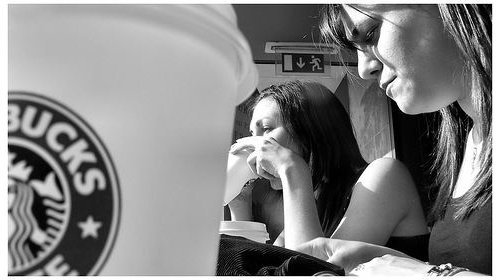 As can be expected, brewed coffee without all the frou-frou is extremely reasonable calorie-wise. Every plain brewed coffee, without milk, is about five calories for a Grande, with Iced Coffee checking in at 90 calories. Add two percent milk and a Caffé Misto or Iced Coffee with Milk will be 110–120 calories.
Frappuccinos®
Some Frappuccinos come with milk, some without. Of those that come without milk, the lowest-calorie option is the Pumpkin Spice Frappuccino Light Blended Beverage at 150 calories, with the highest-calorie being the Double Chocolaty Chip Frappuccino at 500 calories. With nonfat milk, Frappuccinos run between about 110 calories for the most basic "light" frap, up to 300 calories for the Java Chip Frappuccino.
Tazo® Teas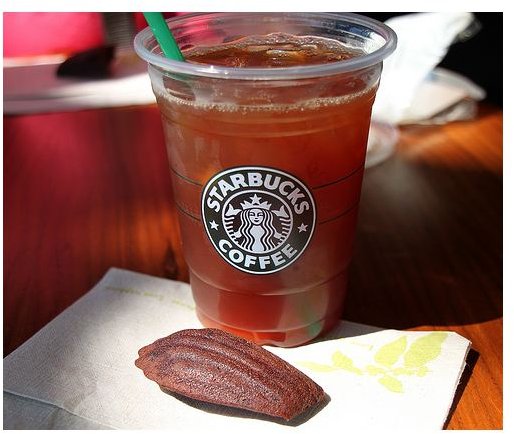 The Tazo teas have zero calories until you add options or if you order the Black Shaken Iced Tea at 80 calories or the Black Shaken Iced Tea Lemonade at 130 calories for a Grande. Tea lattes with nonfat milk range from about 160 calories to 290 calories.
Making the Best Calorie Choices at Starbucks
It all comes back to the basics most of us know by now: Less sugar, less fat, and just plain fewer "extras" in your Starbucks coffee is the best way to keep calories down. If you want a coffee that doubles as a dessert, go for a mocha-caramel-whipped cream drink knowing full well that you're getting into 400 or 500 calories or more and ready to enjoy it. If you're just looking for a pick-me-up that's lighter on the calories, try plain teas or coffees or "skinny" lattes. Either way, go in to Starbucks aware of what you're yearning for beforehand — a sweet snack or a drink — and be prepared to order accordingly.
References
Explore Our Menu: https://www.starbucks.com/menu/catalog/nutrition?drink=all#view_control=nutrition
Nutritional Options At Starbucks
Images: