All About Calendula Oil Benefits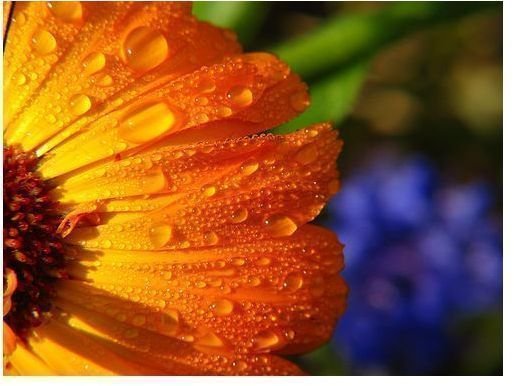 Calendula oil is a combination of petals from the calendula flower and grape seed oil. Calendula officinalis, scientific name of calendula flower, is also known as marigold – dubbed marigold because of its association with Catholic ceremonies rejoicing the Virgin Mary. This herb is an annual or short-lived perennial, originally in Mediterranean countries, but due to its popularity, is now found in gardens everywhere. Calendula oil benefits include treatment of different problems such as muscle spasm, suppressed menstrual cycle, skin conditions, persistent fevers and more; in fact, it is prescribed by a number of modern herbalists to remedy a variety of skin problems, ranging from dry skin to open wounds.
Components of Calendula
Calendula has been the subject for years of chemical studies and analysis; however, there are no concrete conclusions that link this herb to their physiological effects. Calendula contains volatile oil, bitter chemical principles, mucilage, saponins, plant resin, plant acids, different varieties of carotenoids, alcoholic compounds, glucosides, and sterols and all types of polysaccharides. Most of these components were individually identified and analyzed in laboratories to further the research of its contribution to herbal medication.
Skin Moisturizer
Calendula oil can be used as a natural moisturizer; it is very soothing to irritated, chapped and sun-damaged skin. It also promotes collagen production, which helps reduce wrinkles and restore the natural elasticity of the skin. Due to its high carotene, polyphenol and phytosterol content, calendula can also slow down premature aging and protect skin tissue.
Antiseptic and Astringent
There are fungicidal properties found in calendula, making it a popular antiseptic herb. The astringent quality helps the capillaries function better; thus accelerating the treatment of physical wounds, cuts, insect bites, muscle pain, bruises, varicose veins and other inflammatory disorders in the body. Aside from those mentioned, calendula also helps alleviate inflamed and reddened skin; minor burns or sunburn; acne, rashes and other skin infections such as fungi, ringworm, athlete's foot and thrush. Calendula oil is gentle enough for babies' use to ease cradle cap and diaper rash and nursing mother's sore nipples.
Infections
Calendula stimulates the proper function of the immune system and activates the body's healthy cells to fight off infections like the flu, herpes virus, measles, chickenpox and viral hepatitis. Bowel and pelvic infections are also treated with calendula, such as persistent dysentery, enteritis, amoebic infections and intestinal worms. It increases blood circulation and perspiration which can help detoxify toxins accumulated in the body.
Female Reproductive System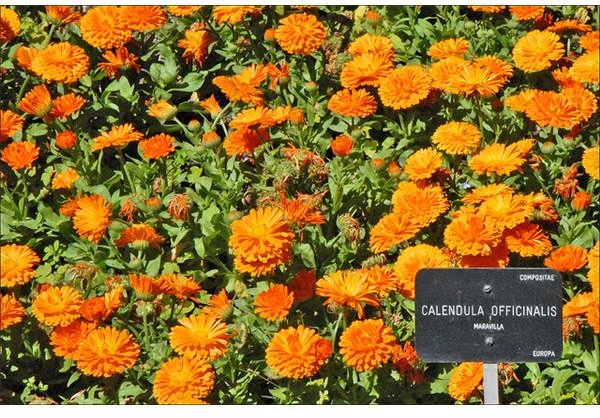 Calendula is very effective in dealing with problems affecting the reproductive system. It can regulate the menstruation cycle and lessen the pain brought by menstrual cramps. It possesses estrogenic components that help women during menopause and alleviates breast congestion. The astringent property of calendula moderates uterine congestion and excessive bleeding. During childbirth, it actively increases uterine contractions to promote placenta delivery.
Digestive System
Calendula is great for remedying disorders such as stomach cramps, ulcers, colitis, diarrhea and other problems involving the irritation and inflammation along the bowels and stomach lining. German studies demonstrate that calendula thwart hormonal reactions that produce swelling in the stomach lining. It has a bactericidal effect that works against Helicobacter pylori, a bacterium connected with peptic ulcer and gastritis. It can stop diarrhea and boost liver function. Calendula promotes bile flow into the intestines; it helps the liver and the gallbladder, making it useful in treating hepatitis. Calendula herb furthers good digestion.
In June 1981, Vatreshni Bolesti wrote in his Soviet science journal two important medical studies about calendula remedy. He confirmed that the herb could help heal duodenal ulcers and intestinal colitis. Duodenal ulcer was treated with 1 tbsp. of comfrey root and calendula each boiled in 1 quart of water, which resulted to remedial relief to 19 patients and improved the health condition of 19 other patients suffering from gastroduodenitis. Intestinal colitis was the focus of the second study, which resulted to the healing relief of 95.83% of 24 patients who were suffering from chronic non-specific colitis in just 15 days. They were treated with equal parts of dandelion root, St. Johns wort, fennel seeds, lemon balm and calendula prepared similarly as a strong tea.
Other Benefits of Calendula
Calendula are known to contain anti-cancer components, especially in leukemia, fibrosarcoma, melanoma, breast, cervix, prostate, pancreas, lung and colorectal cancer – although, this has not been documented and scientifically proven.
Used to heal scorpion bites and bee stings.
Calendula essential oil can be rubbed directly to the ear to reduce earache. It can even treat ear infection in dogs.
Calendula tea can be used as an eyewash to alleviate sore, reddened eyes.
Considerations
Calendula oil benefits are many and varied, making it a popular home remedy. Calendula comes in different forms including oil, tea, tinctures and creams. Be aware that calendula can intensify the calming and sedative effects of sleep and anxiety medications; take caution when using any machinery or when driving.
Disclaimer
Please read this disclaimer regarding the information contained within this article.
Image Credits
dalbera - https://farm2.static.flickr.com/1280/4657015473_86762646ab_z.jpg audreyjm529 - https://farm4.static.flickr.com/3259/3982702144_8e8795a73e.jpg
References