Reviews on Diabetes Testing Monitors: Compact Meters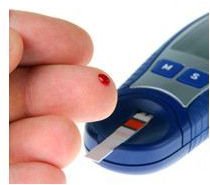 A glucose meter or monitor is a device that aids diabetics in testing their blood glucose level. Self-monitoring made easy – just place a drop of blood on a coated strip and insert in the blood glucose monitor, and the meter will measure and display the level in just a couple of minutes. There are many testing devices available in the market and different types (compact, conventional and specialty meters). Here are reviews on diabetes testing monitors to help you choose the best one to fit your needs.
SideKick Glucose Meter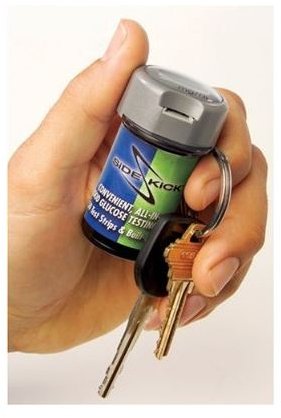 The SideKick is the first and the only glucose meter that is disposable–the epitome of portability. Upon use or expiration of all 50 test strips, simply dispose of the meter.
Key Advantages
It is very portable and light, weighs only 1.6 oz. (with battery) and requires no coding. Just insert test strip and begin testing. It only requires 1.0 microliter of a blood sample and displays the result in just 10 seconds. The device also allows you to use an alternative testing site on your forearm.
Disadvantages
The testing meter is not able to upload results to data management software, and the user would have to do the encoding manually. While the tool is small, you still have a separate lancing device to carry. Users must also be aware of the operating temperature requirement, which is very limited at only between 68-77F.
Bottom Line
The meter is not fancy but is the ultimate convenience. It does not come with all of the features and all of the programmable options. Nevertheless, it works. Most tend to use this meter as back up or when they are on the go and do not want to carry a larger monitor with a fuller service option.
TRUE2Go Glucose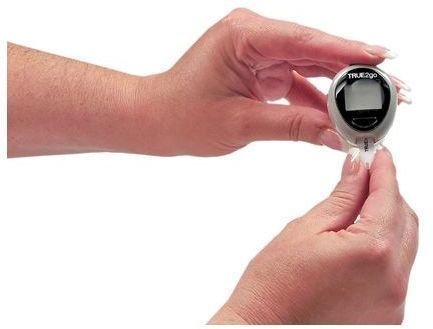 This is the smallest monitor to date – only 0.6 oz with battery. Despite its size, it can do most of a conventional meter's work. It can also be attached on the test strip bottle for easy carrying. This tool uses only TRUEtest Strips.
Key Advantages
The size is perfect for portability, especially when you are in the gym, parties or whenever you want to be discreet. No coding needed, just stick the strip and you are ready to go. The blood sample size required is only 0.5 microliters. Results will be displayed in 4 seconds. You can either do the test on your forearm or finger.
Disadvantages
The meter has no option for any data management software. It only has a memory capacity of 99 test results. There are also many limitations to this product. You cannot use this product if you are taking maltose or galactose solutions. In addition, this device is not apt for you if you are undergoing peritoneal dialysis.
Bottom Line
This meter is best for busy people always on the go. It requires little to no space and delivers results fast. If you want speed and convenience, you may want to consider this option. While it does not allow data management software, it does have other Home Diagnostic (makers of True2Go) programs such as 24/7 technical support, TRUE Care program membership, coupons/discounts on other products and access to articles/newsletters.
The Contour TS Glucose Meter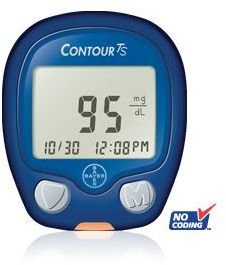 The TS in their name stands for "Total Simplicity". It is an easy to use device for people who want high performance. This is the ideal combination of simplicity and advanced technology rolled into one.
Key Advantages
The Bayer's (makers of Contour TS) no coding technology reduces inaccuracies of this device due to miscoding. In line with their "Total Simplicity" concept, it has an auto shut-off, alarms, large display, easy to see colored orange port and large buttons. You can do the test on your finger, palm or forearm. Software for data management is available for this tool and downloadable at Bayer's website. Test time is 8 seconds with a sample size of only 0.6 microliter.
Disadvantages
If you want advanced programming options, then TS is not for you. Its memory can only hold up to 250 tests. It is also only available in some online stores. Like other glucose meters, this one only uses same company test strips – hence the Contour TS only uses Contour TS strips.
Bottom Line
If you want a no-fuss meter, then the Contour TS is the right meter for you. It is at par with any simple meter on the market today. The test strips, although exclusive to their product brand, are generally competitive in their price. People who hate complicated buttons and features will certainly fall love at first test with this device.
Freedom Lite Blood Glucose Meter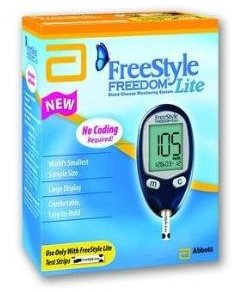 The Freedom Lite glucose meter is the latest in FreeStyle Family, offering the newer, easy-to-read blood glucose monitoring device. It has a new ergonomic shape for easier hold. It is the world's tiniest blood sample size requirement – only 0.3 microliter.
Key Advantages
It is smaller than its other Freestyle cousins, but is has larger display and easier to handle. No coding is required. It requires only 0.3-microliter sample size and displays result in just 5 seconds. It also has the most number of alternative testing options – finger, palm, upper arm, forearm, calf and upper leg. Software for data management is available for this tool and downloadable at Abbott's website.
Disadvantages
Reviews on diabetes testing monitors specifically on this model is generally well liked and gets high marks all over. There are complaints, but mostly subjective and not technical. Some report that Freedom Lite painfully extracts blood (pain is relative) and some does not like the carrying case (matter of taste).
Bottom Line
It is a simple and quick device that is great for people who need extra help seeing digital display. Although a backlight would be a great addition, one cannot fault Freedom Lite for this, as most meters on its price range do not carry this feature. The company offer free data management software called C-Pilot; it can help you download and track glucose test results.
Precision Xtra Glucose Monitoring System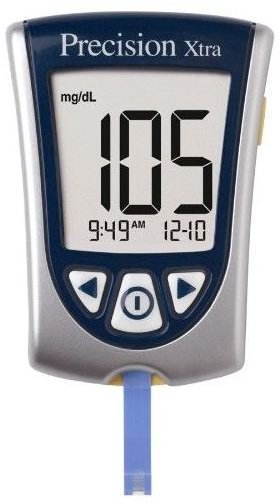 Perceptive setup with straightforward, icon-driven menus makes for a hassle-free blood glucose monitoring. Additionally, the Precision Xtra is the only system with the equipment to test blood sugar level and ketone with the same monitor.
Key Advantages
As mentioned above, this meter can test for both glucose and ketone level which makes it very unique. It also uses icons to guide users through the process. Precision Xtra allows 4 alternative testing sites – finger, forearm, upper arm and thumb base. The required sample size is 0.6 microliter for the glucose test and 1.5 microliter for the ketone test; results will be displayed in 5 for the former and 10 seconds for the latter. In addition, you do not need to worry about accidentally touching the test strip as this does not become contaminated upon contact like other test strips.
Disadvantages
The device uses different test strips for glucose and ketone. Users are complaining of the price of Precision test strips for both tests.
Bottom Line
The precision Xtra is a great meter with a unique dual functionality. Although the cost of the test strips are quite high, one must note that the strips are more forgiving than other test strips in the market. Meaning, it can take a little abuse, especially from children, without altering the test result. Abbott offers free data management software called C-Pilot; it can help you download and track glucose test results.
OneTouch UltraLink Glucose Meter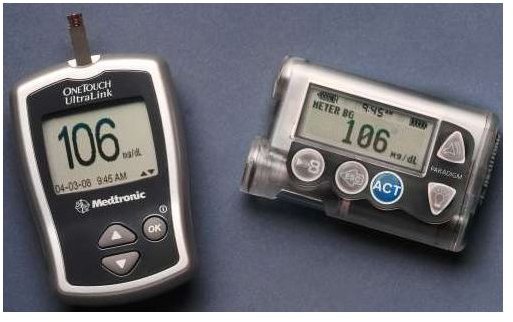 The OneTouch UltraLink glucose meter is specifically designed for patients who use MiniMed Paradigm insulin pump. This works by sending test result directly to the insulin pump, which will automatically adjust your insulin dosage level. This tool from Lifescan also provides diagnostic capabilities, which allow the client to develop their own comprehensive diabetic management strategy.
Key Advantages
This device makes insulin administration more accurate because it eliminates user errors, automatically transferring data from one electronic to another. It also makes the process easier by reducing the step – manual input of insulin dosage. The glucose results are also easy to track, with reports from both OneTouch and MiniMed's software.
Disadvantages
The device is a bit big, 3.5 x 2.4 x 1 in size. Additionally, some suggest additional backlight and less complicated menus to make the tool more user-friendly.
Bottom Line
This machine caters to a very specific market – those using MiniMed insulin pump. While it is bigger than most portable meter, the benefits of a wireless system outweigh the disadvantages of its size. It also eliminates some steps, making glucose monitoring easier and more accurate. Clients have full access to LifeScan's 24-hour customer service.
Important Information
Repeat test to verify Low or High results. If glucose level results still show Low or High, immediately call your doctor. Do not change your treatment plan or your medication based on these reviews on diabetes testing monitors without your diabetes healthcare professional or doctor's advice. Discard used test strips into an appropriate container.
Image Credits
References