Finding a Job with Arthritis in Knees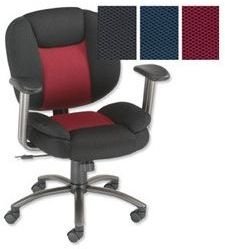 Introduction
When finding a job with arthritis in the knees it is imperative that you make the company aware that you are disabled. In fact, here in the UK it is worth while visiting the disabled officer at the local job centre and applying for a registered disabled status. Many companies are obliged to hiring registered disabled persons, so this can act in your favor.
This is an article on living and coping with rheumatoid arthritis and in particular arthritis in the knees.
Here we will examine how to go about finding a job when you have arthritis in the knees, from the types of jobs available, applying for the job through the interview, and what modifications and equipment are required for you to perform the job satisfactorily.
We begin then with a look at the types of jobs a person with arthritic knees can apply for.
Types of Jobs
There are only certain kinds of jobs that the person with arthritic knees can perform:
Office jobs
Receptionist
Telephone Call Centre Operator
Some types of outdoor jobs such as car park attendant, using a motorized scooter or wheelchair.
I have had arthritis in the knees for many years, and tried a variety of jobs, before the knees got really bad and I was forced into an office job.
So, I recommend that someone with arthritic knees should stick to a desk job. Don't be afraid of retraining, I was an engineer in the offshore oil and gas and did a lot of computer courses before being able to hold down an engineering job from the office.
From the above list, we shall examine the job of a normal office secretary in the following sections.
Finding the Office Job to Suit the Condition
1. Contact your local Jobcentre or Employment Office
Make an appointment to see the disability advisor, who will guide you through the steps of creating the optimum Curriculum Vitae (CV) and show you any suitable vacancies. Ask him about becoming Registered Disabled, a lot of companies take on a percentage of registered disabled persons on their workforce.
2. Local Newspapers
Check suitable vacancies in the local papers, you don't want to have to travel too far to the workplace.
3. Check Online
A lot of Job Vacancy Agencies will take a disabled persons details and try to match them with a vacancy, but various other Internet job vacancies should also be checked daily.
Tips: Maintain a CV – a concise listing of your experience, along with qualifications and personal details. The Jobcentre should help with this; they also usually provide facilities such as daily newspapers and a computer/printer to use when sourcing and applying for jobs.
When applying for a job, start with ones relevant experience then at the end add a bit about the disability, assuring the company that it will not affect ones work output.
The Job Interview
When shown into the room, look for the highest chair, the interviewer should know about disabled people applying for jobs and laid out a high chair.
Pass across your qualifications and references for the job; this will give one a few moments to compose.
Ask relevant questions about the job such as; hours of work, pensions, salary etc.
Answer all questions about ones disability truthfully, don't exaggerate or moderate the condition.
Ask about access to the office, stairs, lifts and car parking near the building.
Advise him of modifications required to the standard office. Don't worry about cost as the company can normally claim any disabled modifications back on tax.
Ask about canteen facilities and seating arrangements; can one take lunch at the desk, rather than use the canteen.
Inform him that disabled persons are very consciences and have less sick days than the normal worker.
Finally at the end of the interview, thank him for his time and give him a good firm handshake, it is my experience that interviewers give a weak handshake in case they hurt the disabled person.
Modifications and Layout of Office for Person with Arthritis in the Knees
The following recommendations are from my own experience of working with arthritic knees; remember to walk about for a few minutes every hour, to exercise the knees and stop them from "seizing up".
1. Office Desk
The desk should be as large as possible to allow plenty of room for paperwork and files. This saves trips back and forth to the filing cabinets or shelves. The desk can be raised up by 4" by fixing a 4" X 2" length of wood to the bottom of the legs, this will allow the disabled person's legs under the desk when the chair is elevated. Also watch out for desk drawers; these are notorious for bumping against, causing more pain to the arthritic knee.
2. Desk Chair
In my opinion the most important aid are casters so one can slide about the office when filing, rather than getting up and down from the chair.
The chair should also be well padded – one is going to be seated for most of the day. It also needs to be robust and have height adjustment, this lever being accessible and easy to use. A gas-filled adjusting mechanism is best, but a normal "pump" adjuster is sufficient, as long as ones arms and shoulders are mobile.
3. Filing Cabinets and Box-File Shelves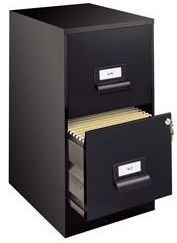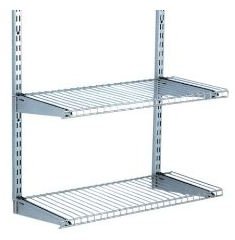 Instead of four drawer filing cabinets, cabinets should be no higher than the two drawer type, these are easily accessible from a seated chair position. Be careful when pulling out the drawers that they don't hit the shins!
Storage shelves are easily adjustable using the modern supports which screw onto an office wall; I have referenced a few suppliers of cabinets and adjustable shelves below, (double click on link) along with a sketch showing a few modifications and office layout.
4. Floor Covering
The castors on chairs operate easier on a lino or short weave carpet, rather than a luxury style office carpet.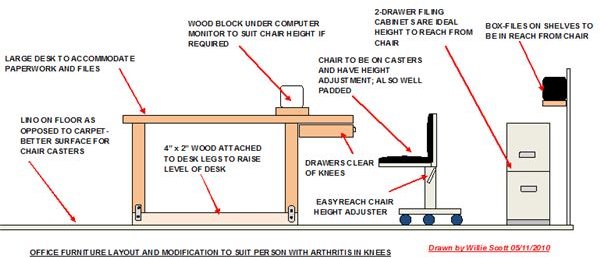 Reference Webs:
1. Chairs
2. Shelf units
UK and USA Disabled Person Acts
UK: Disability Discrimination Act https://www.hse.gov.uk/disability/law.htm
USA: Americans with Disability Act https://www.ada.gov/