Taking Evening Primrose Oil for PMS — Does It Work?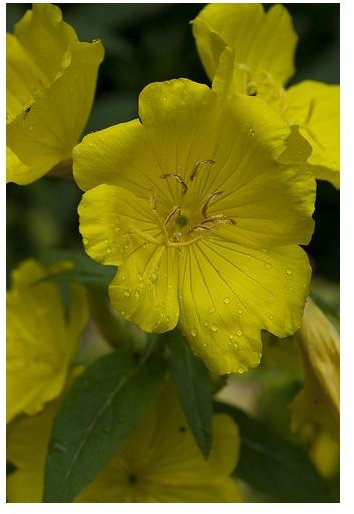 Evening Primrose Oil
Evening primrose oil is one of several natural sources of beneficial essential fatty acids. Like black currant seed oil and borage oil, primrose oil contains gamma linolenic acid, or GLA, an important fatty acid that is normally made by the body from linoleic acid.
GLA acts as a source of cellular energy and as electrical insulation for nerve fibers. It helps to form brain and bone marrow cells and cell membranes, it may have anti-inflammatory properties, and it may help in the regulation of hormone and metabolic functions.
Evening primrose oil comes from the seeds of the evening primrose flower and has no known side effects, although some people have experienced mild stomach problems when taking supplements.
Beneficial for PMS Symptoms?
Some women take evening primrose oil for PMS, as well as for other women's issues, such as menopausal symptoms. The GLA in primrose oil may help to normalize glandular activity, thus reducing symptoms such as breast tenderness, moodiness and bloating. Both the University of Maryland Medical Center and the National Center for Complementary and Alternative Medicine (NCCAM) list evening primrose as a possible treatment for PMS symptoms. NCCAM points out that some studies have supported the claim that there are benefits, while other studies have shown inconclusive results, indicating that there may be no benefits of primrose oil for reducing PMS symptoms.
According to the American Family Physician, in four small trials, doses ranging from 3 to 6 grams a day did not improve overall PMS symptoms. However other studies have shown good or modest benefits. In one trial, published in Eden Press in 1982 and performed in Montreal by Brush MG, 68 women were given doses ranging from 1 to 2 grams for three days before PMS would normally begin. Forty-one women reported total relief of symptoms and another 16 reported partial relief after using primrose oil for three months.
There have been more studies over the years, some positive and many that have not shown significant benefits of taking evening primrose oil for PMS. Can this natural supplement help?
Using Primrose Oil
Trying evening primrose oil is a personal choice. With no harm to the body, there is good reason to give this natural oil a try if PMS symptoms are difficult to deal with. The essential fatty acids in primrose oil have many health benefits, including normalizing glandular function and possibly diminishing symptoms. To be safe, talk to your doctor before taking supplements, especially if you have a medical condition or are taking any medications. Use a trusted natural source and take the recommended dosage.
References
University of Maryland Medical Center: https://www.umm.edu/altmed/articles/evening-primrose-000242.htm
National Center for Complementary and Alternative Medicine: https://nccam.nih.gov/health/eveningprimrose/
Balch, Phyllis A. "Prescription for Nutritional Healing" Fourth Edition (Penguin Books, 2006)
Page, Linda "Healthy Healing: A Guide to Self-Healing for Everyone" 11th Edition (Traditional Wisdom, 2003)
American Family Physician: https://www.aafp.org/afp/2009/1215/p1405.html
Medscape Today: https://www.medscape.com/viewarticle/406683_2
photo by Anobjectn/flickr
Disclaimer
Please read this disclaimer regarding the information contained within this article.